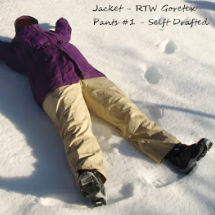 Your PR Name: treefrog
Member Since: 2008
Country: Australia
Sewing Skills: Intermediate
How did you learn to sew? What's your sewing background?
I've dabbled on and off for about 10 years but really got into sewing about 5 years ago when I needed a new pair of jeans. The "distressed" look was in and most of the RTW offerings were in worse condition than the jeans I wanted to replace. Being able to choose my own fabrics and own style kept me wanting to improve my sewing skills.
I'd describe myself as a self-taught sewer. The things I really wanted to sew were often beyond my skill level, but getting in and "having a go" meant I learned a lot. There have been lots of trial and error, and I'm eternally grateful for the PR members who have helped and inspired me along the way.
Oddly enough, working on KnipMode patterns helped me a lot. Because the Google translations were very funny but not overly helpful, I started working without instructions and started thinking more about how garments were constructed. They occasionally do a feature where they take a standard block, e.g., a shirt, jacket and pants, and have mix 'n match variations of it that really change to look of the garment. This got me more confident in tackling RTW knockoffs.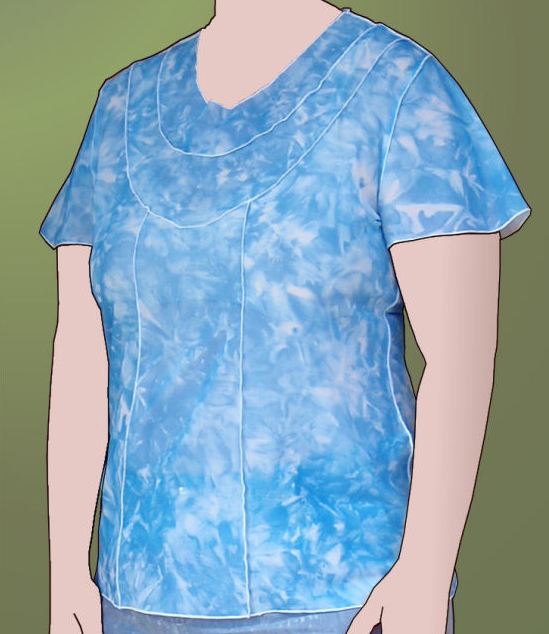 KnipMode Magazine: 05-2011-102 (Panelled top and dress)
What aspect of sewing do you find most challenging?
Getting the fit right. I think when it comes to reading wrinkles, I'm totally illiterate! Being short (5'2"), I've always had problems finding RTW clothes that would fit. So even a minor adjustment, like shortening a sleeve to have the cuff at my wrist rather than past my finger tips, was vast improvement. I've got pants pretty well worked out, and I'm starting to get a good handle on tops. Fitting a jacket, especially the armhole/sleeves, is something I need to work on.
Your profile says that you are a self-taught sewer. As you look back, are there any projects that didn't turn out as you'd planned, that you laugh about now?
Plenty! I have this attraction to wacky printed knits that don't suit the pattern I sew it up in! I've also learned that some styles just don't look good on me no matter how many variations I try. But on the other hand, I've had a lot of projects that I didn't expect to work, that I've been surprised at how well they turned out.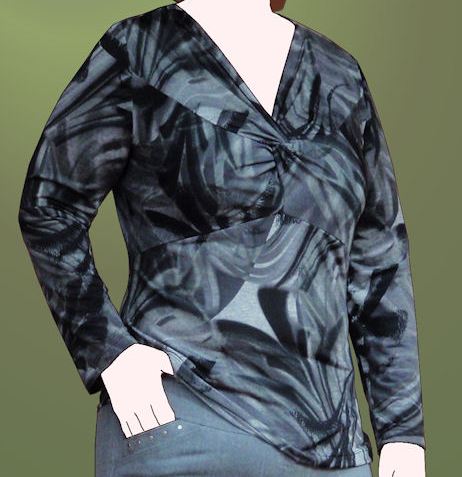 KnipMode Magazine 12-2011-25 (Twist front top)
Which sewing book do you refer to most often?
I don't have many sewing books. I find the instructions on KwikSew are an excellent resource, and I often will refer back to them. I love Threads Magazine and will often go back to past issues to look up techniques or get inspiration. I also use the PR boards a lot if I get stuck with something. Chances are that someone else has already asked the same question and there are heaps of suggestions on what to do.
You have won First Prize in three PatternReview contests in the past few years. What's your secret?
The first contest I entered, I had this grand delusion that I'd win it. I was totally outclassed, and I think I ended up with 2 votes! After that, I just entered the contests as a way of improving my sewing or as a motivator to work on something challenging that I've been procrastinating on. There are so many talented sewers on PR and I get a lot of inspiration from seeing their entries. So maybe the "secret" is not to worry about winning. Sew something you really love. Your wardrobe is always the biggest winner. If you do win, then it is just pure icing on the cake.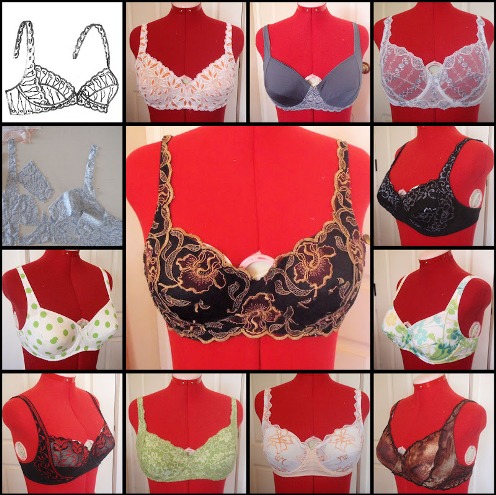 treefrog's entry in the One Pattern, Many Looks Contest
You won First Prize in this year's One Pattern, Many Looks Contest with an assortment of bras that members found awe-inspiring. What made you decide to sew bras for this contest? What was the hardest part of sewing the bras? What advice would you give to anyone who is considering tackling this project?
I was really inspired by the lingerie Sigrid has been making. I'd been stashing laces and notions for a while, and back in November I decided that I'd spend January making lingerie. Margaret had made bras in a previous OPML contest. So when contest schedule came out, with OPML in January, I asked Margaret if I could use her idea for the contest. (Thanks, Margaret!). I made the first 3, realised they were all black, so I decided to add a few colours. Then I couldn't decide which white ones to make, so I cut them 5 out, and it became a bit of a chore to finish them. It was in the middle of our worst heat wave, so I wasn't thinking very well.
The biggest problem is that you won't know how well it fits until you're finished. My first bra, last year, ended up being a bit big. The second was better and the third was spot on. The hardest part was sewing the bridge. It was a short seam, and the lace would get caught in the needle plate. Using tissue paper under the lace made it so much easier. The rest of the construction wasn't really difficult, although you need to be fairly precise sewing the channeling in. It is very time consuming, though. Stitching the elastic and straps takes as much time as constructing the band, cups and channeling.
My advice to anyone wanting to try bra-making would be to just have a go. Use some off-cuts, like a firm cotton jersey, for the first one, as you may not get the fit right first time. If sewing with lace, take time with the layout and pay attention to where the scallops finish at the seams. Check out Sigrid's tutorial, as it is an excellent guide. I much prefer her order of construction to the pattern instructions.
I'll also warn you that it is very addictive and you'll very have to worry about boring store- bought bras again!
You have written 200 pattern reviews on PatternReview. Do you sew everything you wear?
Almost. The only things I buy now are shoes and socks. I have a few left-overs from my pre-sewing days, but it is mostly things I have made myself. My sewing has improved a lot in the last few years so I'm starting to replace my earlier stuff with things which some better made/fitting items.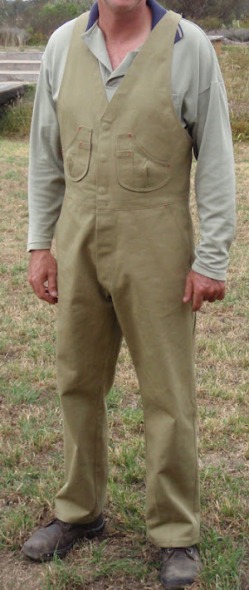 treefrog's DH wearing "Drafted from RTW: Overalls"
What are your sewing goals for this year?
I've been working on a series of knock-offs from the major outdoor clothing companies. And I'd got a few more lingerie patterns I'd like to try to make sets for the bras.
I'd also like to make a couple of jackets. I've avoided sewing jackets because of fitting problems. I might start with a jeans style jacket or a biker style and see how that goes.
What are you sewing right now?
I'm trying to finish off some UFOs. One is a copy of a Columbia hiking shirt made from a silk/bamboo fabric. The fabric goes off-grain just looking at it, so stitching parallel tucks on the shirt front will be interesting. I also have the blue bra to finish off.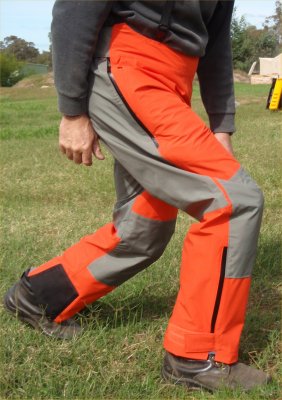 Favorite Pattern: Controlled Exposure's 'Mountain Pants'

Pick your favorite pattern (only one please).
Controlled Exposure's 'Mountain Pants'. It is a standout for me as there very few (men's) patterns available for serious hiking/outdoor gear. It is very well designed - definitely designed by someone who does a lot of backcountry walking or skiing. The instructions were excellent… A beginner could follow them even though the design is quite complex. Best of all they start off by getting you to make a few measurements (crotch depth, inseam length, inseam to knee length) and then walk you through adjusting the pattern to fit - so no stressing about the fit. I made these for DH from Goretex with all the seam sealing and waterproof zippers. They get a lot of use.
Do you have many fabric stores in your area? Where do you buy most of your fabric?
I live in a rural area and most of the fabric stores have closed or converted to quilting. I can get thread and zips but not fabrics. There is a wonderful fabric shop (Julia's Fabric Boutique) about 100 km away, and the owner is extremely helpful. Other than that, it is a long day trip to Melbourne. Most of the sports fabric (Goretex, Polartec etc) I buy mail order from the US and lingerie supplies from Europe.
How big is your fabric stash? What's in it?
Way too big! I've got a nice supply of fine merino, Polartec, Goretex and other tech fabrics.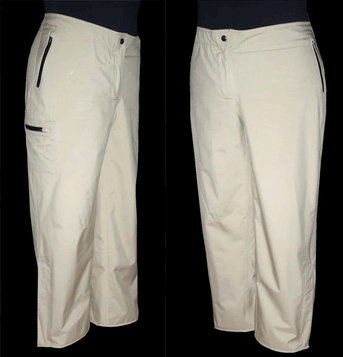 RTW Knockoff Contest: Self Drafted Pattern: 125587-1002
What you love most about PatternReview?
I love the community spirit that you find on PR. Lots of sharing of techniques, getting inspiration from others to try new things or just giving you a boost when the sewing mojo starts to fade. I like how the more experienced sewers share their knowledge. I love seeing new sewers get hooked, and it is fun to watch their progress. I've made some great friends and I love hearing about what they are making
How has PatternReview helped you with your sewing?
My sewing has really improved in leaps and bounds since I've joined. Early on I'd give up on a project if I hit a snag. With PR it is so easy to search the boards, or ask a question, to keep me going. I find the enthusiasm for sewing infectious and I've been inspired other peoples work.
Any other hobbies?
Lots of outdoor activities like hiking, cross-country skiing, kayaking, cycling, gardening, watching the sunrise.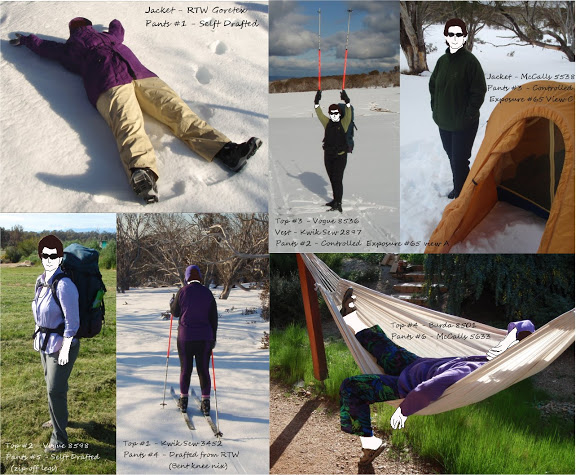 Wardrobe Contest 2010 (Trekking Treefrog)
Your profession, where do you live, etc.
I live in North East Victoria (Oz). It is a great place to live with snowfields an hour away and lots of places to go walking and paddling. We build our own mudbrick house and have just over 20 acres, which we have been slowly re-vegetating. The older plantings are getting established enough to start attracting sugar gliders and some rare birds (and lots of treefrogs).
I run my own business doing spatial modeling and custom software. I originally did electrical engineering and later studied ecology. Now I have the best of both worlds as the resident geek on a lot of environmental projects.
Is there anything else that you'd like to tell us about yourself?
I'm learning to weave at the moment. I got some samples for Linton Tweeds, and they looked similar to the weaving a friend of mine was doing. So I have this grand plan of making Chanel jacket made from something I've woven. At the moment, I'm weaving webbing to use on a messenger bag.
Thank you, treefrog!
Read treefrog's pattern reviews.
Read treefrog's KnipMode reviews.
Read about treefrog's winning entries in these contests: