Most of us have an inspiration board (or a drawer) chock-full of ideas for what to sew When We Have More Time. And Pinterest is a wonderful enabler of this wish-list, eliminating the bulging board and the overflowing drawer by letting us store it all electronically, and even better, storing other people's wish lists electronically.
This contest was for those members who found the time to carry through on their inspirations from Pinterest. The challenge was to find that time to sew something that you've been meaning to try. The 17 members who entered revved up their sewing machines and brought their home dec dreams to life. See what they accomplished. We envy them!
Let's meet the winners.
First Prize (by Member Vote): ahrizel for No Pattern Used: labyrinth throw pillow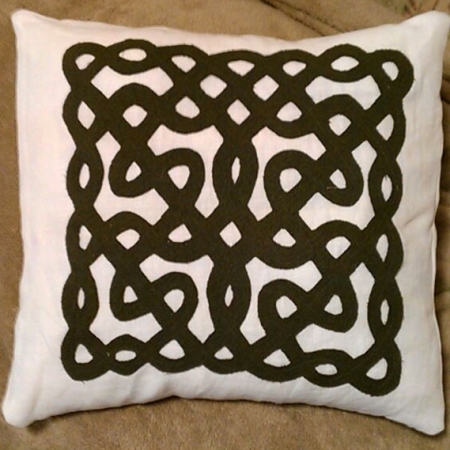 ahrizel was inspired to create an envelope-back pillow she saw pinned on Pinterest by Dwell Studio. The material is wool over linen.
It was a time-consuming project resulting in a unique look. In her own words, this is how it was done:
"I printed out a picture of the applique, cut it out-did I mention there are over 50 openings in this pattern. I felted wool-I wanted to be able to wash it. I put wonder under on a piece of the wool, traced the applique and cut it out-again. I stitched the applique pattern on a piece of linen and made the envelope style pillow."
She loves the way it turned out and will probably make a companion pillow.
Congratulations, ahrizel!
Second Prize (by Member Vote): Renren for Other: Pillow Cover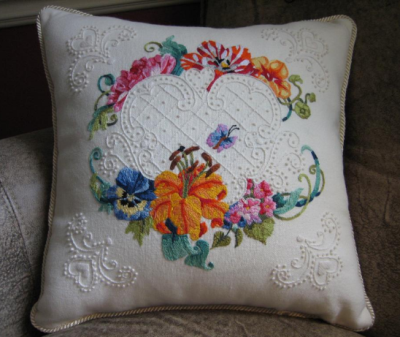 Congratulations, Renren!
And congratulations to all our contestants!
We thank Fashion Fabrics Club for sponsoring this contest.

We thank PR member SheBear0320 for managing this contest
Congratulate the winners and chat with other members about the "Inspired by Pinterest" Contest.
Look at all the "Inspired by Pinterest" Contest entries.
Never entered a PatternReview contest before? It's easy! Our contest tutorial will show you how to enter.
Check out the current contests.
Going on now: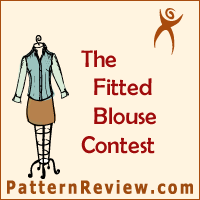 Plan ahead! See all the contests for the year.