We all know the hard work that goes into preparing for a PatternReview Contest. When we came across PR member kealoha's blog post, we asked her if we could share with it everyone as an example of the process of preparing for and entering a PR contest. She said "Yes" and so here it is.
By the way, kealoha won First Prize for her entry in the RTW/Designer Knock-off Contest.
The Big Reveal: Pattern Review RTW Contest by kealoha
Hello, Everyone! I'm so glad to be back in action this week. Flu season hit me pretty bad the past week or so, and I've been trying to sew through it. Thankfully, this weekend I put in some good hours of sewing and got my PatternReview Ready-to-Wear February Contest piece all done! Yes!!!!!!!!!!!!
Before I raise the curtain for the big reveal, I want to share the whole story of how I chose the piece I wanted to replicate and the process of figuring out how to do it. Feel free to skip forward if you're short on time, but I promise the reveal will be much more exciting if you stay with me. So here I go.
Love at First Sight
Flash back to Christmas 2011. I was visiting my parents in Vancouver, Canada. And as us Gomezes like to do, we went to the library to pick up some reading material to bring back to the condo so we could all sit around by the fireplace, drink hot cocoa and read together. I saw a stack of really cool Asian fashion magazines (my guess is that they were from Japan or Korea, but all the writing was in Asian characters, including the title, so I all I could do and wanted to do was look at the photos), so I checked them out and brought them back to my parents' place.
There I was, flipping through the magazines when I saw this dress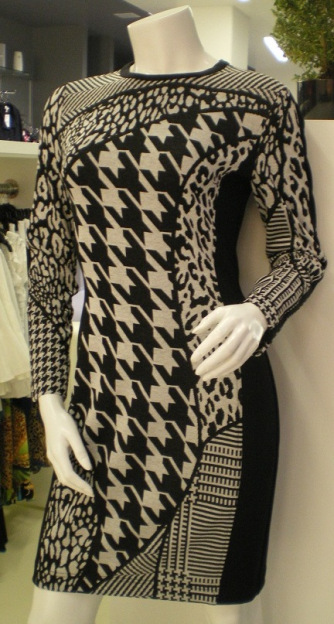 and I loved it and wanted it!!! But who was the designer? Where could I find it? I couldn't read Asian characters and there was no way to keep the magazine, so I took a photo of the page in the magazine on my phone to keep copy of the image.
Months passed, and I didn't really think about the dress again, and I eventually lost the image when my phone was stolen this past summer (I always forget to save my photos onto my computer).
It wasn't until this year when I was reading about the pattern review's February RTW contest that the image popped back into my mind. "Oh wow", I thought, "That dress would be the perfect project to try to knock-off!" But how would I find another image of it?
Thank you, Google. I searched and searched and searched. "Houndstooth dress." "Houndstooth dress in Asian magazine." "Asian Fashion Magazine 2011." "Mixed print houndstooth." I have no idea how I found it, but I found out that the dress is part of a collection by a Canadian designer named Joseph Ribkoff. And it was part of his Automne/Fall 2012 collection.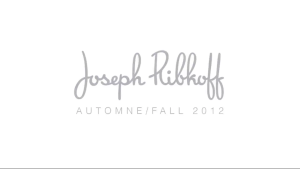 All his collections are designed, sewn and produced in Dorval, Quebec (yay!), and apparently, Miss America winners are known to wear his collection when attending media appearances as he is one of the official sponsors of the pageant. I absolutely love that this dress is Canadian and am even more stoked that all his clothing is made by Canadians in Canada! I was destined to replicate this dress!
How Do I Do This?
As you can see, the actual silhouette of the dress is super basic. At first, I thought I might draft my own pattern from scratch from my pattern blocks, but then I thought, "Nah". My blocks are made for woven material, and I would much rather find a pattern in my stash that is designed for knits than to figure out all the ease and negative ease calculations and such.
I was lucky enough to find the perfect pattern in Vogue 1314 by Tracy Reese. Although the pattern itself is supposed to be ruched at the side seams, I used the lining pattern to make my first muslin.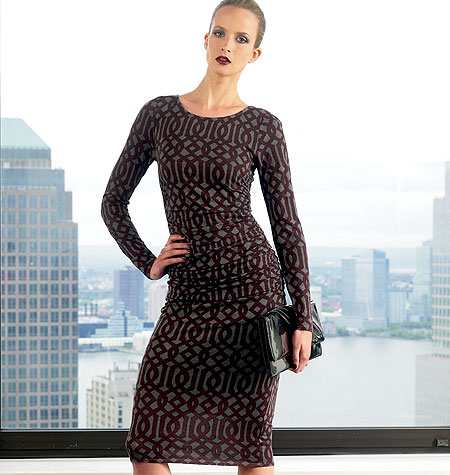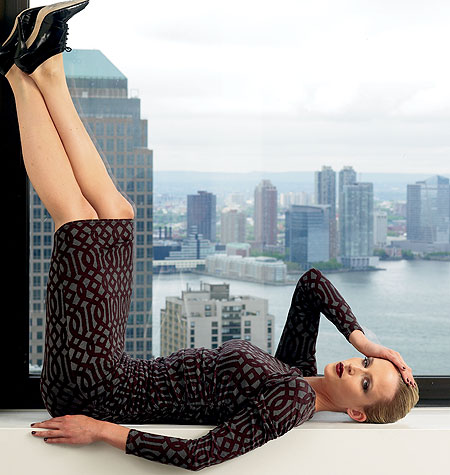 Vogue Patterns 1314 Misses' Dress
My first muslin, in black sweater knit, fit well enough. I had to take in the seams a lot at the hip because I think the pattern was designed for hour-glass figures. I also altered the back bodice pattern to adjust for my slight sway back – to do this, I had to create a center back seam, but I was okay with doing that because I knew my final pattern would have an invisible back zipper. After those alterations, I felt like the bodice was perfect.
However, even though I think this is how the pattern was designed, I didn't like how low the arm-hole sat. So I tried to fix it by raising the side seams and changing the shape of the sleeve cap. This was the worst idea ever. I ended up making 2 more muslins for the dress just to address this. I also made 3 or 4 more cropped, half-bodice muslins to try to make the sleeve fit perfectly the way I wanted it (snug and high into the arm-pit), but I ran out of time and decided that my last muslin was good enough to move onto the next step.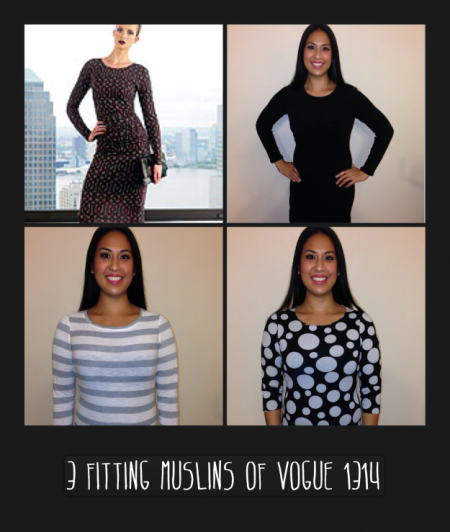 Pieces of the Pattern
This next step scared the daylights out of me because I knew that re-creating this dress involved creating (what felt like) a million pattern pieces to be perfectly fitted together. I started the process by closely looking at the photos I had of the dress from all angles. I, then, retraced the finalized muslin pattern onto tracing paper and drew out the shapes onto the pattern with a sharpie. Finally, I traced each piece one by one, added seam allowance, and cut them out.
Remember how I have a stash of hip-hop promo t-shirts generously given to me by my DJ cousin? They really came in handy for this project. I was able to make myself a totally wearable pattern muslin from his over-sized urban tees.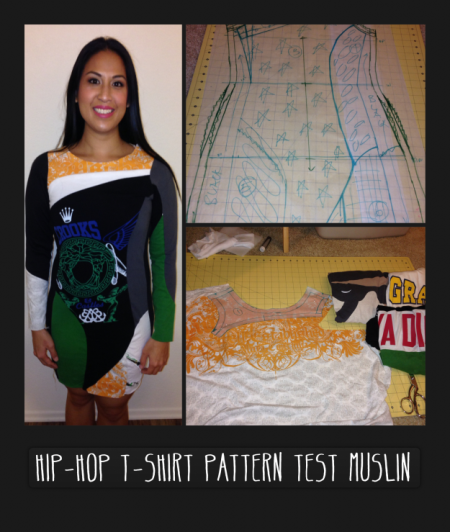 I still need to finish the neckline and the hems on this dress, but I think this version is super cool in itself!
It was a bit of a headache trying to fit the pattern pieces together. Sometimes 1-3 notches for each pattern piece gets super confusing. Did I mention there were about 28 pieces? 29 if you add the neckline band.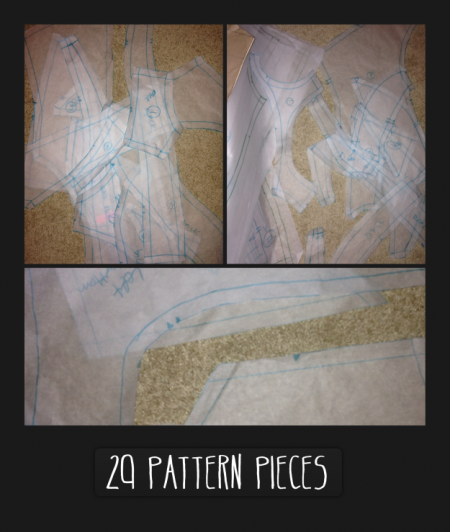 The Real Deal
As I was making the muslins, I was also slowly collecting fabric pieces that I wanted to use for my fashion fabric. Even though there are a lot of prints in the design, the nice thing is that each piece doesn't really need too much fabric. I bought 4 online at a yard a piece and 1 (the zebra print) I already had in my stash. […] I did receive one piece of the wrong fabric, so I had to wait a week for that to be corrected. In the end, I was really happy with the fabric that I ended up with.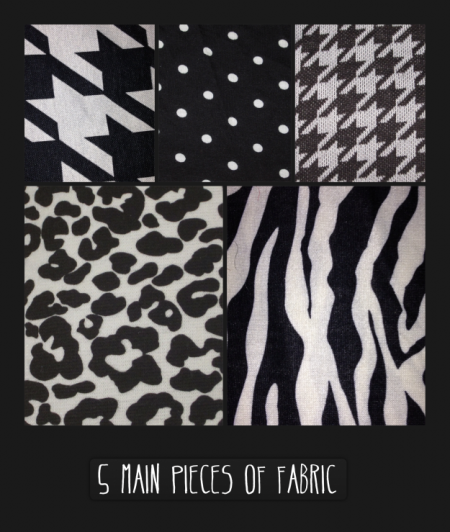 As you can see, I wasn't able to match every single print exactly. It's funny how easy it is to find cheetah print with black spots on white, but how extremely difficult it is to find white spots on black. I also couldn't find the cross-hatch and herringbone looking prints in knit, so I had to double up on the baby houndstooth and sub in the zebra print from my stash.
Of course, not all knit fabric is created equal. Some were 4-way stretch, some were heavy-weight, some were interlock; I had to use some knit iron-on interfacing to manipulate the weights of a few of the pieces and reduce some of the stretch in the direction of the grain. I tested a few types of interfacing on swatches because I wanted to keep the horizontal stretch as much as possible.
When it was time to cut the fabric (do you take a big breath before you cut really beautiful fabric, too?), the back pieces had to be pattern-matched along the center back seam.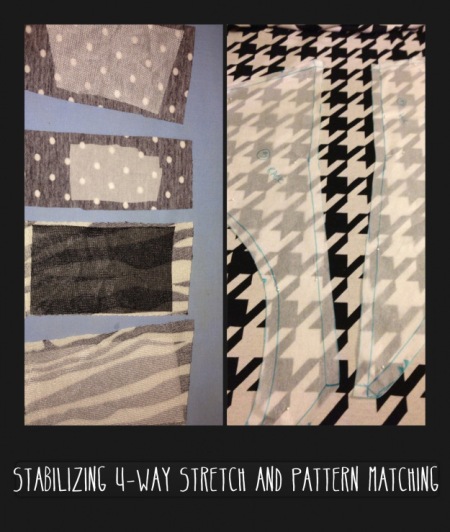 This dress would not be what it is without having black piping between all the pieces to make all the different prints pop. The shoulder seam also had a black stripe from the neckline down the center of the sleeves to the sleeve hem. I used black interlock and created my own bias tape for the black stripe, and I also used it to make my own piping by encasing black rattail.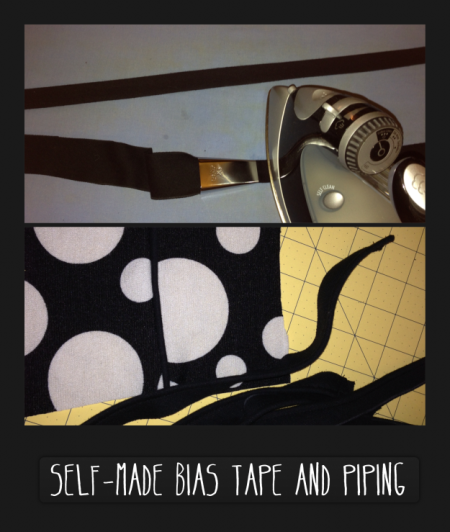 I wanted to make sure the center back seam came together just right, so I ironed on strips of interfacing along the wrong side of the center back seams before installing the invisible zipper. I finished the hems with my favorite twin needle and I used the neckline binding pattern piece from the Briar pattern to finish off the neckline with black interlock.
Are You Ready?
After discovering the origins and designer of the dress, it was easy to find 360° photos of the dress as it is sold on a few online shops (it retails for about $250). Here are side-by-side photos of the Joseph Ribkoff dress and my knock-off version!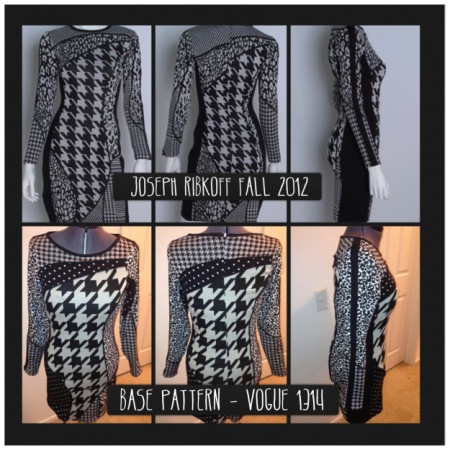 What do you think? I think my center back seam matches even better than the original!
I think I did a pretty good job!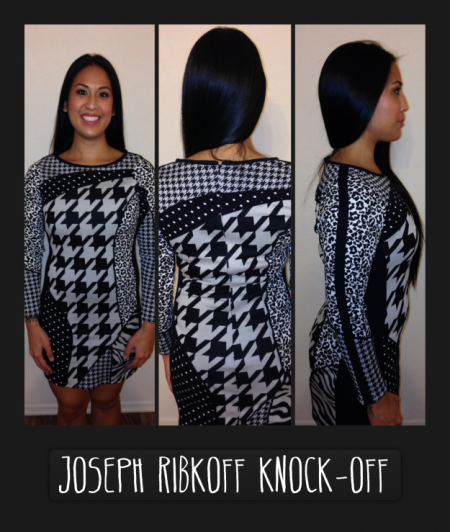 It's Not Easy Being a Model
As part of the contest, they encouraged us to submit a photo of ourselves in our knock-off RTW garment striking a pose similar to how the garment is shown in the media photo. This is the photo I found to replicate. It is of Miss America 2011, Teresa Scanlan.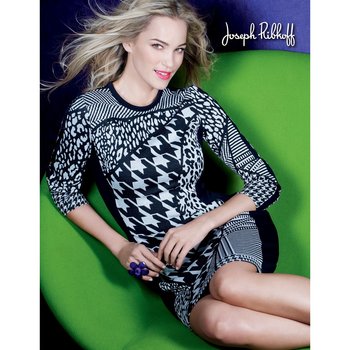 I enlisted the help of my cousin (to be the photographer) and my sister (to be the director) to help me match the photo as well as possible.
How did we do?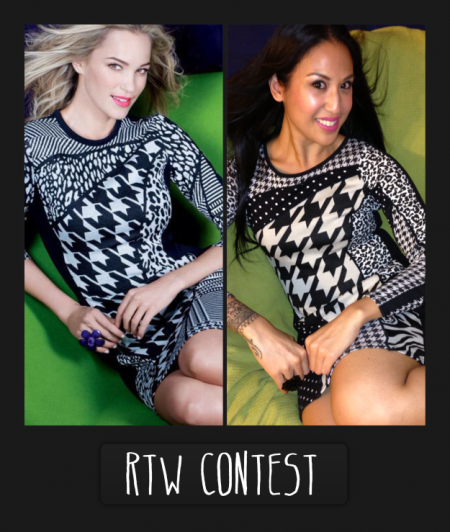 I get a kick out of looking at the two pictures side by side. Don't you?
I'm generally really hard on myself. But for this project, I'm so overwhelmed with happiness that I'm actually able to verbalize how proud I am of myself for completing it. I'm so happy and I'm so proud!
I honestly wasn't sure I could do it. I'll admit, I cried a few times. When I couldn't find the exact prints in knit, I cried a little. When the wrong fabric came in the mail, I cried a little more. When I saw the 29 pattern pieces sprawled all over my bedroom floor, I may have shed a few more tears as I hid in my bed. When my serger broke, I definitely wailed. But the end result feels worth it all. This is what is so great about sewing, we get to bring to life ideas that are just in our minds. Especially since this project is just a kind of re-creation, I now have even crazier amounts of respect for those designers that come up with their ideas out of thin air.
I feel so good about my dress! I hope you all enjoyed reading the story of it's creation. If you're a member of pattern review and you think my dress is your favorite, please drop by and give me a little love (your vote). I took a look at the entries so far and they are all so wonderful and wonderfully different! It's really cool to see what garments other sewers chose to replicate. I'm excited to read the blog posts on their stories and journeys.
Outtakes
In my researching of the dress, I found a YouTube clip of the photoshoot with Miss America 2011 posing in the dress. Her photo shoot might have been a little more glamorous than mine, but I think mine was equally as fun.
Special thanks to my cousin, David, for his help as the photographer and setting up his apartment to try to duplicate the photo. Super special thanks to my sister, Everlyne, for directing the shoot and being patient as I occupied every crevice of our apartment with all the components of this project.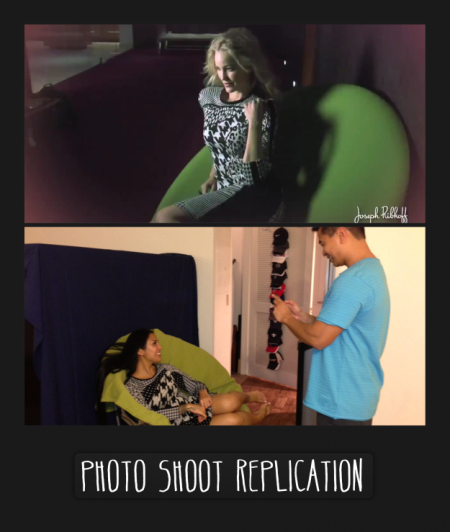 We thank kealoha for letting us reprint this contest write-up, a piece which originally appeared on her blog.
See the blog post announcing kealoha's First Place win in this year's RTW/Designer Knock-off Contest.
Visit kealoha's blog, simply E.GO.tistical.