Our pets…we love 'em, and we love to sew for them. And let's face it…they're adorable and above all are very, very patient with us, tolerating fittings and photograph after photograph. And the cuteness factor? Very, very high! They make us laugh and they make us feel good. They're priceless!
So it's no surprise that we see tremendously sweet and fun projects on PatternReview for members' pets, dogs and cats. Costumes are the number one sewing project for our beloved critters, but we also make beds, backpacks and let's not forget coats!
I ask you…who can resist Basset Hound as Musketeer, the model of patience and acceptance. (Notice the happy tail.)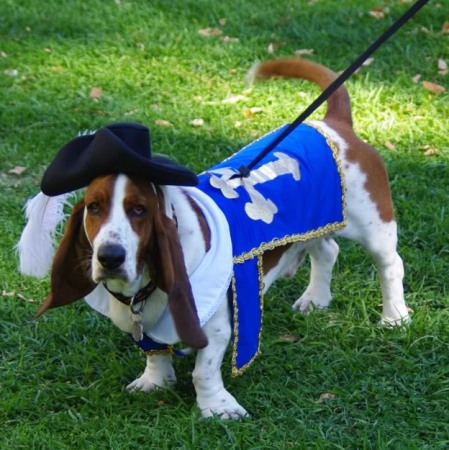 NhiHuynh sewed this self-drafted pattern for her basset hound as a Halloween costume.
The tunic is a simple t shape with a hole for his head. The fabric was made with spandex left over from her nephew's Superman costume. She used a double-sided iron-on fusible web to anchor the cross, but because of the constant back-and-forth motion when he walked, the cross didn't stay put. She says that next time she'll sew it on.
There are some considerations that we don't think of when we're sewing human garments, like how to attach a leash. NhiHuynh made a slit for the leash between the shoulder blades.
But why should your pet have fun alone when a family member could have fun with him or her? That's the case with Simplicity 1765: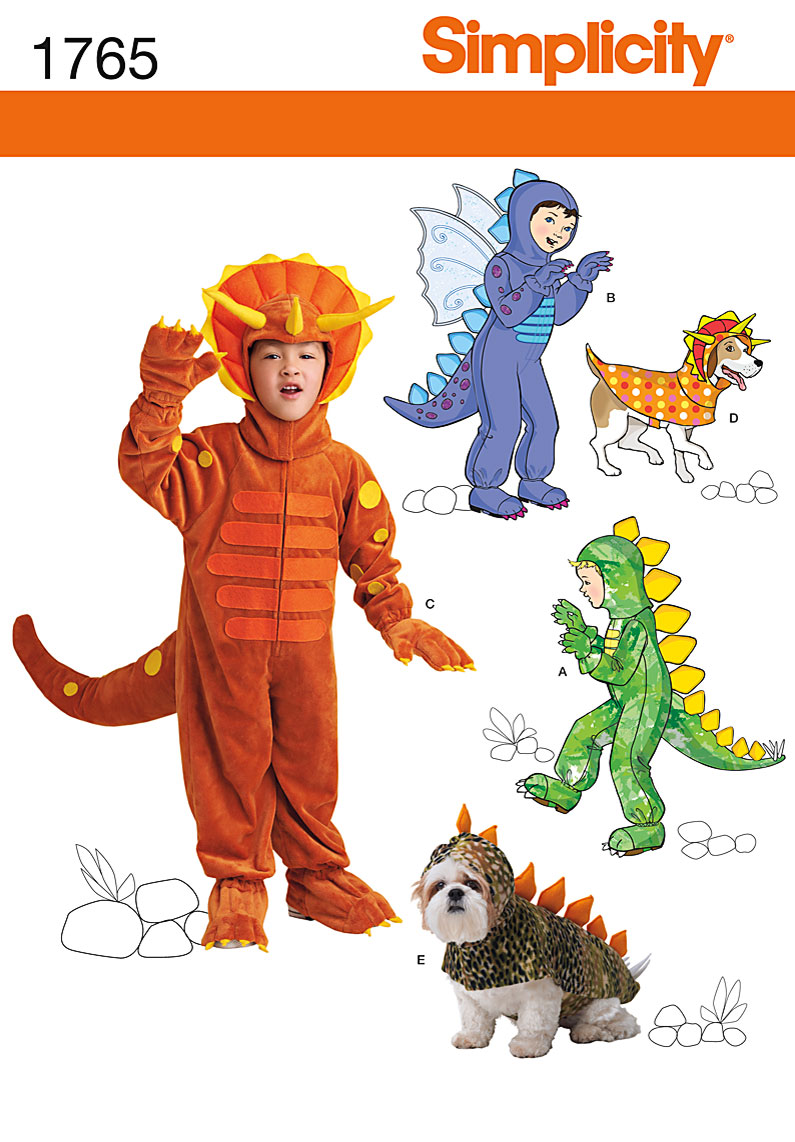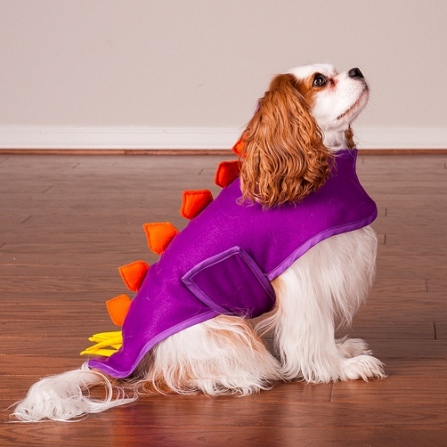 Riley, a Blenheim Cavalier King Charles spaniel, looks very dignified in his dragon costume (and cute at the same time. How does he manage that?), and think how great it would be sew and wear the child's version of this pattern!
The pattern comes in 3 sizes, S (13"), M(15"), and L(17"). mars418 noted that they don't tell you what the measurements are for, but she correctly guessed that they meant the distance from nape of the neck to the beginning of the tail. She says that the pattern was super easy to make. She used fleece for the body, felt for the plates and horns, and Velcro for the closures.
She laughed about making two muslins…for a dog! Her biggest problem was that Riley wanted to nap when she wanted to fit. But it was all worth it, because Riley wore it twice, to mars418's neighborhood Fall Festival and for Halloween.
We could talk all day about the really darn cute costumes members have sewn for their dogs and cats, but there are other pet projects out there too that don't involve costumes. And you can still wear an outfit that coordinates with your pet's garment.
Lounging at home in the living room with the family? That includes your dog too! Why not sew this highly recommended Simplicity pattern, 2771, Unisex child's, teen's and adults' tops and pants and top for dog in three sizes?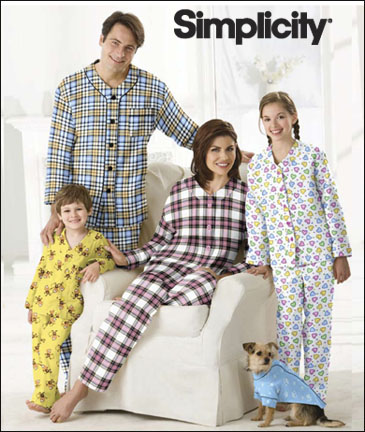 Can't you see a family photo of everyone around the fireplace (including the dog) wearing pajamas from this pattern in red plaid?
thepattyc made two pairs of the men's pajama bottoms. Her son is 6'4", but she didn't have to add any additional length to the pants. But, she says, "The star of the show is my dog. I have a short-haired Chihuahua and he has no fur under his front legs or tummy. Therefore, warm attire is critical for him living in the Northeast. I used the leftover flannel from a pair of my son's pajamas and made the dog a little coat."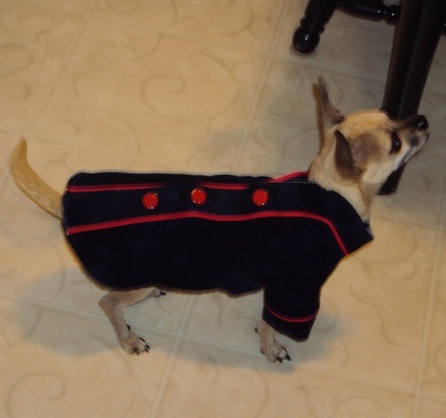 thepattyc's short-haired 6 ½ lb. Chihuahua, Junior, in Simplicity 2771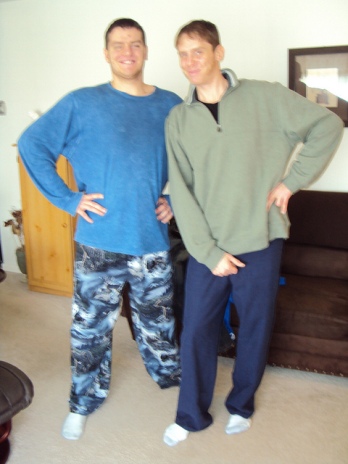 thepattyc also made 2 pairs of the men's pajama bottoms.
Don't feel like sewing for the whole family? How about for yourself and your pooch?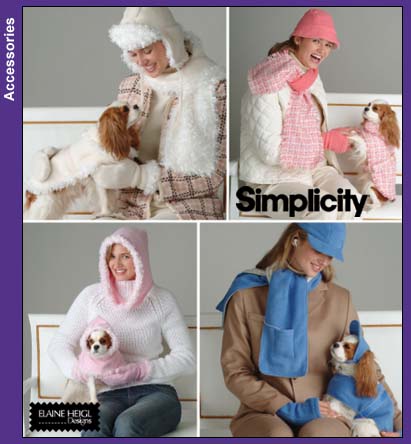 Simplicity 4316 Misses and Dog Accessories
And there are so many options for hats!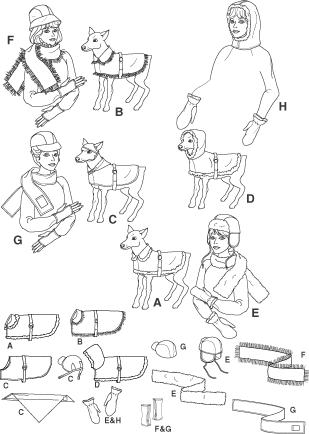 Want just your dog to be the center of attention? How about sewing Simplicity 2740 Dog Bonnets in 3 Sizes?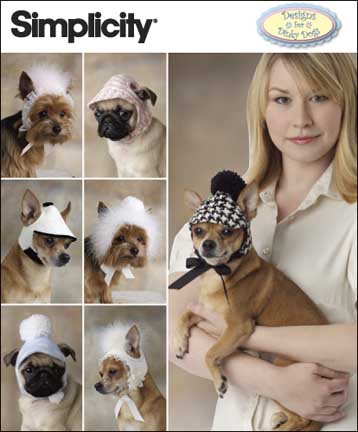 You'll have so many people stopping to say, "What a cute dog!"
lauramae highly recommends this pattern, one which she sewed for her dog Tino.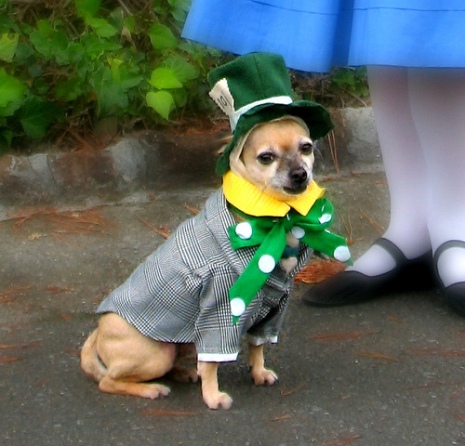 Tino in his hat from Simplicity 2740.
She gives a hint to manage the model that might be a wee bit squirmy: "As you are perfecting fit, and each time you put the bonnet on his/her little head, make sure to reward with a treat! Positive reinforcement is a fabulous thing and really works!"
How about a nice coat to go with that hat?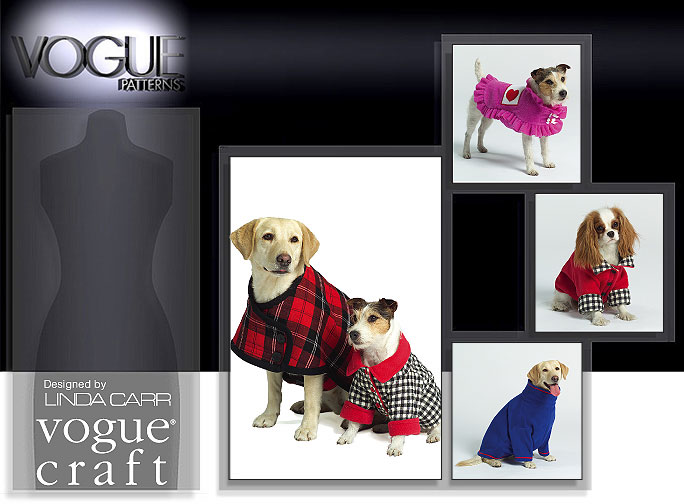 FranVan highly recommends Vogue 8312, and ShastaKatt rated it "Easy & Great for Beginners." FranVan says, "It was an easy pattern without too many steps. The largest size wasn't large enough for an 80 lb. greyhound, so I modified it the second time around."
Want a pattern that's really versatile? Try McCall's 5776! You not only get patterns for dog coats but also one for a scarf and legwarmers.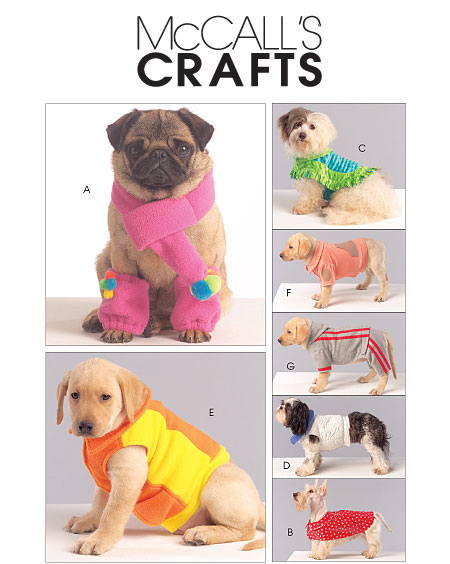 Perhaps Fifi or Dutchess is too small to be walking around, especially in the big city. There are a few great patterns for carriers.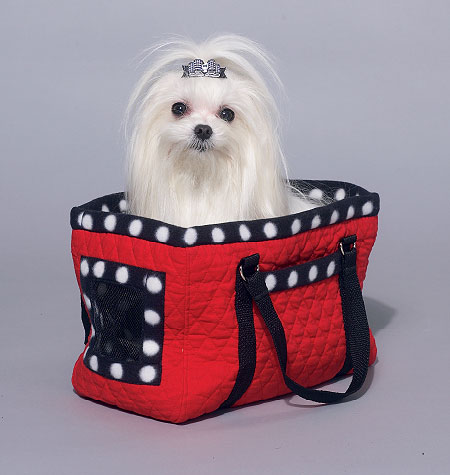 McCall's 6621 Dog Hoodie, Harness, Leash, Carrier and Carrier Tote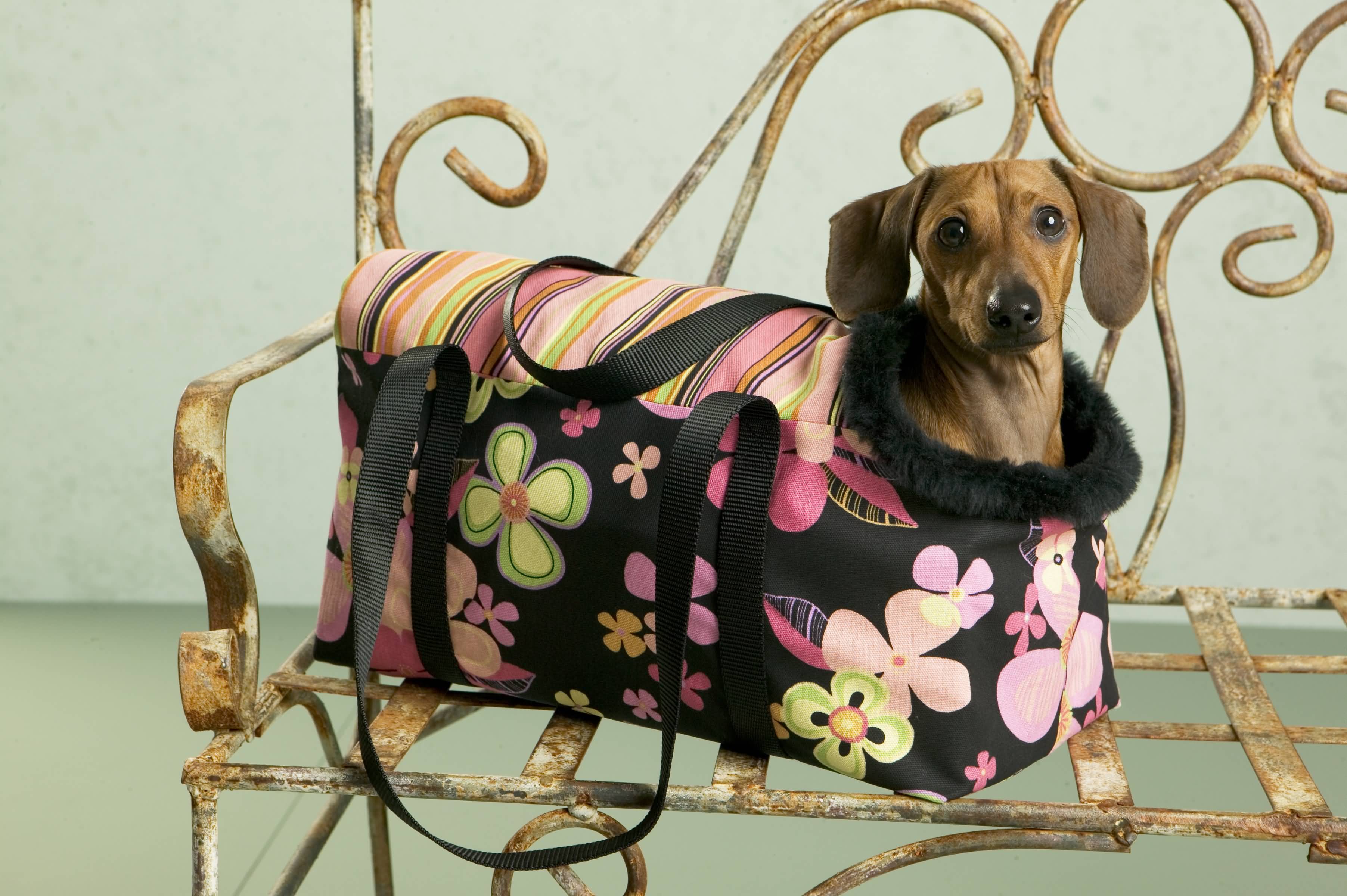 Kwik Sew 3311 Pet Jacket, Dress and Carrier
I don't mean to leave out our other favorite companion, the cat! But cats aren't as willing as dogs to wear costumes (although I was able to put a sombrero on my kitty long enough to snap a picture and sing the first few lines of "Cielito Lindo").
But they do love to play and snuggle. Kwik Sew 3642 satisfies both these needs.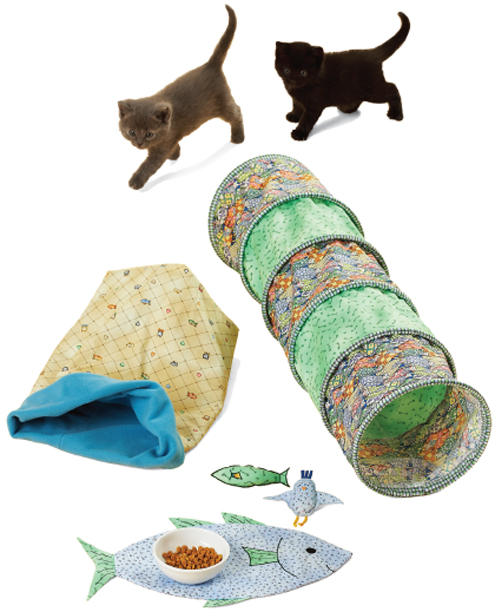 Kwik Sew 3642 Tunnels, Snuggle Sack, Placemat & Toys
By the way, it's wanted by 9 members and owned by 4.
And when a kitty is not sleeping, playing, snuggling, eating, and keeping your house safe from bad critters, she's…sleeping, so you need to make the perfect place for her to rest in the perfect fabric and perfect colors.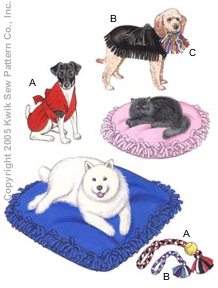 Kwik Sew 3357 Crafts Pet Pillows, Jackets & Toys (Wanted by 4 members and owned by 8!)
Of course, your dog will want to sleep there also, so why don't you make him one too?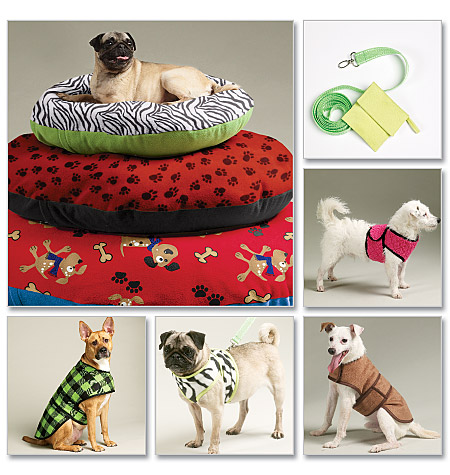 McCall's 6455 Dog Bed In 3 Sizes, Leash, Case, Harness Vest and Coat
And if you don't find something you want, like all PR members, you can draw on your creativity and draft your own pattern.
Here are some items that PR members have created and reviewed.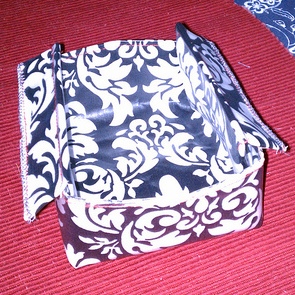 Claverie created this Collapsible Pet Bowl.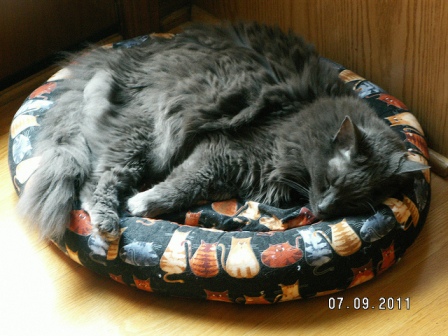 JETrinity sewed this Small Cat Bed (model: Smoky). Note the pet-appropriate fabric.
When you see the contentment in an image like the one above, you know that it is worth all the hard work you put in!
See more dog patterns and reviews.