By sewingsilly
There are unlimited ways to embellish your creations!! I LOVE finding new ways to add just the right bit of charm to a project. On my latest project (which I'm keeping secret for now [sort of]), I used linen to create fringe. It's a simple technique that has a BIG payoff.
Step 1. Cut linen strips on the bias. Linen is a loosely woven fabric that is perfect for this technique. It's imperative that it be cut perfectly on a 45˚ angle. I will show you why later. No need to cut them too wide unless you want to fringe both sides of the strip and fold it in half. I chose to fringe only one side so I cut the strips of bias 1 1/4" wide.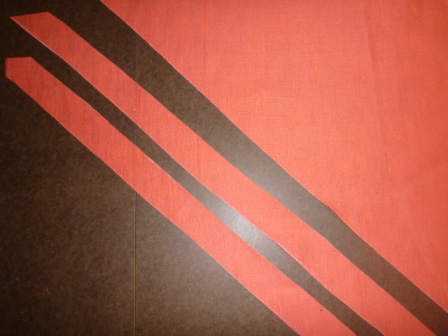 Bias strips, cut 1 1/4" wide
Step 2. Stay-stitch the bias strip 3/8" in on the edge of the fabric with the machine set to a medium length stitch with tear-away stabilizer underneath. DO NOT pull the fabric through the machine. Pulling will cause the fabric to stretch, and we want to prevent this from happening. We want fringe, not ripples. Just let it remain as flat as possible as you sew.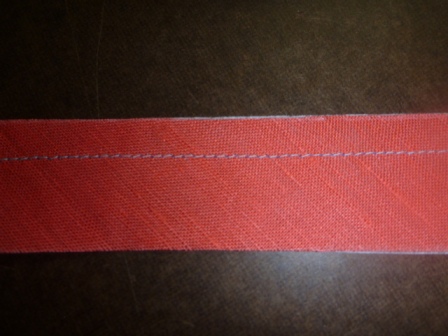 Stay-stitched bias strip stitched onto tear-away stabilizer
Step 3. Select a decorative stitch on your machine for fun. I chose turquoise embroidery thread for a punch of color on my melon-colored linen. I threaded my machine with 2 spools so that I would get a nicer covering satin stitch. Stitch right on top of your stay stitching line. Play around with your stitches and thread colors!!!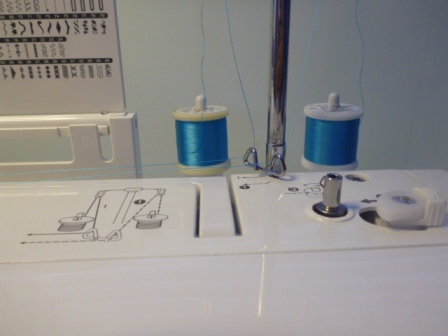 2 spools of embroidery thread threaded together on the machine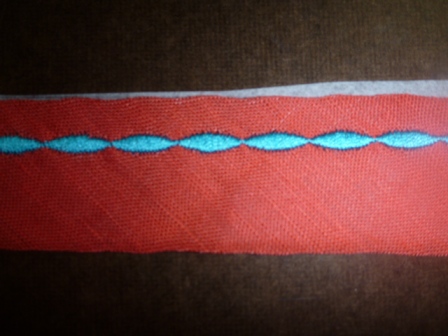 Decorative stitching
Step 4. Press the embroidery flat and remove the tear-away stabilizer from the edge to be fringed.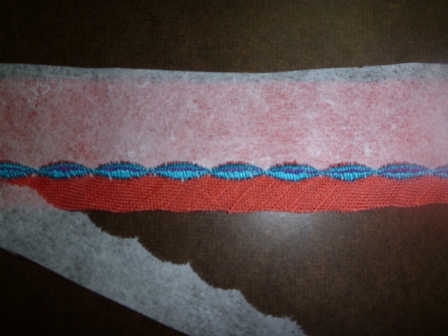 Tearing away the stabilizer
Step 5. Lay the strips flat on the table, and start to pull the edges of the cut edge gently to soften the weave of the fabric. Push the fibers in one direction against the weave and then repeat from the other direction. Gently inserting a pin into the weave will also help unravel the fibers.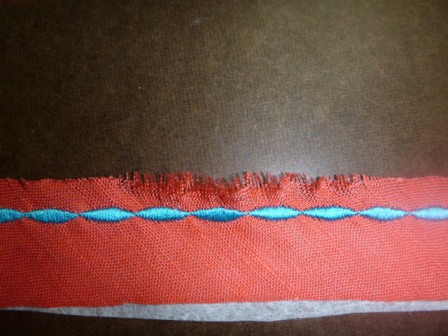 If you cut it on a perfect 45˚ angle, both sides of the fringe will be even. If not, one side will be longer than the other. If this happens, just trim away the longer ones to even it up. The more you manipulate the fabric, the more the fabric will "bloom".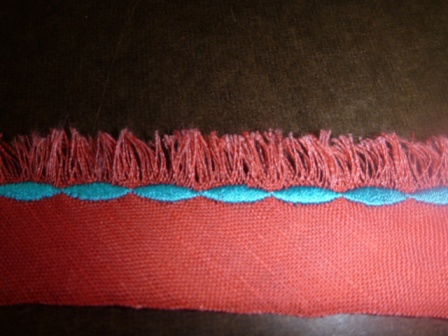 The result: a soft fringe
This technique creates soft fringe that gives a shabby chic/casual look to my project. There's a lot of emphasis on the beloved Chanel Jacket these days, and this process could also be used to make fringe out of your favorite tweed to trim your own version of the Chanel Jacket. Stay tuned to my blog to see what I did with my fringe!!!
Read more tips by sewingsilly.
Read sewingsilly's pattern reviews.
Read sewingsilly's sewing machine reviews.
Read sewingsilly's book reviews.
Read sewingsilly's notion reviews.
Visit sewingsilly's blog Strikes My Fancy.
Want more fringe? Check out QuiltSewSewSue's blog post on fringing her Chanel jacket.