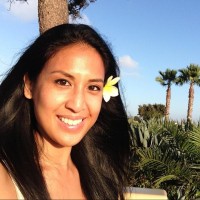 Your PatternReview Name: kealoha
Your Full Name: Eleyna Suzanne Gomez
Member Since: 8/3/2011
Your Birthday: 5/5
Member Since: 8/3/2011
Your Birthday: 5/5
Your Blog: www.eleynagomez.wordpress.com
How did you learn to sew?
My mom and grandmother were both seamstresses, and I was really lucky to grow up having most of my special occasion garments and dresses specially designed and made for me by them. Though I was exposed early on to sewing, most of the sewing I did when I was younger was by hand. When I altered the length of my pants or skirts, I was taught to hand sew them with an invisible hem. I also used to be the "little helper" that ripped seams for my grandmother and mom when they needed it.
I didn't actually start sewing on a machine until I moved away for University where I tried my hand at sewing simple things like Halloween or Hula costumes – garments that wouldn't be analyzed up close and wouldn't be worn often. For a while, I had an interest in refashioning clothes and I made several casual dresses out of t-shirts, but I had very little experience with tailored pieces or using patterns.
A few years ago, just before my grandmother passed, I decided to take sewing and pattern making courses in night school at the local college. My interest in sewing was ignited one hundred fold! Everything started making more sense – dart placement, body types, even the importance of pressing! I discovered the online sewing community and felt inspired to start a blog to share my creations.
I feel lucky because I do feel that sewing is in my blood and that the exposure I had growing up in a sewing household has given me the confidence to attack any project my heart desires. I'm planning on going back to night school to take advanced sewing and pattern making this fall, and I'm excited to continue my family's sewing legacy of creating beautiful things by hand.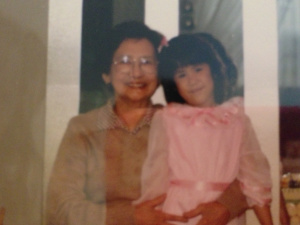 My Grandmother and me, back in the day
Which sewing book do you refer to most often?
When I took an intermediate sewing class, the recommended text was "Professional Sewing Techniques for Designers", and I find that I go back to it most often because it is so thorough (I love the detailed pictures). I also have a sample binder that I had to make in that class containing samples of every technique we learned, and I use that as a visual resource a lot because I have samples in there of everything from hand sewing techniques (like catch stitching) to lapped zippers to welt pockets.
What are your sewing goals for this year?
At the beginning of the new year, I had a list of goals that I wanted to take the year to work on, but I've found that as I complete each project, my goals for the year begin to change. Initially, I had goals that encouraged me to work outside of my comfort zone like trying new patterns, drafting patterns from my blocks, mixing up the media/fabric types, and perfecting fit to achieve tried and true patterns. Lately, I've been more reflective about being a more conscious sewer and I want to create higher quality garments that might take longer to make but that fit better and will last longer because of the fabric, pattern and design choices I make.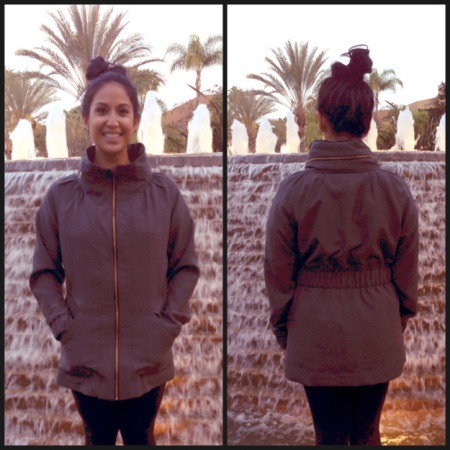 Is there a sewing project that you aspire to make some day but don't feel you can yet? What is it?
When that day comes, I would definitely love to design and make my own wedding dress. I'm hoping it could be a collaboration with my mom and aunt. I know they don't sew as much anymore, but I'd like them to be a part of its creation somehow - even if it's just a few beads here and there - because they were an integral part in my being inspired to sew.
What are you sewing right now?
I'm working on two things at the moment. The first is a blazer (Simplicity 2446) that I've been working on for 2 months, and the process is slow and long because for some reason it is important to me to make it perfect and right. I'm also taking part in Grainline Studio's Archer sew-along, which is a step-by-step sew-along for those wanting to make their own button-up collared shirt – I'm loving it so far!
What's your favorite pattern?
So far my favorite pattern has been Megan Nielsen's Briar. I actually don't have too many indie patterns in my stash because I get easily lured by JoAnn's pattern sales. But aside from having amazing packaging, thorough instructions and cute graphics - I love the pattern itself. It is so easy to make! And especially having been a part of the Briar sew-along, I'm aware of all the options that can be sewn up with a few minor pattern tweaks here and there. Right now, the style of the pattern is part of my wardrobe esthetic, so it makes it even more desirable for me to make it up in different sleeve and hem lengths.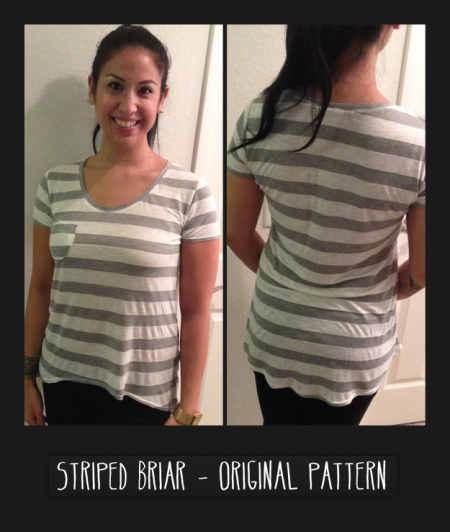 What aspect of sewing do you dread or find the most challenging?
I dread fitting - especially when I've given myself a timeline to finish something. Somewhere in my brain I know that sewing is a creative process and that each garment, pattern, and piece of fabric is a new adventure – but sometimes I just want to get'er done, and perfecting the fit (especially with sleeves on shirts, or my thigh area on pants) can be a long and painful process. I think understanding fit will be a lifelong learning process.
Where do you buy most of your fabric?
In the past few years I've bought most of my fabric from JoAnn. There are several locations around where I live and work, and it is very convenient when I need to pick something up in a hurry. I've been venturing a little more online lately and I've found online fabric stores to be more knowledgeable about fabric and have higher quality fabric at reasonable prices (I love gorgeousfabrics.com and etsy shops). I feel horrible about having lived in Orange County for 3 years and still never having driven up (only a 1 hour drive) to LA's fashion district – bad, bad me! But aside from sewing, I have a lot of other hobbies that occupy my time, so I tend to go with what is convenient and time-saving. My mom is visiting me for my birthday, so we are planning to make it a weekend and go to LA together in May. I can't wait!
You're Canadian by birth but now live in the U.S. What differences do you find between sewing stores in Canada vs. where you live now?
I've found that the biggest difference is in the prices. Everything is cheaper in the U.S! Everything! For me, that was a bad thing because I'm the type of person that loves a sale, and here in the U.S., there is a sale going on somewhere everyday! So, I ended up accumulating a huge stash in a short amount of time. I also find that there is definitely more selection and inventory in the U.S.; I know that if I go to the right store, I'll find what I'm looking for. In Canada, I don't recall 99 cent pattern sales, ever.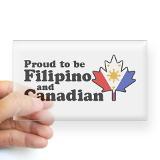 How big is your fabric stash? What's in it?
Since I just recently moved apartments, I was able to see how big my stash really is. For 3 years, it is pretty big (for the sake of a visual, let's say 2 refrigerators full), and I think and it's made mostly of JoAnn clearance fabric (that I bought during their 50% off red-tag clearance sales). The majority of it is either solid knits in black, white or neutral colors that I had planned to make basics with (like t-shirts, cardigans, maxi-dresses). On the opposite end of the spectrum, I have extremely bold prints in bright colors that I have ideas for but have yet to find the gusto to start them (for printed pants, trenches and cut-out dresses).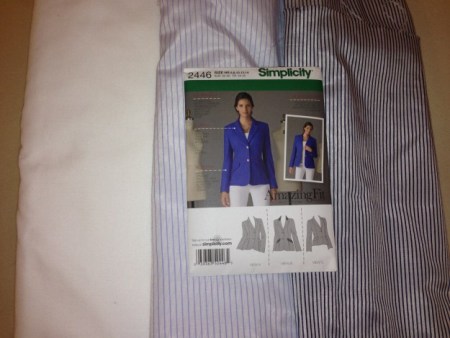 Part of kealoha's stash: white light cotton and 2 striped pieces of shirting
You participate in sew-alongs. What do you like about them?
I love sew-alongs! I like the step-by-step visuals as well as the connection you have to the sew-along host and other people in the community. My favorite part is seeing the different options a pattern can have and what choices other people make to fit their style and lifestyle.
You recently won the RTW Contest. Did you discover anything new about sewing during this contest?
I learned how creative sewing really is. In sewing class, I understood it as a craft but that there were right, not-so-right and better ways to do things (technically speaking). This contest involved a lot of problem solving in order to come up with creative solutions for issues I'd never come across before. Basically, I'm starting to understand that pattern instructions can just be used as a guideline to take you from point A to point B, and that fabric can be manipulated so that it can become what you need it to become – [that] as sewers, we are in the driver's seat and the ride we go on is the one we choose. The contest reminded me that I'm a creative creature and that I'm not just a robot here to follow someone else's instructions and rules. After getting over some initial frustration, it was super liberating!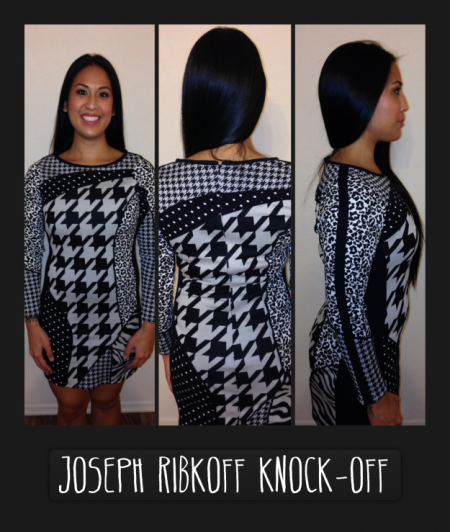 Will you enter another one?
I'd love to enter another contest, hopefully soon! I like contests because we are given a theme and a timeline (for the sake of being focused) but we are given the chance to do and choose whatever we like, whatever we want, or whatever we feel our closet needs. I also love seeing all the entrants' interpretations and reading about what inspired them, too.
What you love most about PatternReview?
I love the actual pattern reviews most! I find it fascinating how kind and generous sewers can be to take the time to write such elaborate reviews and post such wonderful photos at all angles. Before I started reviewing patterns, I was on the site just reading different reviews to get inspiration for my pattern wish list and it is such a priceless resource. I don't buy many patterns that aren't highly recommended, and if I do, I take into consideration what reviewers have said about a particular pattern's issues.
How has PatternReview helped you with your sewing?
It has definitely helped me with the whole sewing process. I really trust the reviews and reviewers, and I'll usually note changes I need to make or things I need to buy (type of interfacing etc) before I start. As I've reviewed patterns, I've found members to be super encouraging when commenting on my finished garments and it truly gives me the inspiration to share more.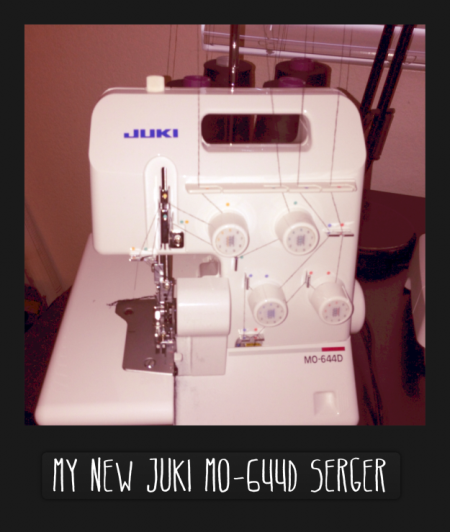 Any other hobbies besides sewing?
I've been studying Hula and Polynesian dance since I was 4 years old. I've been a part of many dance schools in the different places I've lived in over the years, so I've worn many hats in the different companies – principal dancer, director, choreographer, assistant teacher, core dancer, drummer, costume designer, etc. It is beyond a passion of mine, and I call it my first love because I tend to go wherever it leads me. This summer, it is leading me to Tahiti as I take part in a huge performance in Papeete with the dance company I am a part of here in SoCal.
I also love to do cardio workouts and since moving to California have become a spinning (indoor cycling) instructor.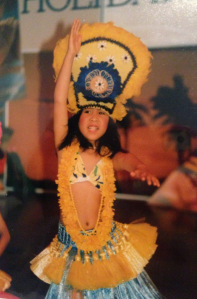 Kealoha as a little girl in her Polynesian outfit
Your profession, where do you live, etc.
I live and work in Irvine, Orange County, California as a Pharmaceutical Chemist. I'm a very analytical person, and majoring in chemistry was a natural fit for me in University. Working in science is the perfect balance to my creative hobbies.
What would PR members be surprised to know about you?
I'm an extreme introvert. Most people are completely surprised when I tell them that because I think shyness is often mistaken for introversion. But I'm not shy at all and don't have a problem speaking or performing in front of a large crowd, and I quite enjoy talking to anyone and everyone (in moderation). I do know, however, that at the end of the day, I need at least a few hours to be in complete solitude. It's just my way of regrouping and re-energizing for the next work day or social interaction. On weekends when I'm not dancing or meeting with friends, it is very easy for me to stay in the apartment and just sew and watch movies by myself.
Is there anything else that you'd like to tell us about yourself?
I'm just super happy to have sewing as a hobby and really honored to be a part of such an amazing international online community with such talented, like-minded creators. Thanks, PatternReview, for giving me the opportunity to tell you a little more about myself!
Thank you, kealoha!
Read kealoha's pattern reviews.
Read The Big Reveal: Pattern Review RTW Contest by kealoha.
Visit kealoha's blog, simply E.GO.tistical.