Have you ever put on a blouse and realized that it was shapeless and didn't highlight your gorgeous figure? Those of us who have gorgeous figures (and we all do, don't we, ladies…) want something to wear that makes us look like we're wearing is prettier than a potato sack.
The members who entered the Fitted Blouse now have wonderful garments to show off their proportions. (See who they are.) They had some definite rules to follow. For example, the blouses could only be made of woven or stretch woven, not of forgiving knits. They needed to be shaped through use of darts or dart equivalents, such as princess seams, gathers, tucks, or pleats, to follow the contours of the body through the bust and waist. The blouse had to have set-in sleeves. The rules reminded us of all the tricks and features we use to get around our fitting issues. No futzing in this challenge! It was fitting all the way!
The result is a gallery of lovely fitted blouses. Take a look at them all!
Now let's meet the winners.
First Prize (by Member Vote): Lynn WA for Marfy 2502 Blouse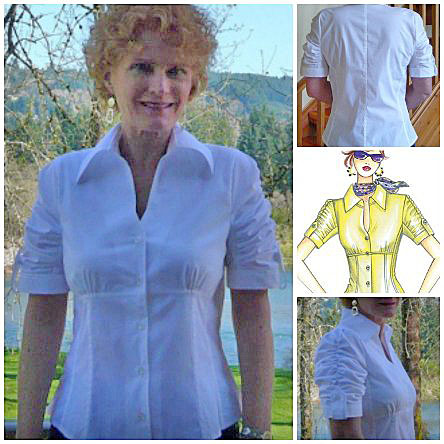 When she cut out and sewed this blouse, Lynn WA had to be a sewist AND a detective.
First of all, no instructions came with the pattern, just pattern pieces without seam allowance or many markings. And, she notes, "Some markings appeared to be off. For instance, on a few pieces that had two small grain lines, the lines could not connect and were slightly off parallel. I had to decide which line made more sense to use."
But, she says she enjoyed figuring out how to put the pieces together, like a big puzzle! "They fit together perfectly."
Marfy is a European pattern company (the pattern ships directly from Italy), and uses European sizing. Unlike U.S. pattern companies, European companies require that you choose a size when ordering a pattern, and they ship that size to you.
Lynn WA describes the pattern this way: "This form-fitting blouse creates a corset effect with empire-waistline cut to separate the tight-fitting part from the overlying blousy part." She made two muslins trying to get the fit right. She also made a minor shoulder adjustment, removed a gap above the bust, increased the top bodice length, below the underarm, a half inch. After getting the fit right, she made permanent pattern pieces with seam allowances added.
She says that she would sew this pattern again and recommends it to anyone who feels comfortable sewing without instructions.
Congratulations, Lynn WA!
Second Prize (by Member Vote): KathleenS for Simplicity 2339 Misses' & Miss Petite Shirts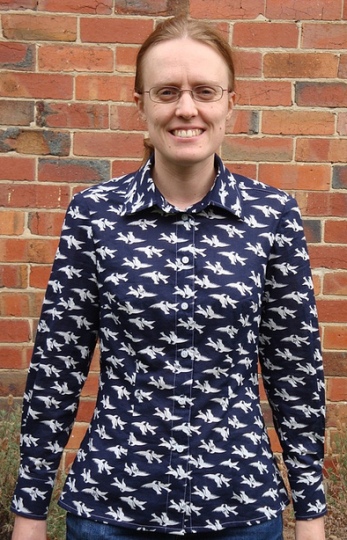 Congratulations, KathleenS!
And congratulations to all our contestants!
We thank PR member velosewer for managing this contest.
Congratulate the winners and chat with other members about the Fitted Blouse Contest.
Look at all the Fitted Blouse Contest entries.
Never entered a PatternReview contest before? It's easy! Our contest tutorial will show you how to enter.
Check out the current contests.
Going on now: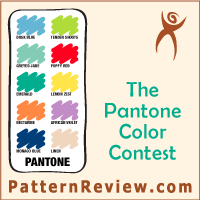 Plan ahead! See all the contests for the year.