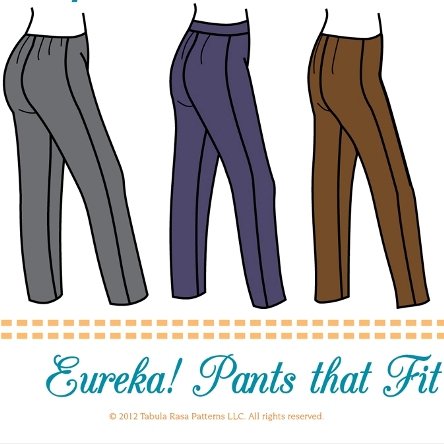 Eureka! Pants that Fit is a new pattern offered by Fit for Art Patterns. Fit for Art Patterns feature classic designs and simple pattern pieces that are easy to assemble and very versatile, have alternate pieces for bust and hips to give every woman a great fit, and are well-suited to creating wearable art. Their comprehensive illustrated instruction books accompany each tissue pattern and include essential fit guidelines and design ideas.
This is what the designers Rae Cumbie and Carrie Emerson had to say about Eureka! Pants that Fit:
"Eureka! Pants that Fit were designed with you in mind because its creators know that every woman needs a personalized pant pattern to get a neat and comfortable fit.
"Frustrated by the pants patterns available to sewers, Fit for Art Patterns creators Rae Cumbie and Carrie Emerson worked with fit expert Sarah Veblen to design, test and refine this unique pants pattern. Both Sarah and Rae have created pants for private clients, friends, family and themselves for more than 30 years using a variety of systems and patterns. None really addressed the wide variety of crotch depths and torso configurations of modern women.
"In keeping with Fit for Art Patterns' philosophy of providing size and fit options that enable home sewers to get a great fit quickly, this pattern includes three backs in each size for derrieres with different shapes and depths. This feature allows women to come close to a good fit right off. Then, a grid of horizontal balance lines, grainlines and dart guidelines offers a roadmap to help each sewer make adjustments until the pants fit well and hang in a balanced way. Extensive directions guide each sewer to drape in darts where she needs them and to establish a waist placement and finish that is comfortable and flattering."
Fit for Art's pattern variations make it easy to change the look of the basic garment without your having to learn and fit a new pattern. They strive to inspire all sewers to exercise their creativity, especially through their wide variety of sample garments.
Now for the giveaway!
Enter to win a copy of the Eureka! Pants that Fit pattern.
Tell us these things in the comments section below…
Have you ever made pants? How'd they come out? How was the fit? What pattern did you use? What fabric would you use to make the Eureka! Pants That Fit if you win?
To qualify for this giveaway, you must have joined PatternReview by May 9, 2012 (a year ago), and you must have a profile picture (NOT the generic dancing PR person).
Post your comments by 11:59 PM EST on Saturday. We will draw a random winner on Monday.
See instructions for adding a profile picture.
Questions about adding a profile picture? Post them here.
See all the Fit for Art Patterns!