Sometimes our closets are bulging with to-do patterns, sometimes our Tupperware bins are overflowing, sometimes our sewing tables are stacked so high that we can't see the wallpaper behind. And sometimes we need a contest just like this one to motivate us to sew as many of those patterns as we can!
This contest was your chance to use all those patterns you've been collecting but haven't had the opportunity to use yet. And there are a lot of you out there! 111 members entered this contest!
Contestants could use only those items which have been sewn from patterns that are in their stashes AND that they haven't used before. Only patterns in their stashes for approximately 6 months or more were eligible for this contest (that included patterns downloaded before September 16, 2012.) No self-drafted patterns, though! Vintage patterns sewn by someone other than themselves were admissible. Magazine patterns were OK too, but no more than 4 newbies of distinct types from any one issue before September 2012. There were other rules too: only one view per pattern envelope, tutorials without pattern pieces not allowed, craft items OK as long as contestants SEWED them. Read more rules.
Take a look at the Gallery to see what they sewed!
Contestants accumulated points for their sewing. The contestant with the highest number of points wins. But something happened in this contest that doesn't happen too often…we had a tie!
First Prize Tie (by Points): Quickie for 15 items. Pictured: Top, Diana Magazine:81,14E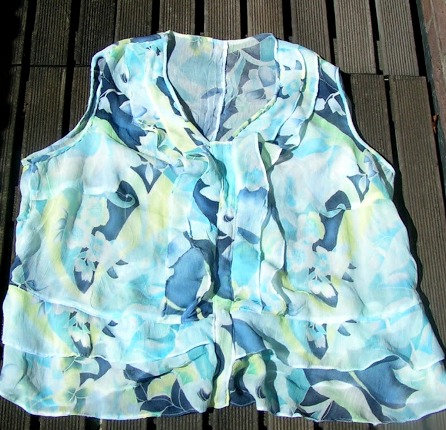 Points: 15, Items: 15, Yardage: 27
Items Sewn: Dresses, skirts, tops, baby wrap, swimwear, tunic, and lingerie
Quickie describes the pictured top pattern as a "sleeveless blouse with double flounces along the neckline and the centre front and double flounces at the hem."
She found the instructions easy to follow but adapted them for her body shape and fabric. The pattern did not carry her size, so she had to grade it.
For fabric, she used a woven, sheer, densely-crushed synthetic voile. Since ironing is a no-no with this fabric, she got unwanted wrinkles out by soaking it in water and drip-drying it.
The directions called for zigzagging the armholes and neckline and turning and sewing it. She felt that that technique would not have worked for the crash material, so she used bias strips of the fabric that I stretched out. For the flounces, she made a row with the serger, turned the fabric to the wrong side, just next to the row of serger stitches and then sewed a tiny seam with the sewing machine. With all those seams and hems, she needed to work very carefully to avoid stretching the material and creating puckers.
She topstitched the seams to get them to lie flat. She recommends this pattern to others and says, "Lovely pattern. Lot of romance with the flounces, but they are just fine and not overdone."
See all Quickie's entries in this contest.
Congratulations, Quickie!
First Prize Tie (by Points): wendlesue for 16 items. Pictured: McCall's 6444 Misses' Unlined Jackets and Vest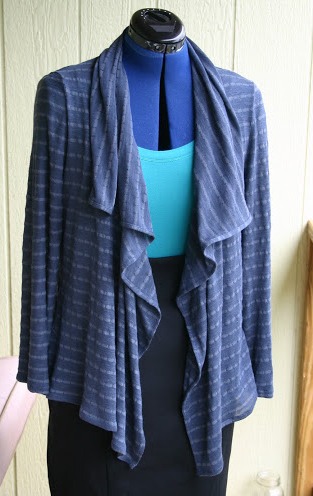 Points: 15, Items: 16, Yardage: 40
wendlesue made View B of McCall's 6444. She really likes Views A and B but doesn't like the draping on Views C and D. She had had the pattern for a while and thinks it was the pattern photo of view D that stopped her from making it up (she just doesn't think it is a very attractive garment). She's very happy with the view she made. though.
For fabric, she used a fine gauge soft drapey striped sweater knit from Walmart – only $1/yard!
She did veer from pattern instructions by stabilizing all of the hem edges with tricot fusible interfacing strips before sewing them. She also stabilized the neck and shoulders with plastic elastic to keep the very stretchy knit from sagging in those areas.
Would she sew it again? Definitely! She says, "This went together so quickly, and it is a really versatile cardigan."
See all wendlesue's entries in this contest.
Congratulations, wendlesue!
And congratulations to all our contestants!
We thank Patterns From the Past for sponsoring this contest.

We thank PR member Montarville for managing this contest.
Congratulate the winners and chat with other members about the Pattern Stash Contest.
Look at all the Pattern Stash Contest entries.
Never entered a PatternReview contest before? It's easy! Our contest tutorial will show you how to enter.
Check out the current contests.
Going on now: