We've been drooling over the Pantone Colors ever since Angela Wolf wrote about them this winter.
So it was great to see how members were inspired by them to enter the Pantone Color Contest.
The goal for this contest was to sew a two-piece outfit for a woman or a man in the Spring/Summer Pantone Colors. There are many possible combinations- blouse/pants, tee/skirt, dress/cardigan to name but a few. The two pieces must be able to be worn together. See more information about the Pantone colors in the rules.
62 members rose to the challenge and created this wonderfully colorful gallery of garments!
And now let's meet the winners…
First Prize (by Member Vote): HawkeMorningStar7 for her jacket and dress Pictured: BurdaStyle Magazine: 11-2005-117 (Moto jacket)
HawkeMorningStar7 chose these colors for her dress: Monaco Blue 19-3964, Emerald 17-5641, Tender shoots 14-0446, Greyed Jade 14-6011 and Lemon Zest that she says "just sang out to go with the jacket." She created the classic moto jacket from BurdaStyle Magazine with no alterations, a situation that she says is typical for her because Burda patterns fit her so well.
One tricky step, she says, "…was making a binding strip for the left half of the zipper. Burda made no sense. I cut a long strip using the selvedge which was nicely finished so no bulk to turn under on one side. Other side was sewn into zipper. Front facings had already been sewn so I had to fold the lower part carefully back open as to not catch it all the way through."
Also, she said that the sleeve inner seam does not match the side seam. She had wanted to skip the lining, but found she couldn't do that because the front facing curves in a J shape.
She loves this pattern and says it fits like a dream. It also makes her feel happy!
See more details and the color palette in her reviews.
Congratulations, HawkeMorningStar7!
Second Prize (by Member Vote): mlsg for her skirt and top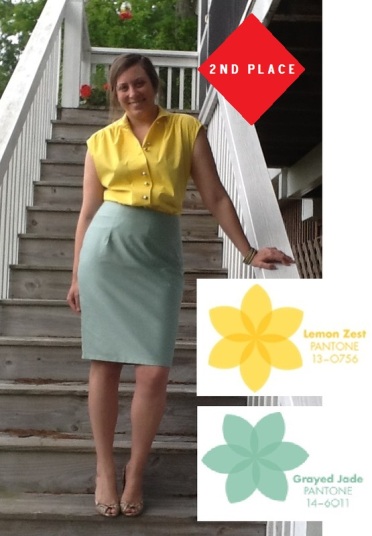 Congratulations, mlsg!
And congratulations to all our contestants!
We thank Elliott Berman Textiles for sponsoring this contest.

We thank PR member Sigrid. for managing this contest.
Congratulate the winners and chat with other members about the Pantone Colors Contest.
Look at all the Pantone Colors Contest entries.
Never entered a PatternReview contest before? It's easy! Our contest tutorial will show you how to enter.
Check out the current contests.
Going on now: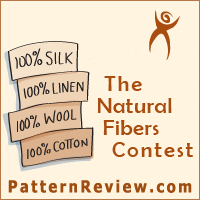 Plan ahead! See all the contests for the year.