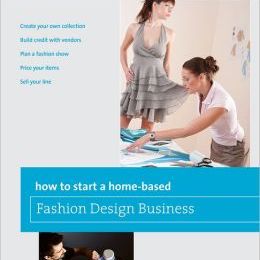 Editorial Review of How to Start a Home-Based Fashion Designer Business
By Noelle MacMahon
Angela Wolf has just released her book How to Start a Home –Based Fashion Design Business. This book gives an extremely thorough and detailed look at the process of building a business from the ground up from the perspective of a successful fashion designer. There are thirteen chapters chock full of steps to take covering broad ideas like creating a collection, to the nitty gritty of writing a client contract. She seems to have covered literally everything you would need to know and includes all sorts of useful links, references, and sources as supporting material.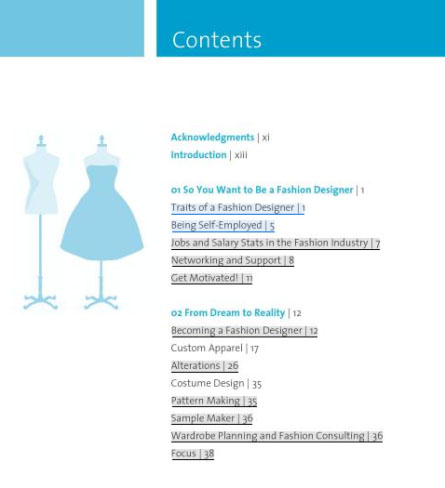 My favorite elements of the book are her real life stories of the pitfalls and missteps she took while she grew her business. They are the perfect illustrations for why she recommends the steps she does as we proceed through the book.
You can tell Angela has a business background, as her attention to detail regarding the business plan, accounting, and promotional issues are impressive. I learned so much and I have no interest in being a fashion designer! I highly recommend this book to anyone who sews for a living as an invaluable resource for promoting your work.
Editorial Review of Angela Wolf's How to Start a Home-Based Fashion Designer Business
By Diane Severin
I have no intention of starting a fashion-design business, but after I read this book, I said, "Yes, I can do it!" And I feel like I can now, if I ever decide to quit my day job.
In 13 commonsense chapters, designer Angela Wolf outlines the roadmap to success: So You Want to Be a Fashion Designer, From Dream to Reality, Getting Started in the Fashion Field, Setting Up the Space for Business, and so on.
In So You Want to Be a Fashion Designer, Angela outlines the required traits: a thick skin ("The fashion industry is one of the most competitive and cutthroat there is…"), the desire to learn and evolve, an eye for color and detail, balance and proportion, communication skills, dedication, commitment, and creativity. If you pass this litmus test in your mind, take stock of your personality traits and compare them to the traits of an entrepreneur that Angela lists and then do a self-assessment. Angela also talks about the realities of starting at the bottom salary-wise and the support you'll need from family and community to get your business going.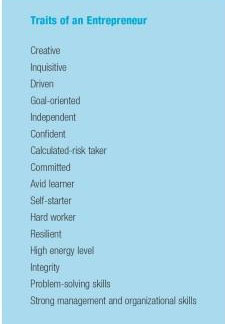 In other chapters, Angela asks you to consider what sort of business you'll have. Will it be weddings or other custom work? How do you find clients and assess their expectations? How do you balance work and family time? Where will you see clients? What about that thing that everyone in her own business struggles with… pricing? These are all topics that Angela discusses.
How about the nuts and bolts of designing a collection…storyboarding, where to get fabric and trim, payment terms? What's a jobber, do you know? (I didn't.) Will you hire a pattern maker? Will you make your own patterns? Will you use CAD software? After you draft your patterns, you need to grade them, that is, adjust them up and down in sizing. Angela gives you resources to help you understand the process and determine what path you will take in making these business decisions.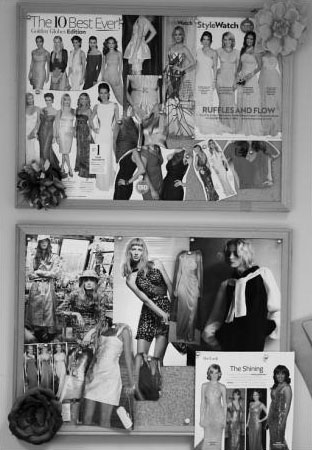 Angela's experience in the business side of fashion is helpful. Some states require you to have a manufacturing license before you can make your own apparel. Who knew? (I didn't.) And she gives background on taking photos to sell your products.
What will you sew with and where will you sew? Where will you fit? Where will you cut? You'll need mirrors, good lighting, and a private dressing room. How will people get in touch with you? What other tools will you need to conduct business and keep in touch with your customers?
And a business plan? (What's that?) Where do you want to be in two years? It pays to think ahead if you want to be a success and not lose your shirt! You'll also need to think about taxes, and banking and insurance and trademarking and copyrighting and labels and marketing and bookkeeping. Angela writes about all these issues with clarity.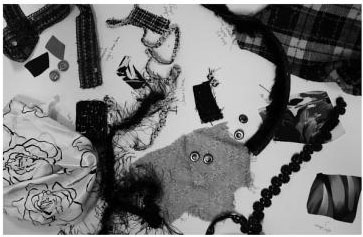 And then there's the yucky part…finances, credit (yours and your customers), contracts and so on. It's nice to have the voice of experience guiding you through all these things.
There's also an interesting section on using social media to market your products…a must in this day and age.
Although this book is extremely helpful, Angela's writing style is not dry. Throughout the book, Angela includes guiding commentary from her own experiences that help illustrate her points. Some are humorous (like the story of sewing for a business event she attended with her future husband), but all are valuable!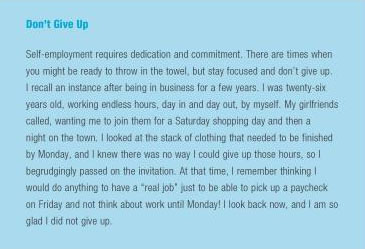 This book is a must-read primer for anyone undertaking a home-based business in fashion, but I recommend using it as a guide to starting any business!
In short, I loved it!
Order Angela Wolf's How to Start a Home-Based Fashion Designer Business.
Read Angela's articles on PatternReview.
Giveaway! Do you want to win a copy of How to Start a Home-Based Fashion Designer Business? Tell us below about your sewing business. Tell us the name of your business and give us your website address too. If you don't have a business yet, tell us about the business you'd like to start. We'll enter your name in a random drawing for a copy of the book.
To qualify for this giveaway, you must have joined PatternReview by May 16, 2012 (a year ago), and you must have a profile picture (NOT the generic dancing PR person).
Post your comments by 11:59 PM EST on Saturday. We will draw a random winner on Monday.
See instructions for adding a profile picture.
Questions about adding a profile picture? Post them here.