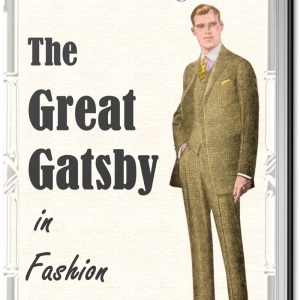 We told you about a new e-book called The Great Gatsby in Fashion, annotated by PR member Debbie Sessions (vintagedancer). The e-book includes the text of F. Scott Fitzgerald's The Great Gatsby, accompanied by actual fashion illustrations and photographs from the 1920s.
To win a copy of The Great Gatsby in Fashion, we asked you to answer these questions:
"Have you seen or read The Great Gatsby? Are you familiar with 1920s fashion? What do you like about it? If you had lived then, would you have been a flapper? Who plays a better Gatsby, Leonardo DiCaprio or Robert Redford?"
Debbie Sessions has generously given us 5 copies as giveaways. Here are the members whose names were randomly chosen to receive them:
BriarRose said...
I've read the book and saw the earlier movie. I thought Mia Farrow and Karen Black were stellar in their parts. Robert Redford-meh. Hope Leonardo DiCaprio is better. I am familiar with 1920s fashion but have absolutely the wrong body type for it. I do love the flapper fringe and cloche hats, though. I would not have made a flapper- I'm just not a party girl.

maryfrana said...
I have read the book several times. I love 20s fashions but don't have the body for them -- you should be nearly bustless I think! The beading is particularly wonderful on those garments. I certainly would have been a flapper. Just as the 50s led to a much wilder 60s, the 20s followed a much tighter, more buttoned down era. I haven't seen Leo as Gatsby yet but I think there is a hard quality in him that will make him a better Gatsby.
ldpaulson said...
I have read *The Great Gatsby* countless times and I've seen the 1974 film and would love to see the 1940s adaptation with Alan Ladd (!) and costumes by Edith Head (!!!!!). The 1920s women's fashions we see seem to focus on those the upper class would wear -- sumptuous fabrics, beautifully embellished. It's a wonderful fantasy. (And it makes me want to run away to Avalon and play dress up for a weekend.) It was also a period in which women were starting to assert their independence, which is reflected in the dress. Showing more than ankle ... Bobbing the hair ... scandalous! I would have been on the sidelines with Nick Carraway, watching the passing parade of decadence and dressed to the nines. Having not yet seen the new film, I cannot help but vote for Redford. Congrats to vintagedancer on her new book!
Tall Mary said...
I read the book in college and then again more recently. I was very interested in Daisy and her mental health issues and how the people around her treated her. My husband is a retired psychiatrist and through the years we have discussed mental health issues. All three of the major characters definitely had issues although I think that Daisy's was the most severely ill in the novel. I am familiar with 1920s fashion. Many years ago there was a TV show called "The Roaring Twenties" starring Dorothy Provine which I used to watch. I would have liked to have been a flapper. As far as who plays a better Gatsby it is difficult to say. Each actor brings his own interpretation to the character.
Penny Carlson said...
I saw the movie this past weekend and was not expecting to like it as much as I did. Di Caprio did a good job! I'm from Long Island, and I've been to the mansion that served as the model for the Buchanans' house. I know a bit about flapper fashion; it was basically the first time that women could leave off the confining undergarments they had worn for decades, which was incredibly freeing. I would've loved the clothes of the time...I'm a big fan of both Art Deco and Art Nouveau.
Congratulations, all! And thanks to everyone for posting your great comments on this topic!
Didn't win The Great Gatsby in Fashion e-book? Order your very own copy!
Visit Debbie Sessions' website, Vintage Dancer.

Want to talk about 1920s fashions? Start a topic in the Vintage Sewing forum!