How many times have you gone shopping and found an accessory you loved...shoes, a belt, a hat, a purse...and just had to buy it? Had to! And then when you got home, you realized that the piece that you loved, loved, loved, didn't go with anything that you own. What do you do...return it? NO WAY! If you're a PatternReview member, you sew!
This contest tapped into that urge. Participants were asked to sew something that coordinated with this pair of shoes: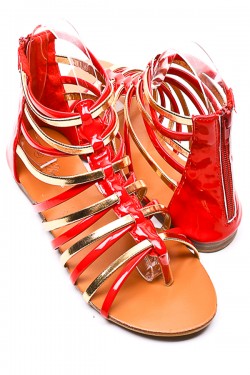 24 participants accepted the 2-week challenge and sewed away! They sewed skirts and dresses and tops and a slip and a stola and a Vionnet scarf and a wrist bag. Red was the dominant color overall but not the only one! Take a look at what everyone sewed!
You voted and chose your favorites. Let meet them now.
First Prize: meggipeg for PR Member Savage Coco Patterns Divine Dinner Dress

meggipeg was inspired by the contest accessory to make this dinner dress a la Andre Courreges' designs for Romy Schneider in the movie "La Piscine".
She says that the neckline might seem confusing but that you should just follow the directions and it will come out fine. The neckline has a beautiful shape, she says, and is put together in a clever way so that the outer seams are neatly finished. The rest of the dress is simple to put together, and the pattern is well-drafted and fits together easily.
She used a printed medium-weight chiffon for the main part of the dress, a black woven stretch fabric for the neckline, and sheer black fabric for the hem band.
She started off by making a muslin maxi dress in knit fabric with a back slit open to the waist and then a knee-length version. She decided to add a hem band to the second dress, to take in the side seams and to make a bra-length version of the back opening.
She says she would definitely make it again and the wonderful construction technique of the neckline really draws her to try it again. The design is lovely, flattering and comfortable to wear. It's a perfect project for advanced beginners or intermediate sewers, she says, and by using various hem lengths and contrasting fabrics, you can make a versatile wardrobe.
Congratulations, meggipeg!
Second Prize (Tie): Margaret for Vogue Patterns: 2859 Misses' Jacket, Blouse and Dress
Congratulations, Margaret!
Second Prize (Tie): MrsCharisma for New Look: 6025 Misses' Tops/Tunics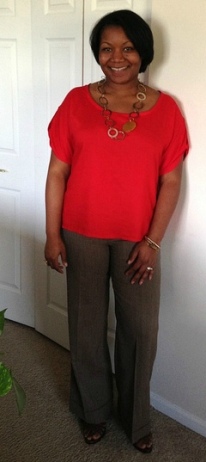 Congratulations, MrsCharisma!
And congratulations to all our contestants!
Thanks to Fitz Like a Glove for sponsoring this contest.

Thanks to Clareew for managing this contest.
Read more about this contest and how ancient Roman styles are influencing modern fashion.
See all the entries for this contest.
See the Contest Report and Rules.
See the Andre Courreges dress that Romy Schneider wore in the film "La Piscine" on PR member Savage Coco's blog.