Natural fibers…we love to sew them and wear them. When we do, we feel so…ecologically correct!
86 members were on board with this feeling for the Natural Fabrics Contest.
Contestants had to follow these simple rules: make an item using only 100% natural fibers- silk, wool, cotton, linen, hemp, leather or suede (not faux). For this contest, blends were not allowed. The fiber used must be 100% ONE fiber, i.e., 100% silk NOT 50% silk/50% cotton.
Any wearable garment was an acceptable entry: a skirt, top, dress, pants, PJs, or a jacket or coat for a woman, man or child. However, home dec and accessories were not allowed in this contest. See more rules.
All of us natural fabric lovers are drooling over the entries in the Contest Gallery.
How hard it must have been to stick to just 5 votes for this one!
Let's meet the winners.
First Prize: clothingengineer for StyleArc: Stella Coat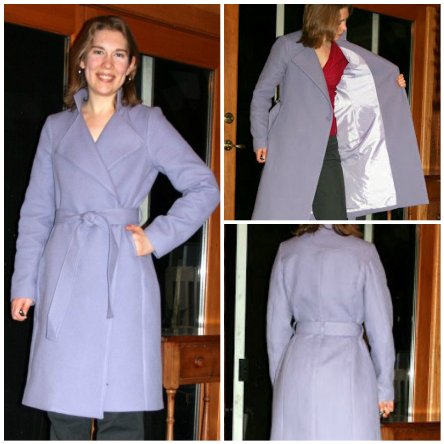 clothingengineer chose the StyleArc Stella Coat to fill in the "spring coat gap" in her wardrobe. She also wanted to practice her tailoring skills on this fitted coat before trying out something more complicated.
She found that the directions for the coat were not that easy to follow, but she did her best on her own and used online tutorials to learn how to bag the lining.
For fabric, she used an Italian double-faced cotton twill from Mood. For the lining, she used nylon taffeta from Fabric Mart, and for the interfacings, she used Pro-Weft Light, Pro-Weft Medium, Pro-Sheer Elegance Light, Pro-Sheer Elegance Medium, and fusible hair canvas, all from Fashion Sewing Supply. The lining and fashion fabric cost her less than $30.
One thing she liked about the StyleArc pattern is the fact that StyleArc provides the lining pieces. She's been hesitant to make a Burda jacket or coat because she found that Burda expects you to draft your own lining.
She didn't need to make any pattern alterations, other than adding topstitching to the back yoke. She did make a number of fitting adjustments, though.
This is the first tailored coat that she has ever made. It took her a week to execute all the steps involved.
Would she sew it again? She says, "Yes! I think it is a great first coat project because of the mandarin collar and lack of closures, plus there's not huge amount of ease. It let me finally cross off 'structured coat' off my sewing bucket list." She is already planning Version 2 of this coat in a navy twill she has sitting in her stash.
Congratulations, clothingengineer!
Second Prize: nicegirl for BurdaStyle Magazine: 06-2013-102 Pleated Flowing Gatsby Dress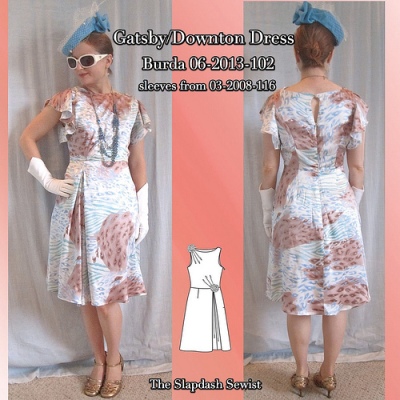 Congratulations, nicegirl!
And congratulations to all our contestants!
Thanks to Schmetz Needles for sponsoring this contest.

Thanks to arianamaniacs for managing this contest.
See all the entries for this contest.
See the Contest Report and Rules.