Question posted by LeilaB:
"I'm a beginner sewer. I sewed when I was 12 for awhile, but then I stopped and now I'm 26. I'd really like to begin making my own bathing suit designs. When I went to see about buying a sewing machine the other day, the woman there told me I had to get a serger to make swimsuits. She said that since they are very expensive (she only had one type and it was 940 euros!) and since I haven't sewn a lot, I should buy a regular sewing machine with an overlock-like function - not the same, but similar.
"She said there is no machine, other than a serger, that has this specific overlock function you need to make bathing suits. Is this true??? I'm not sure I believe her since she was trying to sell me this one machine that she said I should buy instead, that had the overlock-like function. I decided to think about it, then I went back yesterday and she sold that same machine to this other customer! She was saying, "Oh this is exactly what you need- and it's the only one we've got!" after that, I just left. Maybe that machine was a promo from the manufacturer or something.
"What kind of machine should I buy? Is there one that can sew bathing suits that can also sew other things as well, so that I don't have to have one machine that only sews one type of thing?
"Any advice truly is appreciated!"
Members answered with this advice...
julie w said...
Although a serger can give a nice finish on swimsuits, it is not necessary to have one. All you need is a sewing machine that can sew a zig zag and the use of a ball point or stretch needle. This link may help: Swimwear? Looking for advice/encouragement!
Sharon1952 said...
I agree with julie w; it is not absolutely necessary to have a serger although it makes the job faster and easier. What is essential is that you have no more than 1/4" seams and they must be covered to prevent ravelling. If you are careful in your fabric selection and don't make the suits fit too tightly, a zig zag stitch will work fine. You'll need to use scrap fabric to practice how wide and long to make the zig zag so it will stretch but not break. Make certain you stretch the fabric as you sew. Best wishes in your sewing!
Tip from PhyllisC: Fully line a swimsuit and hide the seams.
ChristineBR said...
You don't need a serger if you have a zigzag stitch on your machine and a little patience. I would suggest in investing in the Kwik Sew book on swimsuits as it has instructions, tips and covers sewing machine as well as serger construction. In addition, it has a wealth of patterns included.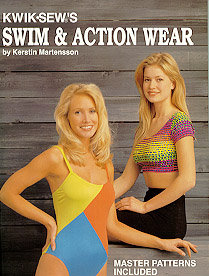 Lynnelle said...
You may want to try posting your question on the message boards, too.
chelsy21 said...
If you can find a Stretch & Sew swimsuit book or one of their old basic 8 books - just called "Stretch & Sew", there are good instructions for sewing swimwear with just a straight stitch & zig zag sewing machine. Sergers are nice, but not necessary. People have been sewing swimsuits long before sergers were common to the home sewer. Good luck with your search!
Tip from rhoda bicycle: Derriere adjustment for swimsuits.


CSY said...
Kwik Sew patterns have execellent swimsuit patterns and instructions. The Stretch and Sew book is nearly impossible to find. Kwik Sew's book Swim and Action Wear by Kerstin Martensson is also a top notch resource and comes with patterns. I never use my serger. I use my sewing machine's basic zigzag because it does a great job and I feel I have great control over my stitching. I have made over 6 swimsuits this way and they have all turned out great. Methinks someone either doesn't know what she is talking about or wants to sell you a serger in the worst way.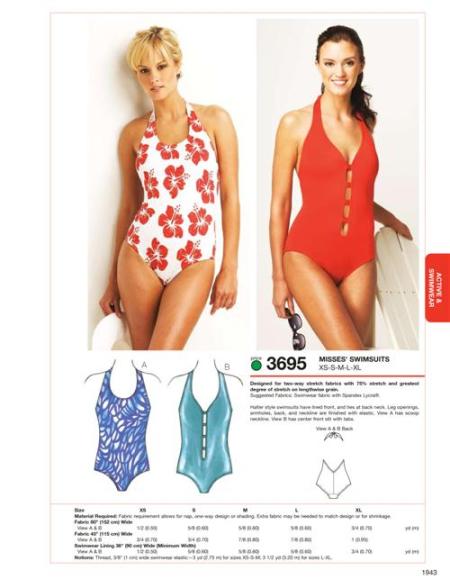 Tip from Agnes: Substitution formula woven stretch fabric
joann said...
I learned to make bathing suits through Stretch & Sew. You can still buy their patterns and I'm sure their books. As others have said you only need the straight stitch and a zigzag. I never covered the seams since the fabric is a knit and doesn't ravel. The website is stretch-and-sew.com and they have 2 swimsuit patterns, but not their old books. The one I have is titled The Stretch&Sew Book, Part 2 , by Ann Person,and should be available used. The great thing about the S&S patterns is they are multi-sized and are accurately sized. I learned a lot from their classes on knits back in the 70's.
Tip from Teeavilnor: Stabilizing swimwear fabric.
Kelly D. said...
Leila, you can absolutely sew lovely swimsuits with a regular sewing machine with zig-zag capability as noted in the other comments. I recently made 2 great swimsuits from a Kwik Sew pattern to take on a trip using only my Bernina 1530 even though I own a serger also! It's a matter of choice, but I think I get a more professional look by using a double needle on my regular machine to finish all the edges since my serger does not have cover-stitch capability. A cover-stitch is that double row of top-stitching you see at all the hems and edges of ready-to-wear knit garments, including swimsuits. Since swimsuit fabric does not ravel, you don't really need to overcast the edges, but you do need to use stitches that can stretch with the fabric or your seams will pop. Kwik Sew has published a great book on sewing swimsuits and there have also been some good articles in Threads Magazine on the topic. I found the Kwik Sew book at my local library and have checked it out several times. Definitely do more research before you make your final decision about what kind of machine to get. I think it would be hard to have only a serger if you plan to do any general sewing. Most people I know who only have one machine have a regular machine. You are wise not to rely on the advice of a salesperson in a shop. You would be much better off finding friends who sew to advise you or even the people who sell fabric (but not machines) in your area. I hope this helps. Good luck!
betta1 said...
Whoops - should have checked comments better - y'all have it covered! Gail
Passion4Sewing said...
Serger truly is the best machine to make swimsuits. One can use a regular home machine, but you will get a neater, cleaner look with a serger. If you truly cannot afford a serger, you can use a zig-zag or three-step zigzag stitch on your home machine. I have never used the home machines that have the serger-like function, but a repairman once told me after I had brought him my serger (for the fourth time!) that converted to a cover-stitch machine that machines work best when they only perform one function. Some sergers also have an additional foot called an elasticator which will adjust how much stretch you have on the elastic as you apply around arm and leg openings. This is very useful. I have a White 2000 ATS and love it. It is priced well for all the things it can do. Hope this helps.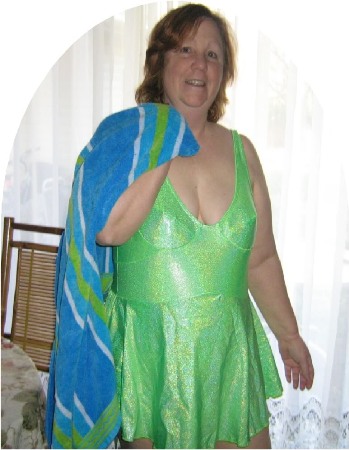 Passion4Sewing made this McCall's 6579 OOP skirted swimsuit.
ericaequites said...
A serger can be very nice to have, but is not necessary to sew swimwear. Most swim suit patterns havea 6mm seam allowance. I like to sew with a small zigzig, length 2.-2.5mm and width 1mm. Stretch the fabric slightly as you sew, and use a brand new Stretch needle for each project. Be sure to buy 1 cm or whatever width the pattern recommends swimwear elastic. Regular elastic will rot when exposed to salt water or chlorine from swimming pools. Choose a fabric with sufficient stretch, and line the suit with swimwear lining fabric or a thin swimwear fabric. When cutting out, be sure the greatest degree of stretch goes around the body. If you plan to buy a sewing amchine, visit some stores that specialize in selling sewing machines and do their own repairs on site. You can find a used machine with a small variety of stitches and a one step buttonhole for far less than 940 euros, perhaps around 200 or so? A swimsuit is not the best first project. Try making something from firmly woven cotton first like a tote or apron. Then, a more fitted project like a skirt will help you learn more. Check your local library for books on sewing techniques.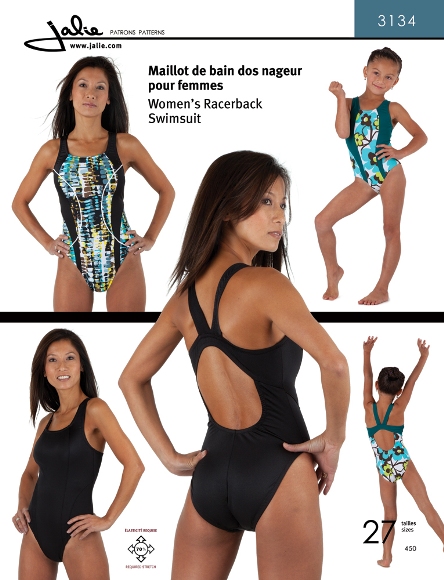 DSJG said...
You can make bathing suits with a regular zig zag sewing machine. When I was your age my girlfriend & I actually made suits & sold them. Experiment with tension & stitch length and width with a zig zag stitch or stretch type stitch. Also use a ball point or specialty needle for stretch fabrics. Use thread recommended for your fabric type. They will turn out beautiful.
Tip from BrianSews: Perfect swimsuit and underwear leg elastic.
corma said...
Hi Leila. I did a knitwit course years ago and we used the stretchstitch on my machine. You will have to get a multisized pattern. Which will need cups put in them. Lining and swimwear elastic. If you use normal elastic you will loose your cossie in water. It is fun to do for a while but now I buy my swimmers. Corma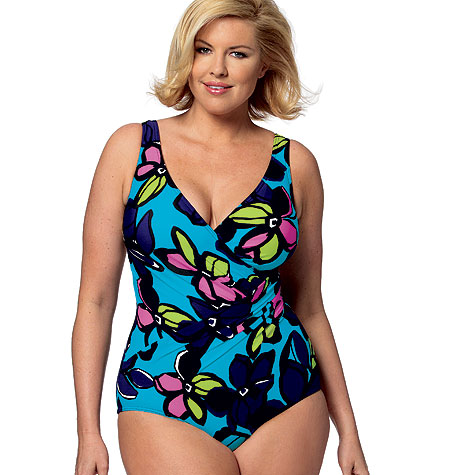 Tip from ggexpansive: Muffin top stop.
Longarm said...
A beginning sewer needs a standard sewing machine first and foremost because of how it can sew finely detailed seams, but eventually a serger will become equally important. A serger comes into play on seam-finishing for so many types of things you make, from curtains to knits, to regular clothing. And a serger can make pretty rolled edges on napkins and tablecloths, or interesting details done with specialty threads. Mostly, though, a serger is a real work horse in the sewing studio, and not a rare now and then tool. Think of the difference between a dress with raw cut seam edges inside, vs one that has nicely overlocked seam edges that will go through the laundry without shredding or becoming unsightly. The final result of your project jumps from looking very "beginner skill level" to more professionally done. See why you just have to have one?! Get one as soon as you can afford it, after your sewing machine.
ceip said...
I make leotards, not bathing suits, but similar fabric and issues. My machine is old (20+ years!) and was not super-expensive. It has an overlock stitch that looks sort of like little stacked triangles. It does not trim the seam like a serger but the seam is just as good as a serger would make. There is added difficulty to trim the seam, but for the price and complication of a serger, I am happy to stick with my "regular" marchine.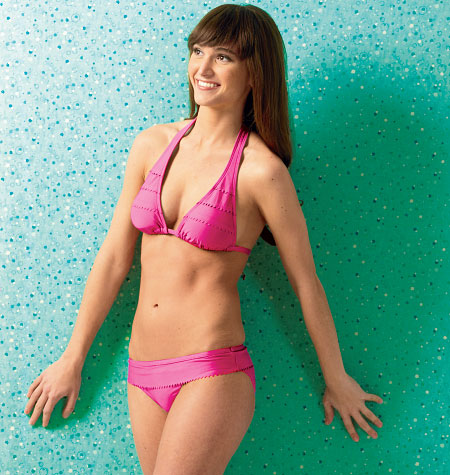 Read discussions about swimsuits.
Want to learn about using a serger? Check out our new video class "Break Your Serger Out of the Box."
Already got your feet wet with serging? Sign up for "Serging Ahead with Your 5 Thread Serger."
Got a question about sewing a swimsuit? Start a topic on the Message Board.