Sigh!
One of the downsides of sewing your own clothes is that you're always looking ahead to the next season. If you're like me, you don't mind looking ahead from winter to spring, but from summer to fall...it's just too painful (and chilly).
So here we are at the inevitable, if painful, reality. Fall is coming... To that end, Simplicity has released their fall collection. And here are some styles that we thought you might be interested in seeing and sewing. Noelle Mac picked a couple of these patterns as her favorites before she left (yes, she's teaching art now! We'll miss her).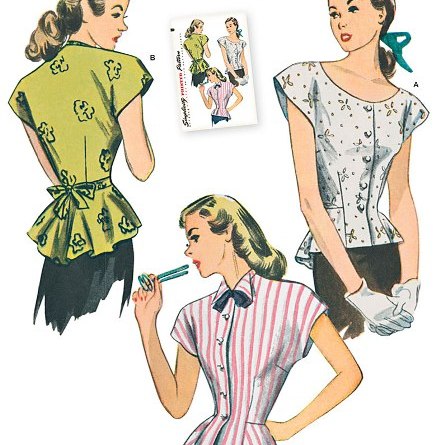 Simplicity 1590 Misses' 1940s Retro Blouse
Sizes 6-14, 16-24
With all the indie designers creating patterns that salute bygone eras, it makes perfect sense that the Simplicity would reach back into the vault and pull out their gems. Scoop neck or high collar, this cinched-waist beauty with peplum will give you that great vintage look. And look at all the suggested fabrics...you can make a closet full of this style with different fabrics and never have the same look twice!
Description: Misses' Retro 1940's top has either a scoop or high neckline with collar & bow. This vintage top buttons down the front and has a flattering peplum and optional ties at the waistline.
Suggested Fabrics: Laundered cottons, lightweight pique and sateen, eyelet, silks and silk types, charmeuse, challis, crepe de chine, laundered silks-rayons, voile, double georgette, handkerchief linen.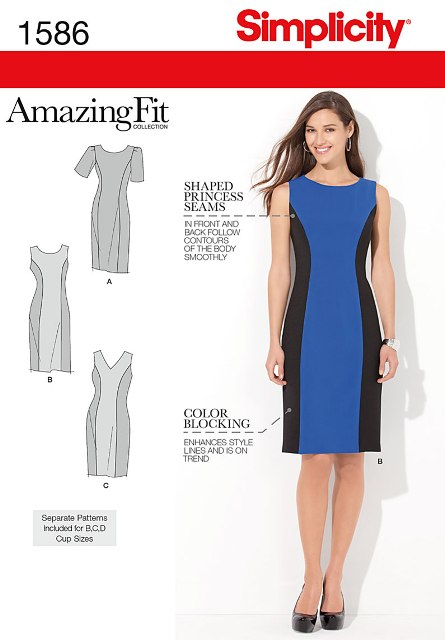 1586AA: Sizes 10-18 (shown above)
1586BB: Sizes 20W - 28W
Amazing Fit Collection
Noelle Mac noticed something different about this pattern...1586BB has a different picture than AA and shows a size-appropriate model. Simplicity didn't send us a picture of the BB pattern envelope, but take my word for it, the model looks great in the dress! This Amazing Fit pattern has shaped princess seams that follow the contour of the body and color blocking that enhances the style lines. Totally on trend! I hope we see more size-appropriate pattern envelope photography on multi-sized patterns.
Description: This Misses' & Plus size dress has sleeve and neckline variations. Individual patterns for slim, average & curvy fit & B, C, D cup size for miss & C, D, DD cup sizes for plus.
Suggested Fabrics: Pique, poplin, sateen, lightweight wool and wool blends, crepe, silk linen, sueded silks/rayons, brocade, satin, shantung, linen and linen blends.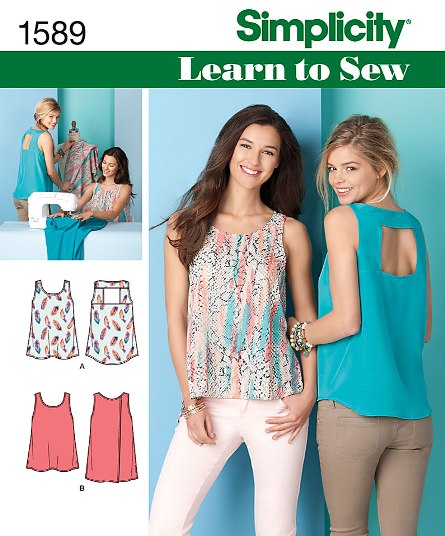 Simplicity 1589 Misses' Learn to Sew Tops
Sizes 4-16
Learn to Sew Series
Future sewers unite! We all had to start somewhere with sewing. My first foray into sewing was stitching on what the teacher called "practice cloths" when I was in the fourth grade. I sewed row after row of basting stitches, chain stitch, back stitch, etc., etc. How boring! (OK, I know. It was good for me.) How much more exciting to actually sew something you can wear, like these tops. And this isn't any random sewing... A new sewer can actually learn something:

Start the novice sewer in your life out with this pattern, and she can show the top off to their friends. They'll want to sew one too, and before you know it, there'll be a revolution! Goodbye garment factories in China, hello home-sewing.
Description: Misses' tank top with back interest. Sleeveless tops with scoop neckline and A-line fit. View A with open square at the shoulders or view B with cross-over back.
Suggested Fabrics: Laundered cottons, eyelet, challis, crepe-back satin, jacquards, laundered silks-rayons, voile, double georgette, handkerchief linen.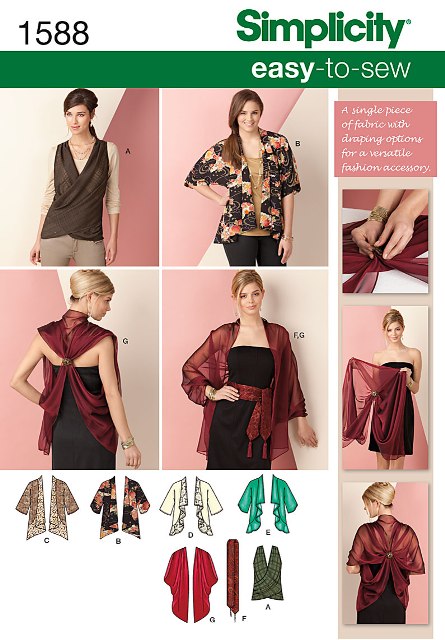 Simplicity 1588 Kimono Jacket & Wrap
Sizes XS - XXL
Easy-To-Sew
OK, I had to throw one in that's just plain fun. There's no season to this pattern. And it's easy, so even a novice sewer can tackle it. One of the views is a single piece of fabric turned into a nifty elegant wrap. We all need one of the those projects that turns out to be easy but chic! Comes in plus size too!
Description: Easy-to-sew kimono jacket with front variations, sleeveless wrap top with knit back can be worn with a tee or alone. Belt or scarf & wrap with draped back interest.
Suggested Fabrics: A Back sized for stretch knits only: stretch velvet, two-way stretch. A front and B, C, D, E, F, G in silks and silk types, charmeuse, crepe-back satin, crepe de chine, jacquards, laundered silks-rayons, gauze, voile, chiffon, double georgette, novelty sheer fabrics. B,C also in laundered cottons. D contrast in lace. F also in brocade, satin, shantung, taffeta, velvet.
See all the new Simplicity Patterns!