Last week, we offered a giveaway...the Angela Wolf Fringe Skirt pattern...to a random winner who answered these questions:
Do you have a go-to pencil skirt pattern? What is it? If not, what's your favorite skirt pattern? Do you remember the first skirt you ever made? What style was it? How'd it come out? Do you have a funny story about making it?
We chose a random winner...Sue Parrott!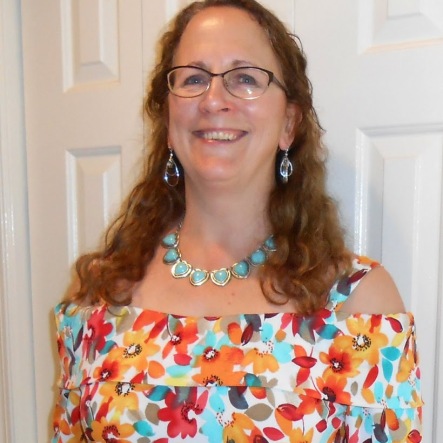 Sue Parrott modeling Simplicity 1613
She wrote:
"Oh, I love this simple skirt! It is classic and stylish.
"The first skirt I remember making was a prairie-style back in the 80's. I buttoned up the front and of course had a wide ruffle around the hemline. I had to make an eyelet underskirt that peeked out the bottom. My skirt was made out of a chambray fabric and I just was so proud to wear it!
"I was a young mother at the time and a stay-at-home mom, so I didn't have a lot of clothing to wear that was dressier than my usual jeans and tops. I wish I still had that skirt. It turned out really well and I received a lot of compliments wearing it.
"I'd really love to see how small the waistband is to my current middle-aged figure!"
Thanks to everyone who shared their comments. You can read them all here.
Didn't win the Angela Wolf Fringe Skirt? Order it now as a paper pattern or a digital download!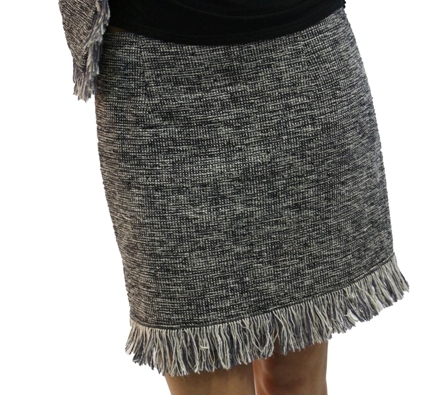 CissieW reviewed the Fringe Skirt. Read her review.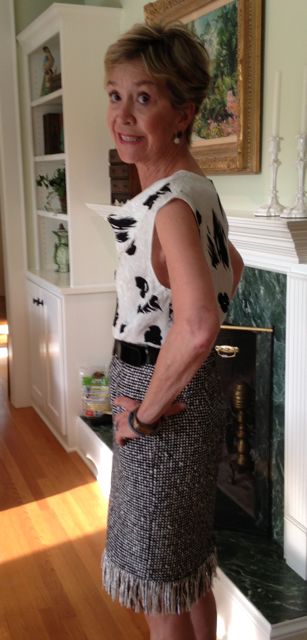 CissieW models Angela Wolf's Fringe Skirt.