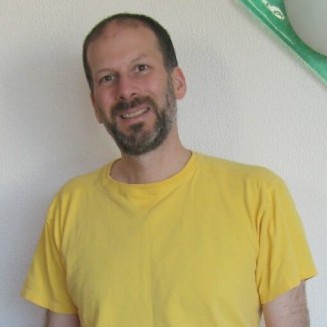 Your PatternReview Name: mportuesisf
Your Full Name: Michael Portuesi
Member Since: January 2012
Your Birthday: February 25
Your Blog: http://lineofselvage.jotabout.com
How long have you been sewing?
I received a sewing machine as a 2011 holiday gift, so I've been sewing for just a little over a year and a half.
How did you learn to sew?
I'm entirely self-taught. I made a duffle bag once in a Home Economics class in high school, back in the '80s, but now I started out a rank newbie. My learning comes from all sorts of places - books, magazines, TV shows, YouTube videos, blogs, and last but not least PatternReview.com. YouTube was massively helpful when I first got started, but these days I find I'm learning more from books, blogs, and forums.
Which sewing book do you refer to most often?
Can I cheat on this question by naming more than one book? For a basic sewing reference, my go-to book is Nancy Zieman's Sewing A to Z. I saw the companion TV show on PBS shortly after I began sewing, and it was a revelation watching her demonstrate basic sewing techniques. Nancy Zieman is the sewing instructor I never had.
In terms of what I aspire to as a sewist, I would have to nominate both of David Coffin's books - Shirtmaking and Making Trousers. Both books are brilliant and packed with info to help you sew really high-quality clothes. I refer to both books all the time.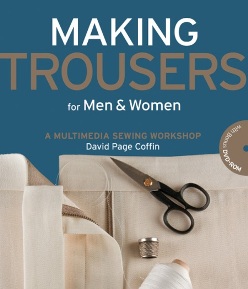 What are your sewing goals for this year?
I've already accomplished two of my sewing goals for this year - a men's button-down dress shirt and jeans. For the back half of 2013, I also plan to sew my own hoodie sweatshirt based on McCall's 5252, and I'd like to try out a men's vest using McCall's 2447. Finally, I really want to sew a polo shirt, using a vintage Stretch & Sew pattern from the 1970's.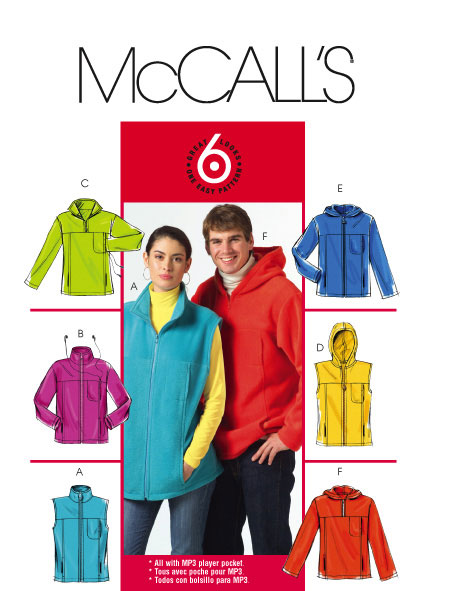 McCall's 5252: One of mportuesisf's future projects
Is there a sewing project that you aspire to make some day but don't feel you can yet? What is it?
I find my interest being pulled in two separate directions. In one direction is activewear, and sportswear such as knit shirts. These are things I actually wear everyday, and they are relatively easy to make. The other direction is tailored clothing, such as button-down dress shirts, dress pants, vests, and blazers. These types of projects are much more involved and challenging, but with the exception of dress shirts I normally don't wear these type of clothes. But If I make it, I'll wear it - which I think will be exciting because not only will I be developing my sewing skills, I will also be developing and evolving my personal sense of style.
I'd like to try out making a pair of dress pants soon, because I feel like it's a project that may be within my grasp. And I want to try my hand at pattern drafting soon. I'd also love to sew myself a blazer, but that's way beyond me at the moment.
What are you sewing right now?
I just finished a pair of jeans based on Kwik Sew 3504! I started it last month for the Pattern Review June 2013 Jeans Contest, but didn't complete it in time. But today I got the buttons and rivets hammered in, and I'm really pleased with the way it turned out. It's a great pattern and I'll definitely be reviewing it for PR.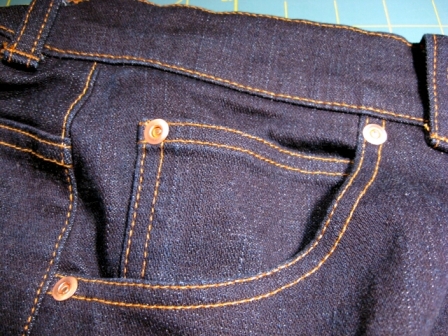 What's your favorite pattern or project so far?
It's hard to say, just having finished a successful project, but I'd say my favorite so far has been my very first button-down dress shirt based on McCall's 2447. I made the muslin from a bed sheet, expecting something horrible to go wrong, but it didn't and I wound up with a wearable muslin at the end of the project. That was very exciting, and I'm looking forward to making more in the future.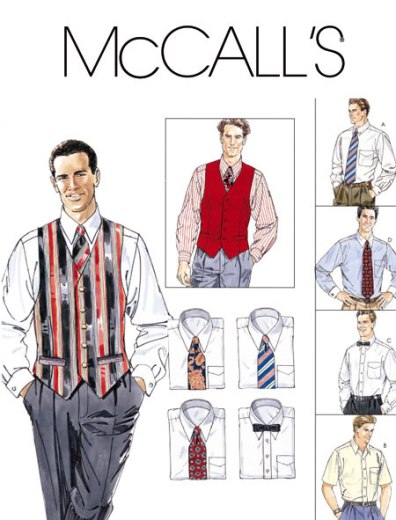 What aspect of sewing do you dread or find the most challenging, your Mount Everest?
I think I really dread pattern tracing and alteration. I trace out my patterns so I can reuse them for other sizes, or if I need to go back to the beginning after pattern alterations fail. Maybe because it just seems like a barrier to the good part, which is the actual sewing. Even cutting doesn't seem like as much of a chore as tracing out a pattern.
What kind of sewing machine do you own? What do you like or dislike about it?
My machine is a Brother PC-210. It's proven to be a pretty hardy workhorse, and a great beginner's machine. It's dealt with everything I've thrown at it so far. Even though it's a computerized machine, it's simple and straightforward to use. On the minus side, the controls for stitch width and length have no numeric labels or indicators, so I always have to do a series of test stitches to set stitch length and width.
I also have a Brother 1034D serger, which I absolutely love and has given me no problems in the year I've owned it.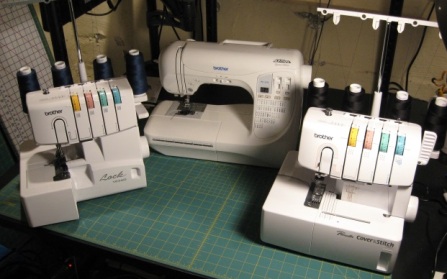 How big is your fabric stash? What's in it?
My fabric stash is contained in four large plastic bins. Oh, okay -- the overflow would fill a fifth. One bin holds shirtings and flannels, which will find their way into dress shirts. Another contains woolens and other suitings, which will eventually be made into pants and vests. A third is full of knits, including jersey, sweatshirt fleece, and some pique knit that will be made into polos. The fourth bin contains upholstery fabric, canvas, quilting cottons, and oilcloth for home dec projects and hobby/gadget cases. The overflow includes some cheap denim and corduroy, as well as a bolt of polyester suiting that will be used as muslins for the tailored clothing projects.
I quickly realized I could buy fabric far quicker than I could sew it! The Fabric Fast thread here on PR made me wake up to dangers of unchecked fabric acquisition, and now I've put myself on a fabric diet before my stash has a chance to get out of control. Basically, if I can't envision a project to make with some fabric, I won't buy it, and my upcoming projects are all things I plan to sew out of my stash.
Why do you think that more men don't sew?
Well, isn't that the $64 million dollar question! I think there's lots of reasons, but for me the biggest is a self-reinforcing perception that sewing is a women's thing. And that couldn't be farther from the truth!
Let's look at the perception problem first. Sewing has a lot of parallels to carpentry. Sewing machines and sergers are power tools, like table saws and drill presses. Seam finishes in sewing (serged, French, flat-fell) are analogous to different types of joins (butt, miter, dovetail) in carpentry. Fabric selection in sewing is not unlike choosing woods and finishes for a carpentry project. And sewing involves many sophisticated spatial and topological problems to solve, as carpentry does.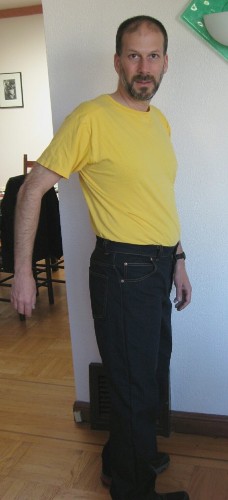 Now most guys won't consider sewing, even though it has many of the same elements found in carpentry or other mechanical pursuits! I think this is all due to the way we all think about what sewing is. I feel sewing is lumped in with "arts and crafts" type hobbies, and so most guys perceive it to be something they shouldn't be interested in.
Now, let's consider the "self-reinforcing" part. In the sewing world, almost all the resources available - books, videos, patterns, even sewing blogs - are aimed at women sewing for women. It's a reflection of what the sewing world is, frankly, but for men it's also a barrier to entry. When I first began sewing, I recorded all the sewing TV shows I could find with my DVR. I watched and dropped most shows I saw, because I didn't want to sew fabric flowers, art quilts, or lacy baby christening gowns. I did want to learn how to sew collars and cuffs, match plaids, and operate a serger, because they would help me complete the kinds of projects almost nobody else seemed interested in doing. (I still watch "Sewing with Nancy", but do so selectively).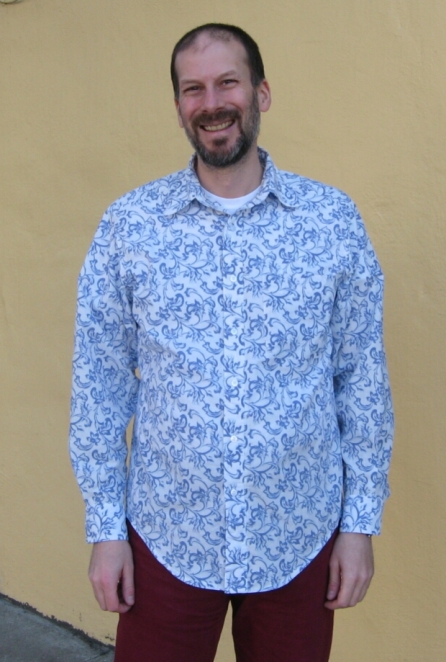 mportuesisf models McCall's 2447
I still wish for a good book on pattern fitting and alteration that concerns itself only with men. Fit for Real People, considered by many on PR to be the gold standard on pattern fitting, didn't speak at all to me. I got 85 pages into the book when I realized that it hadn't yet said anything that I could use as a man sewing for men. There was lots of talk about standard pattern sizing for women, various types of female figures, and how various clothing lines target specific types of women -- all of it specific to women, and not adaptable to men. There's not a photo of a man anywhere in the book. A lot of guys would look at that book and think sewing is not for them.
Men need instructional materials and project guides that speak to them about the projects they want to make, using the techniques necessary to complete the task at hand. A lot of guys want to make projects they find personally interesting, such as an iPad case, a telescope accessory caddy (more on that in a minute!), or perhaps an outdoor sporting vest made to their needs and specifications. The sewing books and magazines out there don't cover enough of this stuff.
If there were more male-oriented resources are available and widely promoted to guys, more might see what sewing has to offer them. Thread Theory, for instance, is a new independent pattern house specializing in men's patterns. I'd love to see more of that and I sure hope they succeed.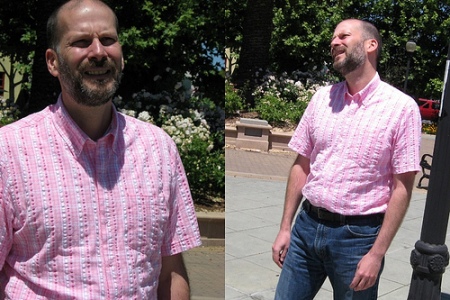 What recommendations would you make to men who want to learn to sew? Where should they start?
I would say that going in, you need to accept the fact you're a minority, a niche within an already niche hobby. You need to take a somewhat tactical approach with the educational materials out there. You should be willing to filter out and ignore what you're not interested in, to get the practical information for the projects you're interested in doing. If there's a chapter in a book, for example, covering decorative embellishments that have no place in your projects, be willing to skip it and focus on the stuff that's meaningful to you.
You should be willing to read through something that doesn't quite speak to you, to learn the principles and approach you can carry on to your projects. For example, you might read a pattern-fitting book thinking of yourself as a woman with no bust and flat hips, that doesn't wear dresses or skirts. When you read about sewing a "princess seam", you need to realize it's a generic technique for shaping fabric with a seam, that can also be used in menswear. I actually read a book chapter about women's lingerie, because I thought it might have some techniques useful for sewing men's underwear! You don't have to go that far, but it's another example of gleaning the things important to you and overlooking what doesn't.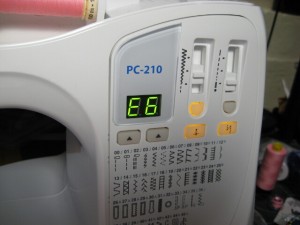 Also, consider opening your own blog! There's a small but vibrant community of men's sewing blogs on the internet, and by opening one you join the conversation. I very much debated whether I wanted to spare the time to publish my own blog, but I'm now glad I did because it makes me part of a community. A blog is a great way to get your work-in-progress out in front of other people and get constructive feedback.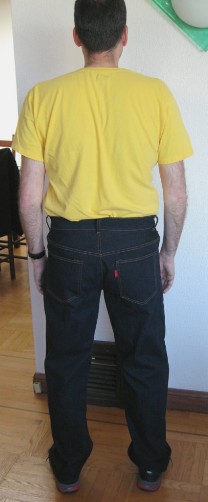 Also consider that by publishing your own blog, you might provide inspiration to other guys who want to sew. I'm very grateful to Peter Lappin of Male Pattern Boldness, and Brian Remlinger of BrianSews! Their projects have really appealed to me and inspired me to pursue my own projects. Plus, the information they have shared, such as Peter's sew-alongs and Brian's how-to videos, have been really beneficial to me.
How has PatternReview helped you with your sewing?
Let me count the ways! First, I've learned endless bits and pieces about proper sewing technique, just by lurking on threads from other people asking questions. And I've received specific answers to questions I've asked, such as whether or not I have the correct walking foot for my sewing machine, or whether the cover stitch machine I just purchased was defective (it was). The pattern reviews have been helpful too, to understand what to look out for when preparing a specific pattern, for instance whether it runs large or maybe ideas to improve it.
But I think the most valuable part of PatternReview is that it has allowed me to be part of a group of sewists, even though I'm self-taught and work in isolation. Reading others' experiences and advice has enabled me to properly set my expectations about what I should expect from my projects, and from my development as a sewist. I've only competed in one PR contest so far, but I was thrilled with my result (13th place in a field of 86 entries) and it gave me external validation about the quality of my work.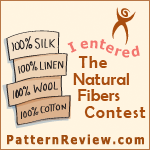 Finally, the PatternReview forums have warned me about some hazards - the overflowing fabric stash, and Sewing Machine Acquisition Disorder (SMAD) -- so I could try to avoid them myself!
Any other hobbies besides sewing?
Yes - I'm an avid amateur astronomer. I own four telescopes (we astronomers have our own version of SMAD!), and I try to engage the public with astronomy. In fact, it was the idea of producing my own custom "observers notebook" - designed for use in the dark, with special pockets for notes, pencils and tablet computer - that led me to consider sewing as a hobby. I also enjoy bicycling.
Your profession, where do you live, etc.
I'm a computer software developer, currently specializing in app development for Android mobile phones and tablets. I'm 47 years old and I have lived in San Francisco most of my adult life. I grew up in Detroit, MI and I spent my college years in Pittsburgh, PA. I also have a domestic partner who I met in Pittsburgh, and we are still happily together after 25 years.
What would PR members be surprised to know about you?
When I was very young, my older sister would take me to JoAnn's. I remember being fascinated by all her sewing notions without understanding how they worked and what they were for. I distinctly remember using her pinking shears to cut all kinds of paper. I probably ruined them, bent her sewing gauges, and messed up her other sewing items as well. Only now do I realize just what I've done. Sis, I'm sorry!
Is there anything else that you'd like to tell us about yourself?
I think I've toyed with the idea of sewing as a hobby on and off for much of my life, without really thinking much of it. When my mother passed away in 2000, I inquired about the fate of her '70s-era Singer Touch-and-Sew (it ended up going to one of my sisters). So maybe it was inevitable that I was to take up sewing as a hobby. I wish I had done it sooner!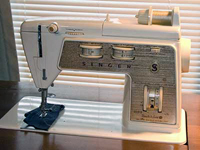 Check out mportuesisf's favorite sewing blogs:
Read mportuesisf's tutorial on matching plaids.
Follow the conversations that mportuesisf is participating in and add him to your favorites.