Jeans...we love 'em, and many of us live in them. They are essential to the modern wardrobe. And if we can make our own jeans...all the better.
The participants in this contest bravely went where many of us hardly dared to go...into the land of making their own jeans. Many started out on the journey (41 members, in fact), but they were thwarted by lack of time, leaving 10 members to actually finish the contest. We applaud them all, though (including this month's Member in Focus), and give them an "A" for effort. Bravo!
The goal in this contest was to make a pair of jeans from denim cloth. They could be any color, but they couldn't be skirts, overalls, rompers, capris, shorts, dresses, bathing suits, etc. Topstitching and embroidery were allowed and encouraged. Jeans could be for a man, woman or child, but not for a doll. See more rules here.
Now let's meet the winners.
First Prize: Amy-may for Jalie: 2908 Women's Stretch Jeans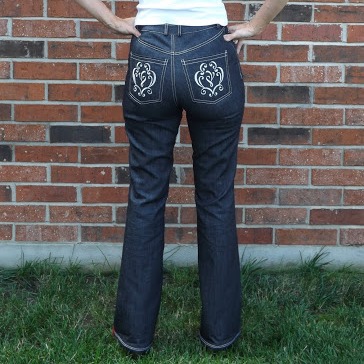 Like many other PR members, Amy-may loves the Jalie 2908 Jeans pattern. She says that the pattern photos are representative of the real jeans, and although there are a lot of steps, the instructions are good and she advises potential 2908 sewers to just keep going.
She believes that quality of the topstitching makes or breaks the professional look of jeans, and so she spent quite awhile deciding pocket design and top stitching thread options. She used 2 strands of heavy nylon thread with an 18 needle for all the topstitching and ran lots of samples to decide color, weight and determine proper tension settings.
She says that the patterns are nicely drafted but that you will probably want to make some "personal tweaks".
She has this to say about the process:
"No step is particularly difficult, but you will need to do some samples before getting started. I used a scrap of denim folded 4 thicknesses to tuck behind the presser foot when starting seams to level up. By the time I got to the belt loops, I was using a generous stack of sticky notes as my leveling aid to get smoothly from 2 layers of denim, to suddenly 6."
She will sew these again, even though they were time-consuming to make. And she says, "Having invested the time into getting the fit right, I plan to replace my ill-fitting RTW with custom Amy-May-Zing Design jeans!"
Congratulations, Amy-may!
Second Prize: ChildOfTheWild for Self Drafted Pattern: 320402-1000 Donna
Congratulations, ChildOfTheWild!
And congratulations to all our contestants!
Thanks to StyleArc for sponsoring this contest.

Thanks to crazygrad for managing this contest.
See all the entries for this contest.
See the Contest Report and Rules.