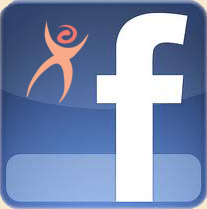 Do you know any men who sew? Have you ever met any men who sew?
Tell us about it in the comment section below!
Or, join the discussion on Facebook.
Here's what other members said on Facebook:
Ripstop! Wonderful, fantastic man at PRW SF. Always a smile.
My son sews just a little, I only know a man that knits sweaters. I love a man that knows how.
When I was living in an apartment in the 70's, our apartment manager sewed all of his wife's clothes. He worked for Caltrans during the day, came home, did maintenance at the apartment complex and sewed in the evenings.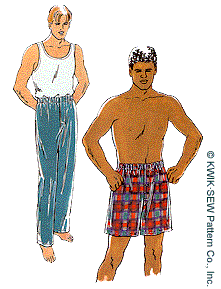 Kwik Sew 2257 Men's Pajama Shorts/Pants
Two old boyfriends. One was a tailor and the other had to shorten all his pants.
My son (9) has outgrown wearing printed fabrics for daywear and thus is less inspired to make anything. So he doesn't practice and will become a non-sewer.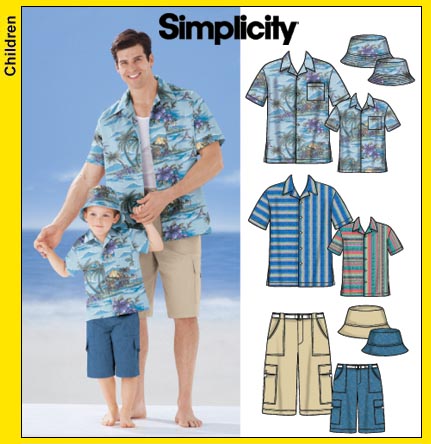 Simplicity 5581 Men's, Boys' Shirt, Shorts, Hat
I don't know him personally, but the guy from Threadbanger Youtube channel is pretty cool and I'm SURE he sews.
I also follow this blogger Mr. Tiny from wacky tacky who makes stuff for his partner in crime.
Oh wait, my friend's husband (and my friend too!) sews hoodies and stuff.
My son can sew. In fact, when he went into the NAVY, they have to sew the hanger into their pea coats. His CO came to look at everyone's work and made him pull out his work because it was "too good" and looked machine sewn.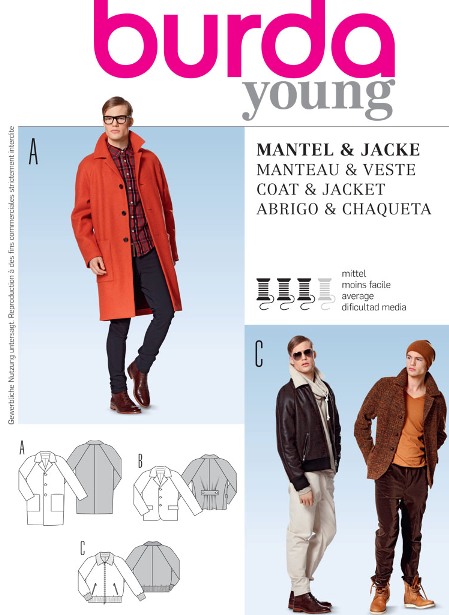 My dad sewed...he worked at Ford Motor Co. design center doing car interiors...did upholstery at home....always made our Halloween costumes...and lots of other amazing things! I learned from him.
My grandfather made all of my grandmother's clothes on his old iron foot-powered machine.
My husband sews, he actually is the one that taught me. My sons can mend not so much on sewing unless it is to create camping or game items lol.
My brothers are both upholsterers - does that count?? (YES!)
A dad of one of my son's classmates asked me for a recommendation on a good pj pattern. His wife always wanted a holiday photo of the kids in matching pjs, so he wanted to surprise her by making some (for all four kids!) and then getting the photograph made. An impressive surprise whether from a man or a woman I'd say!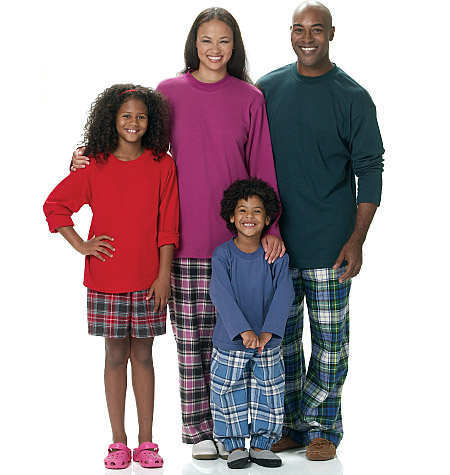 Butterick 5572 Misses'/Men's/Children's/Boys'/Girls' Top, Shorts and Pants
OO YES, in Africa! Best tailors- are men!
Hubby has been known to pull out my machine for little things he needs doing.
I married my hubby because amongst other things he had his own sewing machine and iron. He made lots of clothes for our son when he was a toddler, he has the knack of cutting patterns from ready-made clothes. Helps me with fitting my garments too.
No. I want to meet one.
There's scads of them on the various Yahoo sewing machine groups!
Well, I sew and I'm a man. I learned to sew at my grandmother's knee, and kept on going. When I got out of high school, I went to tailoring school and got my degree. But after my internship, I never worked as a tailor, but went into retail instead- the money and working conditions were better. Now I work in IT management, but I still sew clothes for myself, my daughter, and sometimes (rarely) others. I also sew quilts, lots and lots and lots of quilts. I've done maybe a dozen or more in the last year or so.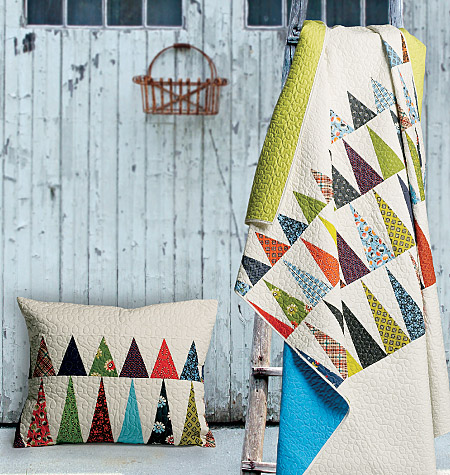 I have three male students, 2 adults and one young boy. Chris lives most of the year in the wilderness and likes making his own clothing for fit, comfort, and budget reasons. Our young boy, James likes making super hero accessories..capes and masks, don't you know:) My other adult, George makes his own jeans, shirts, and hats.
Yes, I had a friend who was a single parent dad and sewed for his two daughters and my paternal grandfather did the most beautiful embroidery work.
I fell for my first ever boyfriend because he could knit (we were 11).
My husband sews, crochets, and embroiders. He always made his mom's French knots for her projects because he was better at them. We have a quilt he made and I've taught him to hem his own pants.
My dad sews a little as well, he's made camping gear and I remember him making my mom a jumper once when I was about 5. He made me a little pillow out of the leftover fabric for my doll.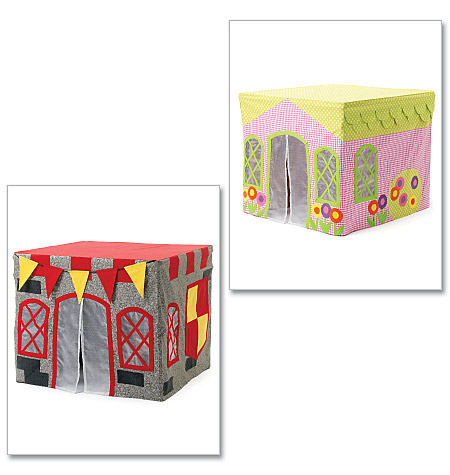 McCall's 6369 Children's Playhouse
My father taught me how to use a sewing machine.
My father sewed. He did upholstery and re-upholstered several chairs that I know of. He taught me the running stitch like his grandma had taught him.
My grandson!!!
My Husband.
My husband sews but it's only as possible repairs or sometimes he can machine sew his own jean hems. And I taught him to do dress slack hems also by hand; but I usually do it for him, not because he can't or won't but because I also enjoy doing something nice for him. In return he cooks for me!! One time I taught him how to use my serger because I was making 27 satin shirts with ruffles for a rhumba song for my daughter's drum line and I needed to serge off nice edges for 150+ ruffles. Thankfully my mom had just given me an extra serger for Christmas, so I put hubby on it. "Git 'er done!!!!!" LOL!!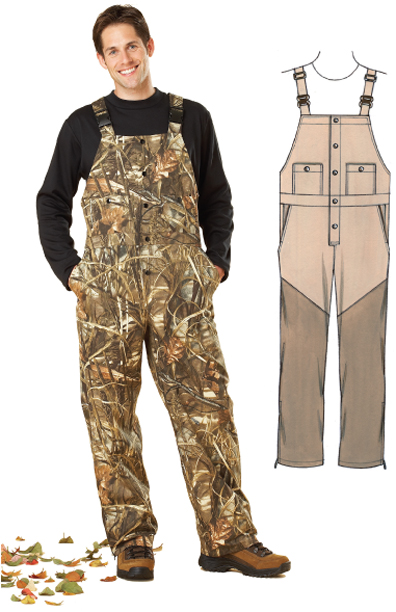 I also live in a suburb of Portland and met Seth Aaron Henderson once!
My father taught me to sew, my mum tries but not very good, dad understands it and advises about alterations.
I used to work for a sailmaker - a man - He did lots of sewing. ... I think it's funny - when men do sewing, they sometimes call it "building" My boss built hundreds of sails. One of my sons does decorative applique on his hats, pants and jackets. He just told me that he also does mending. I used to have a male neighbor whose specialty was sewing kimonos.
I work with lots of men who sew, and beautifully. And Kenneth D. King is one of my favourite mentors.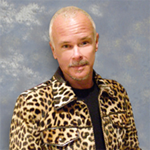 I teach children's sewing and have had several boys in classes. My son can sew too. Disappointed though that the local high school has discontinued sewing for Year 8 which is where is his this year. I used to own a sewing shop and had quite a few regular male sewers ( and 1 cross-stitcher). One in particular loved his overlocker.
Most of the men I've known who sew use the skill for upholstering furniture rather than making clothing or accessories. But the skills and tools are pretty much the same.
My mom would take my dad's pants up if he lost weight..... And would make him do the alterations if he gained.
My cousin Brien Mills sews, mostly Ren costumes, but he let me sew their Steampunk wedding! So fun!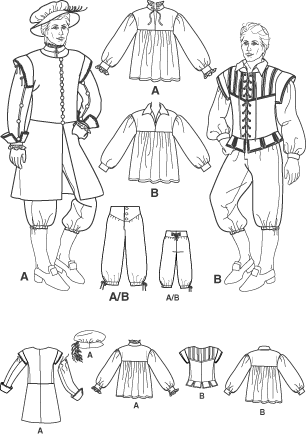 Simplicity 4059 Men's Renaissance Costumes
My husband likes to hand quilt. I machine piece the tops and he quilts them with and for our children, then I machine sew the binding. Works well!
Men have been tailors for many centuries. When I first started working in this field, women were looked down upon for this career choice. My boss (a lady) was even addressed on mailers as Mr. I have known very few tailors not men.
Alexander McQueen. Calvin Klein. Marc Jacobs. Jason Wu. Phillip Lim. Georgio Armani. Halston. To name a few.
I sew!
Last year I moved back in with my parents and younger brother for a few months. My brother (16, i.e., 9 years younger than me) asked me to teach him how to sew! My heart swelled with joy! He sewed 4 pairs of cotton boxer shorts (with awesome colour combos, inspired by his favourite TV show), a pair of psychedelic mushroom-print boxers for a friend's 16th birthday present (the friend was so happy with them), and a comfy scarf for himself. When I get home from my travels we're going to sew some bow ties, some ties, and some Colette Negroni shirts together!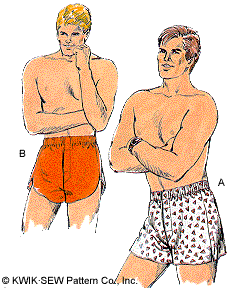 My grandpa sewed quilt tops, altered dresses for my grandma, sewed his own fingers back on after he cut them with a saw, sewed up the cows when they were injured. He used black carpet thread on that. My brother sews tents and camping/rendezvous stuff. My two sons can sew. The older one made a duffle bag and other things. My younger son sewed quilts, shirts, car seats and a prom dress for his date.
I do. I don't claim to be any kind of expert, but I have enthusiasm!
I have three male quilting buddies and both of my boys have used my old machine at various times in their lives to make things they wanted. One is a set designer and has used his skills to create various props. The other once took a pair of pants and made them into cargo shorts, using the bottoms of the legs to make the pockets on the sides. His wife told me he used a whole pack of needles before he finished, but they looked great.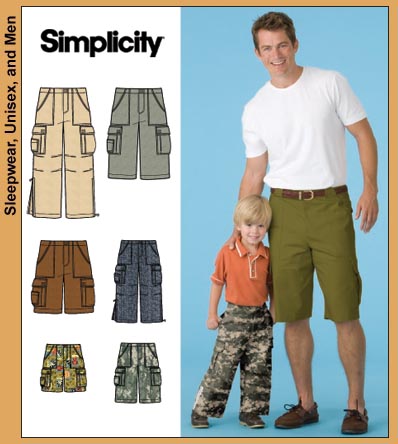 Simplicity 3891 Boys' & Men's Cargo Pocket Pants and Shorts
My father can sew and has his own machine, mostly for making custom hunting shelters and such. My husband sews and I saw it as a good sign that he had his own machine when I met him. He has mostly sewn Viking reproduction clothes and a tent, but also men's vests that he wears.
My Dad used to sew. He was in the Navy and he actually took apart a pair of Navy pants and made a new pair from hand while overseas. He had lost so much weight. He can repair anything. He just turned 93. My son loves to cross-stitch and I just saw an older man at physical therapy waiting on his wife doing hand embroidery. Many stopped to talk to him as they found him interesting. I bought a special hoop for embroidery and a man designed it. The men will tell you they find sewing a very relaxing thing. They finally found out our secret!
My friend's husband does quilting as fast as she cuts them out he sews. He does a beautiful job.
A male friend of mine sews... He made the sails for his sail boat...
I've been drafting fabrics on Spoonflower for quite a few. My son is better at backstitching than I am.
Are you a man who sews? Join the conversation on the Message Board!