It is a creature that seems to grow magically... When you go to a sewing workshop, it grows. When you go to PatternReview weekend, it grows. When you pop down to the store to pick up some buttons or some trim, it grows. And when there's a sale, well, "grow" doesn't cover it. Let's say it explodes.
Pretty soon, it's like The Blob, threatening to take over your sewing room, or as the movie poster says, "Indescribable, indestructable, nothing can stop it!"
Well, actually, there is a powerful tool that may not stop it, but will at least slow it down, and that tool is called "The Fabric Stash Contest"!
This year's Fabric Stash contest saw 157 members who tried to whittle down the size of their fabric stash, the age of which had to be at least 6 months. These members made a total of 851 items and used 1091.09 yards doing it! See the Contest Report for who sewed what and how many yards they used to sew it. And let's give them a big hand for their effort!
The winners of this contest were determined by how much of their fabric stash they used. Let's meet them now.
First Place Winner: LiZ for 110 points, 100 items made, 110.75 yardage used
Pictured: Hoodie from Kwik Sew's Sewing for Children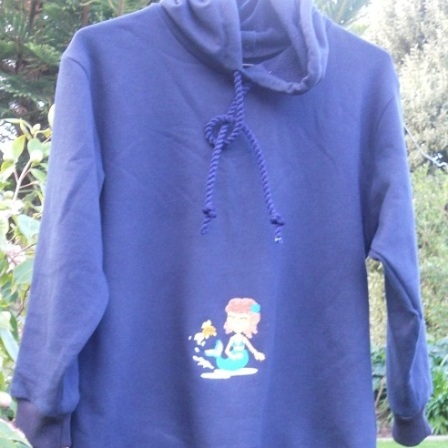 LiZ was very busy during this contest. She made a pet blanket, a shower curtain, a hoodie, a skirt, a number of tops, a couple of cardigans, robes (are you tired yet?), a nightgown, shorts and pants, tea towels, aprons, children's clothes, rompers, a baby bib, a man's shirt, a jacket, a jogging suit, yoga pants, and lingerie. I may have missed an item or two, but all I can say is...whew!
Pictured above is a hoodie she made, one of several for this contest. The fabric she used is a testament to a fabric stash never going bad... The heavy weight French terry that she used has been in her stash since some time in the nineties! Let's hear it for using it all!
The pattern she used is from the Kwik Sew book Sewing for Children. She loves this book and has made a variety of styles from it. She likes the fact that when she wants to make something, she can get the book out and find a pattern that she can use or adapt to her needs. She says it's "a great book to have and you will be able to sew a wardrobe of clothes for your child."
Congratulations, LiZ!
See all LiZ's projects for this contest.
Second Place Winner: katlew03 for 88 points, 51 items made and 88.743 yardage used
Pictured: Pajamas she made to donate to a local abuse shelter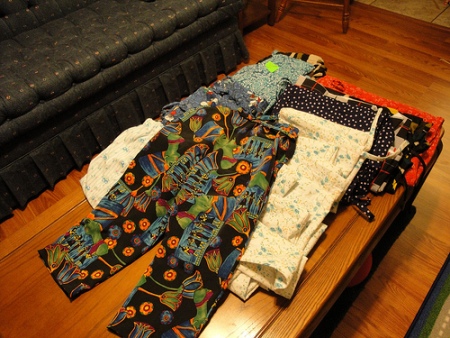 Congratulations, katlew03!
See all katlew03's projects for this contest.
And congratulations to everyone who entered!
Thanks to Patterns From the Past for sponsoring this contest.
Thanks to Sew Whatever for managing this contest.
See all the entries for this contest.
See the Contest Report and Rules.