There's nothing that makes you feel guiltier than an unfinished sewing project! After you've gone through all the effort of buying the fabric, the pattern, maybe even cutting it out, maybe even sewing a bit of it, and there it sits, staring at you accusingly from the sewing table. "Finish me," it seems to say. And think of how the guilt mounts when you have more than one unfinished object staring at you. How can you stand it, you wonder?
The 46 participants in this contest swept away the guilt and restored a guilt-free atmosphere to their sewing rooms! Altogether they made 58 items with 84.53 yards of fabric. After this contest, they can go on to carefree sewing!
The winners of this contest were determined by points. Let's meet the winners now.
First Prize Winner: treefrog for 22 points, 8 items made, 10.5 yardage used
Pictured: Burda 7648 BLOUSE (OOP)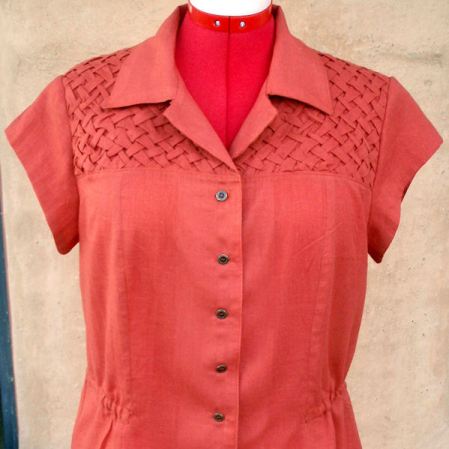 treefrog's pictured project is exactly the type of sewing that gets put aside, one that's more complicated than your average sewing project.
She saw an RTW top with similar construction to Burda 7648 last summer. She loved the smocked yoke and probably would have bought it if it wasn't pink.
The roadblock for this project was the smocking on the yoke of the blouse. She stopped working on the project in January and started again for the UFO contest. She says, "It is really really SLOW!!! Thankfully, the Tour De France was on, and I did 4-5 rows each night, watching the live stages."
When she was finished, she had just enough fabric to complete the pattern if she left off the front facing. She was a little worried about the best way to cut the smocked pieces out. She details what she did in her review. PR members, if you know of a better way, she'd like to know what that is.
She says that the shirt is very true to the line drawing and pattern photo. And with the smocking, she says it is very similar to the RTW top but more in her color!
Her conclusion? "This is a really nice summer top. I think the smocking turned out well - which is a relief after how long it took to do it. It is a shame that the pattern has sat so long in my stash before making it up and I'd recommend giving it a try if it is still in your stash. I'd like to make another, plainer version at some stage."
See all treefrog's projects for this contest.
Congratulations, treefrog!
Second Prize Winner: annakeeton for 21 points, 8 items made and 11.375 yardage used
Pictured: Jalie 2558 Bolero
Congratulations, annakeeton!
See all annakeeton's projects for this contest.


And congratulations to everyone who entered!
Thanks to CTBarb for managing this contest.
See all the entries for this contest.
See the Contest Report and Rules.
Read the "behind the scenes" contestant talk.