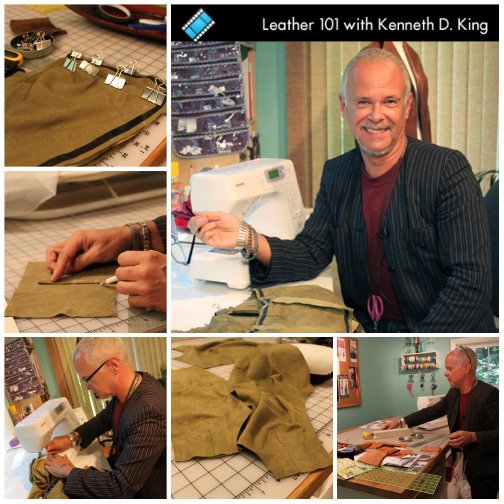 Do you have leather envy? Do you admire leather outfits on people on the street and in the mall but don't want to pay the exorbitant prices that buying a leather piece requires?
If the thought of a buttery suede peplum top makes you drool, you must sign up for Kenneth D. King's new class, Leather 101.
Kenneth uses Vogue 8815 to demonstrate all you need to know about sewing it in leather, including:
What kind of leather to select for your garment
What types of patterns are suitable for leather garments
What tips and tricks you can use to get the right look
What construction techniques you need to use for seams, darts, flaps, collars and cuffs
What steps you need to follow to sew the leather peplum top
You also get a 29-page PDF guide that outlines, photo by photo, different types of darts and seams that you can create in your leather garments.
Sewing leather is not like sewing fabric! You need knowledge from a designer like Kenneth to successfully create a leather garment that doesn't look like a hobbit sewed it.
This class has 3 hours of high-definition video. Watching this class is like taking a sewing seminar. And you don't even have to leave your sewing room!
This is a video class. You can watch these lessons over and over again to pick up these valuable techniques.
Hit a stumbling block? Don't worry...you can always ask Kenneth your questions on the class board.
So sign up now to wear that leather peplum soon!
Yes, I want a leather outfit that I've sewn myself! Teach me how!
Thank you, Mood Fabrics, for the leather used in this class!