Sometimes you just hate to make a special costume for Halloween. You can only wear it one year; otherwise the "wow" factor wears off for all the friends who have seen it before. Not only does that costume take up valuable closet space, but it seems a waste if no one else wears it.
This year, try something different... Make a "costume" from everyday patterns that you can wear over and over again outside the Halloween season. We asked PR members on Facebook for ideas, and here are some of their suggestions.
Candi says, "Think rock-a-billy or steampunk. It is all in the accessories. I use the vintage patterns available from Vogue and have fun. They are easy to dress up for the Symphony or use different accessories and go to the Halloween party."
Rock-a-billy is a fun look that is easy to do, particularly for men. Start with a jeans pattern like Kwik Sew 3504 and top with the Kwik Sew 3506 Western Shirt.
Add a belt with a great buckle, a bolo tie or a scarf, a pair of boots if he's got 'em, and a guitar or an upright bass if he's got that too! Got a significant other who doesn't mind some flash? Decorate the shirt with sequins attached with washable fabric glue.
You can mix the look up a little with this shirt, Kwik Sew 3484, that is a little bit 50s and a little bit bowling.
So he's rockin'! Now you!
McCall's 6585 will give you a full skirt that you can wear even after Halloween is over.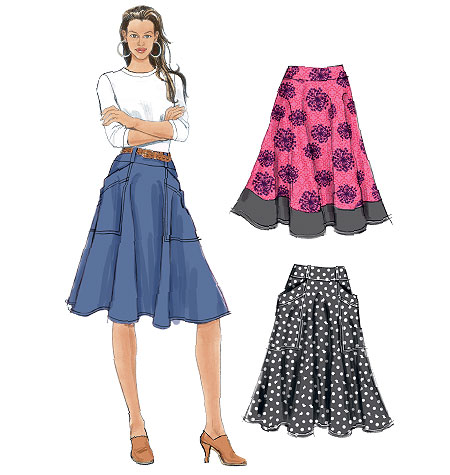 If you're a serious rock-a-billy girl, you may want to invest in Kwik Sew 2102 to wear to non-Halloween events and square dances also!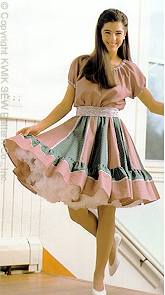 Kwik Sew 2102 Misses Square Dance Skirts & Blouses
2102's peasant blouse is wearable any time, but it's great to have around as a topper for summer.
Now for the ultimate flight of fancy: steampunk!
Steampunk outfits are really fun to create. They're a combination of Victorian dress and Jules Verne-Sherlock Holmes-Wild, Wild West...lace and leather and brass and arched eyebrows (don't forget the goggles).
Women can go high-Victorian tart or proper Victorian lady with this genre, wherever you dare. To create a repurposable look, pick a skirt, a vest and/or corset, a blouse (even Kwik Sew 2102 will do) and a cape or capelet.
You may not want to spend the time making a corset, a project that is not necessarily easy. If you're up for the challenge, try Butterick 5969 Misses' Corset and Skirt (you can always wear it again for Valentine's Day
).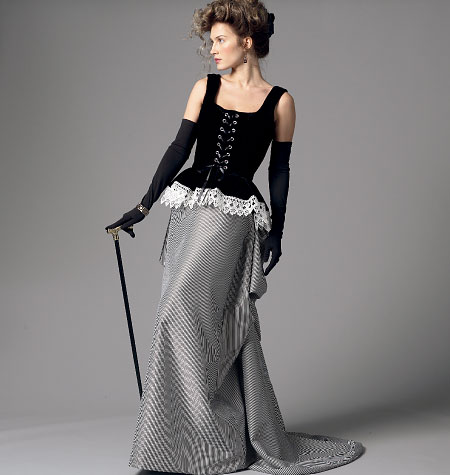 Butterick 5969 Misses' Corset and Skirt
If a corset is not what you want to tackle, a vest trimmed with lace can be a great substitute. You can just baste the lace on if you want to repurpose the vest sooner rather than later. Kwik Sew 6166 is an option and a great buy, because you also get a men's vest pattern that you can sew up for his steampunk outfit.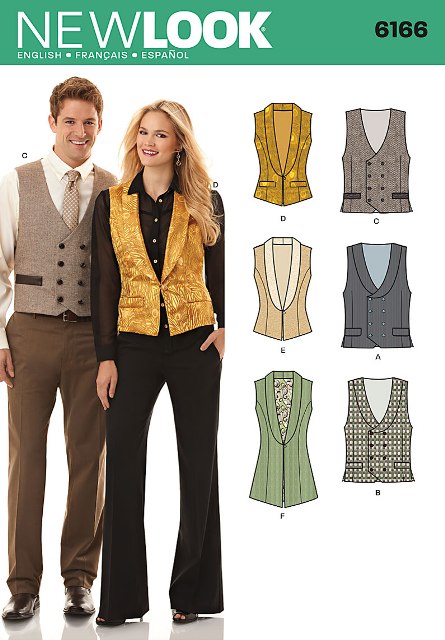 New Look 6166 Misses and Men's Vest


A skirt ankle-length or longer is the right look for this period (unless you're going as a very bold lass instead). McCall's 6799 is a great skirt with the right amount of sway, and you can wear it afterwards for day or evening. Taffeta or silk is a fabric many steampunkers favor, but you may want to pick a fabric that will be more practical for future wear.
A cape will top this look off. Sew one in the right fabric and you will wear it many times, especially to the Symphony!
or try a capelet!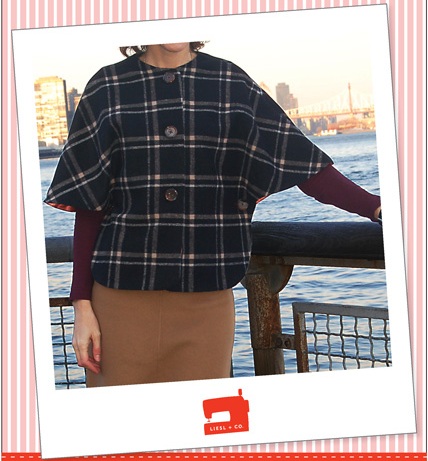 Oliver + S LC002WS Woodland Stroll Cape Downloadable Pattern
Add a top hat or a fanciful hat with a feather and a veil and you're all set, except for the accessories, such as pearl-handled pistols and little brass gadgets. Search the steampunk sites and you'll see what I mean.
If you also go to steampunk conventions, you may want to sew these creations: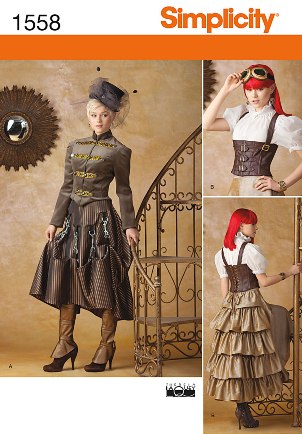 Simplicity 1558 Misses' Steampunk Costume
For the men, it's easier: a vest, of course. Vogue 8048 is a good choice. It will give him a little different profile, almost Edwardian, but in the right material, very slick.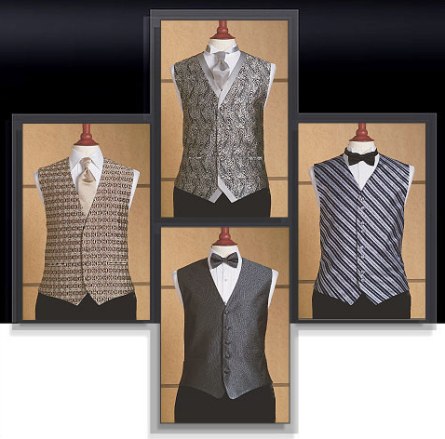 Vogue Patterns 8048 Men's Vest, Tie and Bow Tie


Trousers (that's a yes). Jeans won't do in this case. Burda 7841 dress pants fit the bill.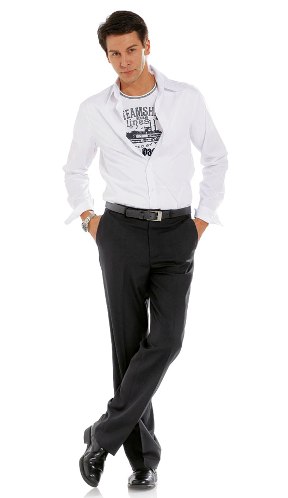 Burda 7841 Men's Pants/Trousers
A suit jacket is nice, but he can actually just go with a cape like McCall's 4139.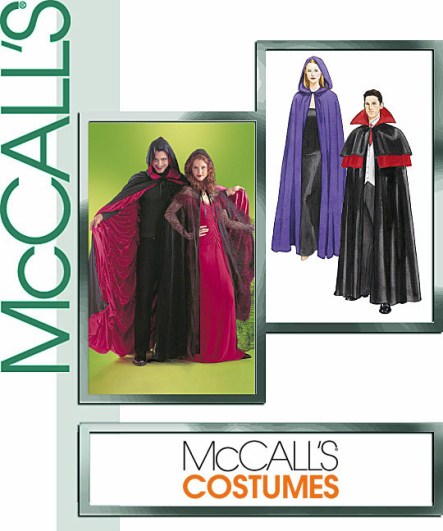 McCall's 4139 Cape Costume, Lined or Unlined
He may not wear it outside Halloween, but he can always wear it for next year's costume. (Line it in red taffeta or silk...that's a nice touch.)
Add the accessories...a top hat or a bowler, a pocket watch, derringers, brass gadgets and what-not, a cravat and maybe a walking stick...and you've got a costume.
Now, more on capes... They're adaptable to your costume desires!
Ernie says, "[Sew] McCalls 5957 or any hooded cape pattern, as long as the front edges can be joined up with a zipper. You're a hero, a vampire, the Pope. It all depends on the fabric (which you will need lots of, and a big flatness to lay it out on)."
So this year, he's a steampunk guy and next year a vampire. Easy!
Here are some other easy ideas.
Neo in The Matrix. The coat is cool to wear afterwards! Garments: the coat, black tee, black pants or jeans, black shoes or boots


Robin Hood. Garments: cape, short-sleeved overshirt, long-sleeved undershirt, pants, boots. Bow and arrows and a sword are optional.
The fabric you choose will make this costume. Choose earthy and dark colors, and he will wear them again.
Or you can just go with Burda 7333:
Maria in The Sound of Music. Garments: peasant blouse, vest, skirt, apron. You can also wear the vest for a steampunk costume.
Or:
The vintage St. Pauli Girl or a generic Oktoberfest madchen. Wear all through October and beyond! Garments: peasant blouse, vest, skirt, apron. Mugs of beer as accessories.
50s teenager in poodle skirt. Garments: Skirt (glue on felt poodle, 45 rpm records [the small ones with the big holes] and swirls), petticoats (if you've got them), peasant blouse, white anklets, loafers with pennies in them or saddle shoes
or go with the costume: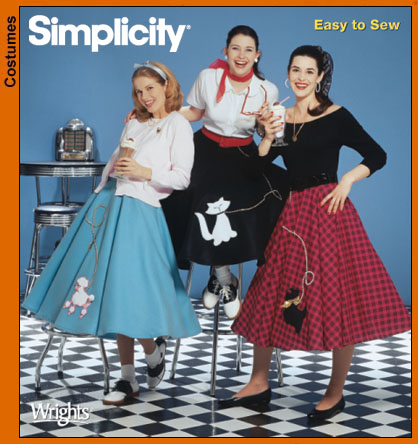 Simplicity 5403 Misses' Poodle Skirts


These are just a few of the ideas for repurposable costumes from everyday patterns. Whatever you sew, have fun wearing it!
Have you sewn an everyday garment that you can use as a costume? Tell us about it!