"When I was growing up, my mother made all my clothes."
Is that possible today? Do you have memories of that? Will your children have memories of that? Do/did you sew some or most of their clothes at different ages? Do you have good feelings about that?

Tell us about it in the comment section below!
Or, join the discussion on Facebook.

Here's what other members said on Facebook...
I used to buy fabric remnants and make my boys shorts and play trousers when they were little. When I was at school in the 70s, our mothers were expected to make our summer uniform dresses from a choice of two fabrics available at a local fabric shop. Can you imagine if Mums had to do that today?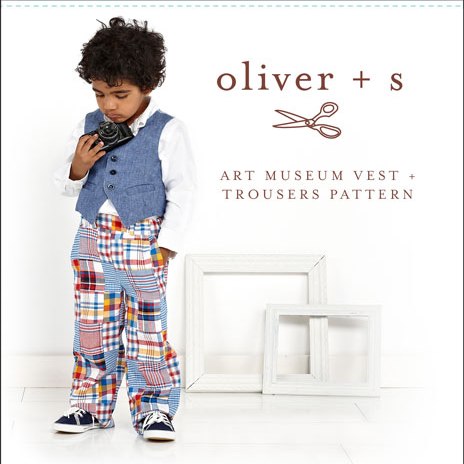 I have memories of my grandmother making my clothing when I was little. Not all of it mind you but alot of it. I have been making my daughter alot of things as she has grown up. She always has 2-3 outfits she wears regularly that I have made her. Then she has her special outfits/ dresses that I have made for a special occasion. I hope those are the one's she remembers.
My mother and grandmother made all of my clothes. I learned to sew for myself, and sewed for my children- pajamas, dresses, and shorts. I am still sewing for them and for me.
It is possible, but not if you hope to save money. The entire economics of clothing and sewing have changed since the 70's. "Overdressed" is the book that explains this in detail.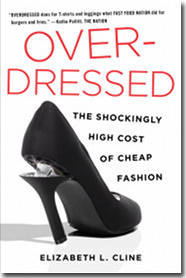 My mother got a job at PC Penny's in the 7th grade (1967) so she could buy clothes that her mother hadn't made.
I make all of my daughter's clothes, and most of my sons'. It can be done.
I began sewing 38 years ago when my first daughter was born, because I couldn't afford the cute clothes I wanted for her. I continued to sew thru the years for the next 2, also, but when I discovered thrift stores, my sewing fell off. It was simply too expensive by the time you buy fabric, pattern, notions, even on sale. Now I mostly do costumes, home décor, doll clothes. My kids and I do have good memories of my projects. I made sure nothing looked glaringly "home-made." I made one wedding gown, First Communion dresses, and event outfits that were very special.
I can recall making 14 prs. of overalls for my two preschool girls one year and many play clothes and dress clothes through the years. I used to find things I liked in stores and copied them. I'd do it again in a heartbeat and will when I have grandchildren.
My mom made most of mine. When my boys were little, I made about half. They are now in that "ratty jeans and band tee shirt" stage so I only make pajamas. Teen pajamas are hard to find in RTW.
My mom made almost all my clothes when I was little, but then I was expected to make most of my own stuff starting around 13-14, and boy did I want those store-bought things from the Sears catalog instead! But eventually, I started in again, making many of my boys' clothes, especially PJs and t-shirts. Now I'm excited about making my grandaughter's clothes
My grandmother would make some outfits and costumes for me (even some as an adult). I love those memories. Now I'm sewing things for the newest members of our family.
I made almost everything my youngest son wore for his first year, even making form fitting cloth diapers and diaper covers. Looking at the pics of all the outfits brings back great memories for me. He is 9 now and seems to enjoy pointing to the pics and saying, "You made that for me?"
My Mom tried to sew and was very stressed by it-I remeber that!! I had boys and made whatever costume they wanted for halloween. They could choose any design and shop for supplies but out of self preservation I did the sewing when school started! What is satisfying about creating an entire wardrobe is the quality and care offered. This can only be measured economically to a certain degree and I believe handsewn wins every time.
It's still possible, especially with today's high speed equipment and technology. Now whether you'd want to is another thought entirely.
The process of choosing, shopping and love of the finished costumes provide great memories of fun together
I started making all my clothing at 18 when I got my first real job and got hit with reality that if I did not make it myself it would cost all I was making to have it. Nowadays I make clothing out of love of sewing.
My mom made some of my clothes -- I still fondly remember the pretty full circle skirts I wore in middle school. I make all of my daughter's clothes (except for the occasional purchased piece). For my sons, I made most everything when they were little, but now I only make some pieces for them -- usually things we can't find in stores.
The economics change when you start talking about what you're buying. I made two suits and two formal dresses for my brother's wedding last year (1 each for my mother and I). We're both plus size, and to find anything in a natural fabric that would be appropriate was much, much more expensive than the hand-dyed silk, silk organza underlining, and silk crepe de chine lining for our dresses, or the linen-rayon blend with cotton batiste lining for our suits. Probably if we were thinner, it would have been cheaper to buy something, but c'est la vie!
When I was growing up (12 yrs and on), I made all my MOTHER's clothes.
My grand-mother use to sew my mother's and her sister's school uniform; they loved it and even shortened here and there to be prettier!
My mom used to sew some dresses for my sister and I and she has been sewing for Halloween costumes forever and still does! She always does her own costume for her annual Baladie (belly dancing) shows too! (it's a hobby of hers and the dance school presents a show at the end of every year).
I sew for myself and occasionally for my kids - now that I do not fear knits and found bargain priced fabrics, I will do more of it as their growth rate slows down! I do not sew fast enough for when they outgrown their clothes every few months... But now they are 3 and 5 yo, so some garments may fit for almost a year!
My mom didn't make all of my clothes - but ALWAYS the ones for important occasions. I still have the taffeta skirt and velour top she made for the dinner theatre during the 8th grade trip to DC, the 6 panel olive plaid wool skirt she made for a field trip, the 8th grade graduation dress, the prom dress, the high school graduation dress, the college formal, the wedding dress, and a jacket she made for me when I came home to visit one time when my husband and I were "in the mud". As a girl, I'd go to bed hearing the sounds of the pinking shears against the dining room table. I'd wake up the next morning to a finished outfit laid out for me. My father would gently say "Go up and say good-bye to your mother, she was up late last night." I think I'll call her now and thank her!
I would but working full time there just isn't time to sew for all 5 of them. Plus its just not as economical - when you only make 25k a year you are kind of stuck shopping discount stores, even as much as I loathe the idea of shopping there after reading "Overdressed". I do make some clothes for them though.
I only had a problem when my mom made clothes for me that she liked and I didn't. Then she would make me wear them and kids would make fun if me. I run everything by my kids before I sew for them. I'm not wasting my time on things they won't wear.
Between my MIL and myself almost all of the clothes my three girls wear are homemade. They are currently 5, 4, and 2. My mother made a great deal of my clothes growing up and oddly she is the one that will buy clothes for my girls.
My mother made my clothes. Never had a boughten coat until I was out of high school. I have sewn for children and it is fun and goes fast.
My mom always made my clothes and I loved them. I make as many of my kid's clothes as I can. They love watching me make something new for them, and helping design it. They are still pretty little so I don't know if they will still like it when they get bigger, but for now it is one of the special things we do together.
I make most of my 8 yr. old's shorts for school using an old pair of Land's End sport twill shorts (they no longer carry them and they fit my "hard-to-fit" son perfectly). I plan on making khaki pants for winter based on them also. They have side pockets and a back pocket. The only addition I will have to make is to add belt loops since he is required to wear a belt to school beginning next year.
I don't think you can make clothing cheaper than you can buy it, but you can get the color, style, fit and fabric that you like. And I can make a pair of $500 silk pants for less than $50.
You can sometimes buy clothes cheaper than sewing them, but the quality of cheap RTW is not very good.
My mom worked full-time yet made almost all of my and my brother's clothes until we were about five. She also started making most of her own clothes when she was 10. I definitely haven't had time to make MOST of my daughter's clothes, but I've sewn or knit her a lot of very special things at every stage in her growth so far that I treasure watching her wear as often as possible.
When I was in high school (a mere 17 years ago), I made almost all of my own clothes. Now I have 5 children, and that would be impossible.
I am youngest of 7. Mom made most of our clothes. I have precious memories of Mom's sewing. We would go shopping for things I liked, she made notes, we headed to fabric stores where we selected what she needed and I soon had new clothes! Mom was an excellent seamstress. She could draft patterns beautifully. Two of my older sisters and I all love to sew. I created all my daughters pagent attire. What fun!
I confess, I didn't make all of the clothes for my girls, but I did do the important stuff, first day of school, First Communion, proms, business suits, Halloween costumes, zillions of prom gowns, business suits, wedding quilts and wedding dresses, and now, it begins for their children! I love to sew for them!!!
That sounds wonderful. This is sort of my new goal as the boys grown out of stuff to make it instead of buying it - except for socks and underwear
I sewed all my childrens clothes when they were young plus most of the kids in the neighborhood's special events ( proms) too Plus I sewed leather handbags to support them
Yes, Mom made our clothes & I made a few cute things for my daughter...preschool. Those were the days
Oh yes...and a transformed prom dress.
When my daughter was born 22 + years ago, I sold my horse to buy a New Home/Janome Memory Craft 7500, the dear machine that I still sew on. I thought I had to sew everything that went on her back.
My daughter is 10 yrs. old and I sew all her dresses. I also made her first communion dress, her christening gown and all her costumes for the past 10 years. I've made some of her soccer shorts and will try making some t-shirts. For my son I've made him costumes for the past 13 years (he's 13) and for any school projects that required props/costumes. I hope to make him sweats for track season. I just love sewing for them!
My mom made all my clothes and I made my kids too until they reached high school. I started going to garage sales to get the quality clothes my daughter wanted like others. I still made her some things too of which all the girls loved. I made my son's church clothes up until he graduated college. He was too skinny to fit in bought clothes. I had to alter anything bought for him. I think it is getting back to the point where more people are buying home made things and people are making things for their kids that are a one of a kind. Nice to see that.
When I married,I'd been sewing for years. I made everything for my two boys and a girl..they were often the envy of their friends..it was the era of embroidery on shirts, and my daughter's dresses from remnants were as pretty as any. I also did all my clothes,and shirts and sport coats for my husband..was requested to do two wedding dresses for friends, and several formals, and covered hats to match dresses I'd made, and western shirts for gifts for my husband's friends.. never made much money, didn't want to charge my friends enough to pay for my time, so I gave it up, except for the family. I often used patterns that fit the kids, and redesigned them into other looks.
Unlike many of my peers in the 1970s, working and farming my kids out to sitters was NOT my thing....SO I had to be creative to make my banker husband's salary stretch. Sewing clothes for my two kids, making small living spaces "live large" and making lots of things from scratch allowed us to live a champagne lifestyle on a beer budget while the kids were growing up in the 1970s and early 1980s. Because of all this, I have many happy memories of my kids growing up.
I was lucky enough to be able to sew for my son - until he was about 5!
My mom hated sewing. But living in the former USSR didn't really live her much choice. It was often not possible to buy things because the were not available in the shops. I remember very fondly my cute skirts and my "banana pants" and the flannel winter pajama for kindergarten (we used to change to pajamas for the nap at noon). And my first bikini swimsuit everybody enived. And many other things she didn't sew, but took secondhand or ugly store things and made them beautiful and special. She never sewed again after we left that country.
My Mom taught me to sew when I was in 2nd grade. By 6th grade, I was sewing my own clothes. She did make me baby/toddler clothes.
Living near a clothes outlet makes it cheaper to buy than sew, but I wish it were still more economical to sew.
One of many great memories for me: I was in junior high chorus and all the girls had to have pantsuits made out of the same pattern for a concert. My mom made mine out of a peach, pink, and yellow plaid (yes, that was the fashion then!). It fit me perfectly and I loved wearing it, even after the concert was over. Never mind that I was the only one with a plaid pantsuit-- all the others wore solid colors! Made me proud to stand out!
See more things that moms have sewn.
See more things you can sew for your kids.
What did you mom sew for you? What have you sewn for your kids? Tell us!