Help us celebrate Jalie's 30th anniversary and enter a chance to win the grand prize!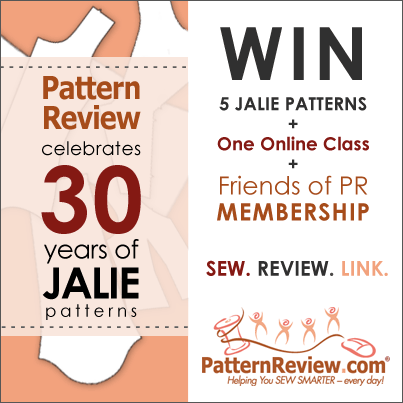 Here's what you need to do:
1. Between now and October 14th midnight EST sew a project using a Jalie pattern.
2. Write a new review on PatternReview with atleast one photo.
3. Copy and paste a link to that review on
a) Comment section of this post
b) Jalie Patterns' Facebook Page
c) PatternReview's Facebook Page
Contest ends October 14th Midnight EST
FAQ
1. Why three places?
Because it increases your odds of winning!

2. Can I sew more than one project?
Yes of course, as long as you use different patterns and write different reviews. Again, this increases your chances of winning.
3. I have already sewn from Jalie before, can I just submit that?
I'm afraid not. Only new projects and new reviews qualify.

4. Can anyone participate?
Yes! Forward this to all your friends. As long as they join PatternReview (free membership will suffice) they qualify

5. If I win, do I have a choice on the patterns and class?
Of course!
6. How will the winner be decided?
By random drawing.
7. Can I use a pattern I've used before?
Absolutely! As long as you write a new review.
Can't figure out what to sew first? Here are the top 3 Jalie Patterns: