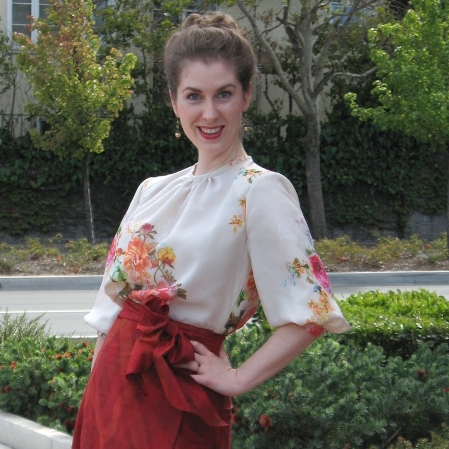 Your PatternReview Name: lauramae
Your Full Name: Laura Pedersen-Schulz
Member Since: 2009
Your Birthday: December 28
Your Blog: http://www.lauramaedesigns.com
How long have you been sewing?
Gosh, I guess it must be more than 20 years at this point!
How did you learn to sew?
My mom showed me how to hand-embroider when I was a little girl. Counted cross stitch was my absolute favorite craft, and I was always working away on little kits. A trip to the library always included a stop by the craft book section where I found The Dollhouse People, and made myself a family of little fabric dolls and lots of clothing for their wardrobe from fabric scraps.
Apparel and machine sewing came later, in high school, when a group of friends and I made our own costumes for a drama class with the help of a generous mom who was willing to sacrifice an afternoon and her sewing machine to a bunch of newbies! In college, I was lucky enough to work in the theatre costume department with an amazing designer – I learned more about the sewing process in that theatre basement than any class could ever teach. After that, I studied pattern instruction guides and books and fumbled my way through different techniques. Looking back at my first set of bound buttonholes makes me laugh out loud; they were not very pretty!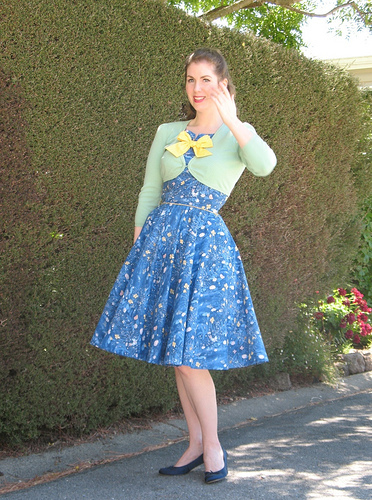 Which sewing book do you refer to most often?
My favorite would have to be a 1960s edition of Sewing Made Easy by Mary Lynch. Reference books are always good to have on hand, but most days, I just follow the directions, perhaps swapping in some vintage techniques for good measure.
What are your sewing goals for this year?
One of my goals continues to be making more separates. I have a tendency to gravitate toward dressy dresses, and while I do wear them most days, separates offer so many more outfit options. I am also trying to be better about making clothing that matches back to garments already in my closet. I continually finish a skirt or blouse only to realize that I own nothing to match back to it – I really have to work on that!
Is there a sewing project that you aspire to make some day but don't feel you can yet? What is it?
I would love to find an amazing vintage piece that I absolutely cannot live without and use the design to create my own version from scratch, sans pattern. Working without a pattern of any kind still terrifies me and I would love to learn more about draping and pattern drafting in the near future.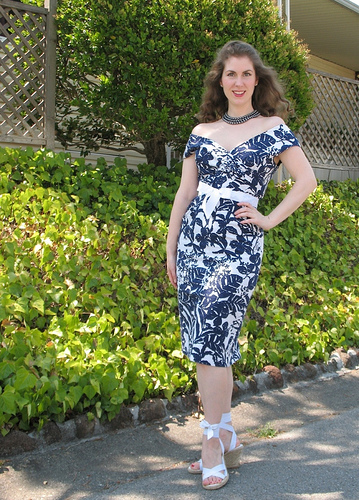 What are you sewing right now?
At the moment I am immersed in a rather large project for a gala I will be attending at the end of next month. The pattern is a 1950s vintage reproduction with three-quarter sleeves, a stand-up collar, slim skirt, and an exaggerated peplum. Right now I am working on beading the belt and peplum pieces. I have never beaded directly on a garment before and am finding it to be rather addictive!
What's your favorite pattern?
While widely inappropriate for most occasions, the Ceil Chapman Spadea pattern I used to make my emerald green gown a couple of years ago is probably my all-time favorite. I loved the oversized scallops so much, I made myself a quirky cotton skirt from the pattern that gets a whole lot more wear than the formal dress, and I would love to make a wool/winter weight skirt version at some point!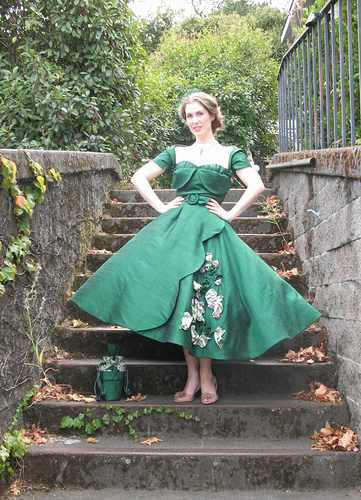 You sew lots of vintage patterns. What are your favorite periods?
What is different about sewing vintage patterns? My favorite decade has changed over the years. In high school I was obsessed with the Pre-Raphaelites and the Victorian era. Most of my chosen patterns were ankle or floor length. Over the years, I have found that the 1940s and 50s silhouettes are more flattering to my figure than most contemporary designs – not to mention the fact that walking up and down stairs with an armful of files and a full length skirt can be rather dangerous. Knee-length and tea-length frocks are infinitely more practical in an office setting!
While most vintage patterns assume a basic knowledge of dress making, they are not nearly as scary as some people think they are. Sure, there are a few more fiddly bits to contend with, but in the end, all those special design features are well worth the extra time and effort. And with all of the resources that can be found online, help is only a click away!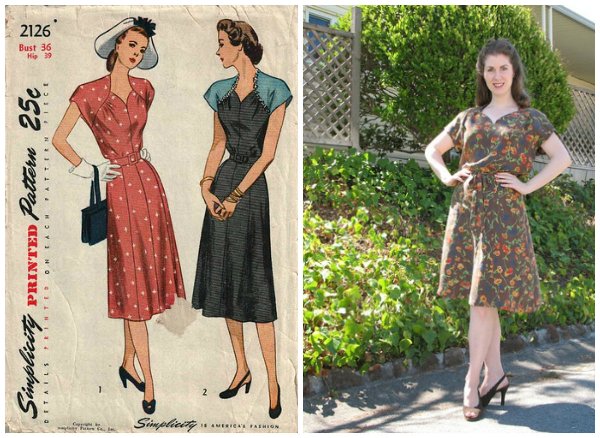 What aspect of sewing do you dread or find the most challenging in general?
A lack of time! I love challenges, so I rarely dread any part of the process (although if I had to pick one it would be taping pieces of paper together for print-out patterns). But only having 24 hours in a day can be extremely irritating when I have so many design ideas floating around in my head, and not nearly enough time to create them.
Where do you buy most of your fabric?
When I started apparel sewing in high school, my only real option was the local JoAnn Fabric Store. The affordable options (given my proclivity for avoiding synthetics at all costs) were mostly the back wall with all of the quilting cottons.
After finding the incredible online world of sewing, I kept hearing good things about online storefronts, and took the plunge. I have had quite a bit of success with fabric.com. And I just recently discovered wawak.com for sewing notions and supplies.
This year I started my adventures as a Britex guest blogger, which means I get to work with some pretty amazing fabrics.
But to be honest, my stash is so large at this point that I am doing my best to avoid purchasing anything new except for zippers, thread, and miscellaneous notions that are necessary to complete a project. We'll see how long that resolution lasts!!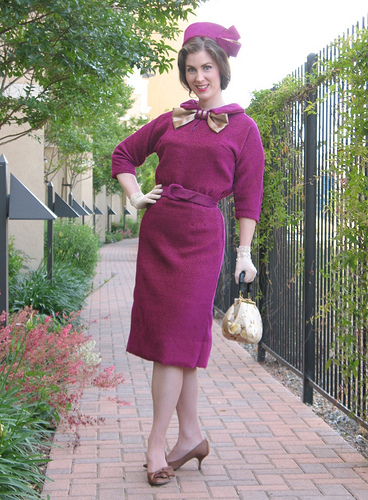 How big is your fabric stash? What's in it?
Yikes, I am not really sure how to answer this one! I have two bureaus full of fabric/lining/interfacing, etc., and plenty of other yardage that will not fit in those drawers. I have never taken the time to do a full inventory, and I really don't want to know!
I can say that the drawers are mostly filled with rayon, wool, and cotton, with a bit of silk pieces peppered throughout.
Who is your four-legged assistant shown on your profile picture? How much does he/she help with your sewing?
Valentino (aka 'Tino) is my little guy, and he absolutely "helps" with my sewing. When I am doing handwork on the couch, he loves to get in on the action and suddenly has to be on my lap. And if I disappear into the sewing room for more than 20 minutes or so, he will usually poke his head in. Sometimes he likes to hop up on my lap while I sit at the sewing machine, but most days he finds a patch of sunlight and just watches and makes sure to remind me when he needs a snack.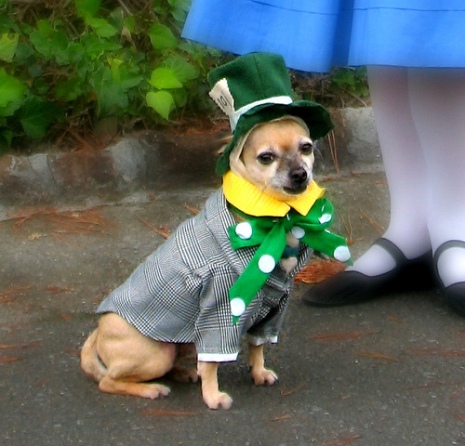 What you love most about PatternReview?
PatternReview was the first online sewing community that I discovered, and I love all of the encouragement and help that everyone is so willing to share. I usually check in with the review gallery every other day or so for a bit of inspiration! This does, however, have an unfortunate effect of adding to my list of must-have patterns (like my fabric stash, I don't want to talk about how many I already have!).
How has PatternReview helped you with your sewing?
PatternReview is always making me look at designs in different ways. A pattern that I would have skipped right over suddenly becomes a must-have when I see it through the eyes of another person who created an incredible garment.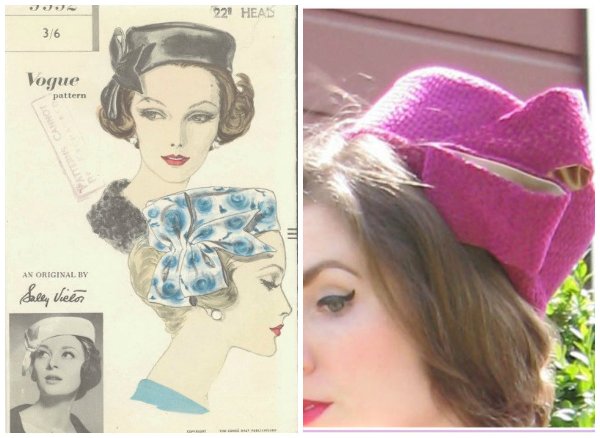 Any other hobbies besides sewing?
I love knitting (which is so much more portable than garment sewing), and reading books. And I am a frustrated actor – I have been trying for a few years to make it more than a hobby, but am not having much luck.
Your profession, where do you live, etc.
To pay the rent, I work part-time as a legal assistant for two family lawyers in Marin County, CA. I have been at the same office for over 10 years now, so it is a home away from home. 'Tino spends most days under my desk and is horribly spoiled by almost everyone in the office.
What would PR members be surprised to know about you?
Although it is hard to believe (even for me) in high school my dream job was to be a ranger in Yosemite National Park. I have long since swapped my hiking boots for stilettos, and decided that I am much happier in a pretty frock at the ballet or symphony than in the scorching sunlight and dust!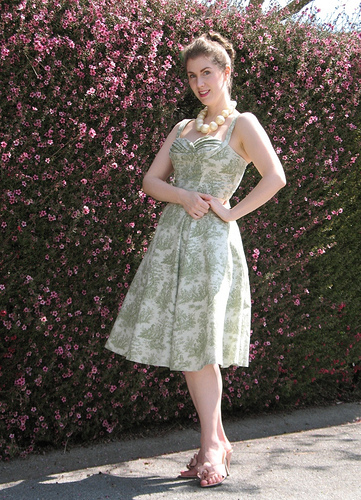 Thanks, lauramae!