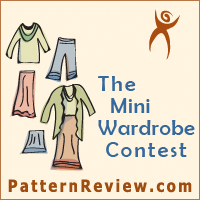 Congratulations to all those who participated in the Mini-Wardrobe Contest 2013! This was a challenging month-long contest requiring participants to sew four separate garments to combine into four individual looks. We applaud all those dedicated participants who continued to sew their eligible garments even if they could not make the deadline for submissions. There are some talented works-in-progress not to be missed!
PR Members sewed a variety of pieces for the contest, including dresses, skirts, blouses, jackets and cardigans. The workmanship of these garments is very inspiring! These motivated members really had to consider how four unique pieces would coordinate with each other to create four distinctive outfits. Who wouldn't love a wardrobe that could be so easily mixed and matched? You can take a look at all the entries here.
It must have been difficult for members to choose their favorites with so many outstanding entries! 150 PR Members participated!
Also, a huge thank you to Ashford, the Contest Manager!
Your encouragement, clarity and attentiveness were an astounding help to all the participants. Ashford concludes: "I know you will all wear your new outfits with pride. I have put them on the Mini Wardrobe Contest 2013 Pinterest Board because I wanted all my friends to see your talent and the diversity."
Now it's time to meet the winners…
First Prize Winner: cabinbaby for Mini-Wardrobe Contest 2013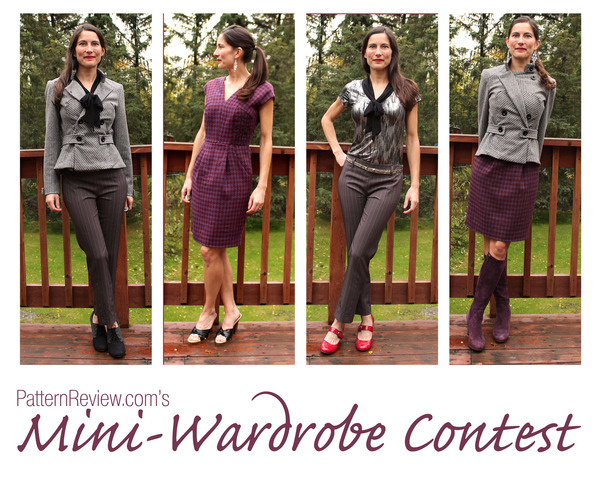 cabinbaby describes, "I started with a draft plan of a dress, knit top, pants, and a jacket. Surprisingly, I didn't veer from this path."
Jalie Scarf Collar Knit Top (2921)
"I have made this Jalie top several times before. It's certainly a keeper!"
Burda Side-Zip Pants (09-2008-114)
"These are nice, simple pants that will easily slide into rotation in my existing wardrobe. These are ankle-length and fun with low heels or my ankle-boots."
Burda Double-breasted Wool Jacket (09-2008-104)
"This is a cute jacket with a little flounce on the back. Love this jacket."
Burda Sleeveless Dress with Front Insert Panels (07-2011-110)
"I think this may be the most favorite thing I have ever made. I love the fit, the color, the patterns, and the embroidered "lace" insert panels."
Wonderful job, cabinbaby!
Second Prize Winner: HawkeMorningStar7 for Mini-Wardrobe Contest 2013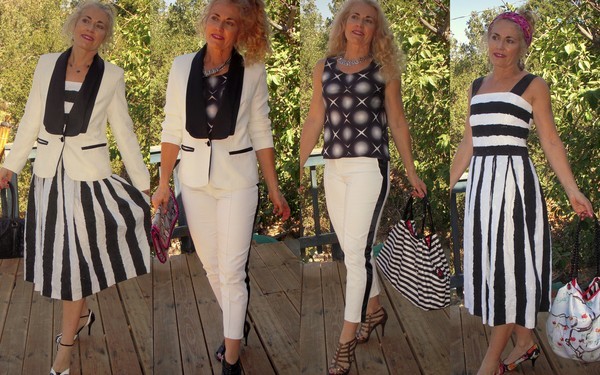 HawkeMorningStar7 says, "Planning, designing, styling and creating wardrobes are one of my great passions…I had been inspired by seeing all over the runway sharp black and white contrasts…The New Mod."
Well done, HawkeMorningStar7!
Congratulations to all who entered!
Many thanks to our Sponsor: Fashion Fabrics Club

See all entries for this contest.
Read the "behind the scenes" contestant discussions.