With the launch of Cake's new Red Velvet line, we thought that PR members would like a behind the scenes peek into what goes into creating these patterns. So we interviewed Stephanie Cousins, the founder and designer of Cake patterns.
Tell us about your business. When did you start it? What prompted you to get into it?
I used to teach beginner and intermediate sewing at a local indie quilt shop and noticed people had the same two problems with patterns: instructions written in pattern-speak rather than English and sizing/fitting/pattern alteration.
The sizing was particularly distressing for people, as most seemed to find they were one size on top and one or two sizes larger through the waist/hips. This is often taken as a judgment of their body as being outside the norm, even though many people have to do this. I find this happens much more often than a straight size fit. It also seemed curious to me that such a large proportion of women were put into the "full bust" or "pear shaped" category. To me, this meant that the so-called average represented by the pattern was no real average.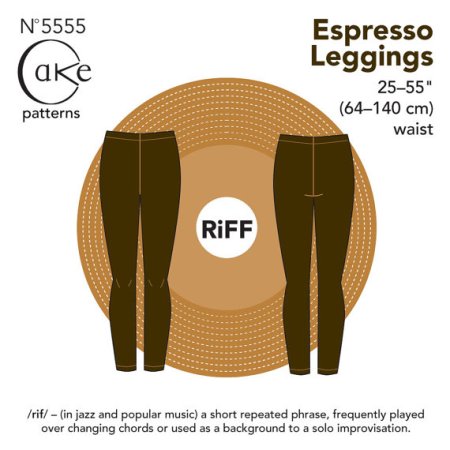 For years, I taught women of various shapes and sizes how to adjust patterns to fit their body. I "translated" the instructions coming from major pattern companies so my students could learn to sew clothing. As much as possible, I worked to flatten out the sharp learning curve that beginners face when taking up sewing. I kept thinking that sewing didn't have to be this hard. If people consistently have the same problems with patterns, then a pattern-based solution was needed.
At the same time, it seemed to me that there was a gap between the types of sewing patterns available and the clothes that people actually wear. If we're investing time, fabric, and passion in our sewing then why not make the kind of clothes we reach for and wear over and over again? I believe it's most important to focus on good fit, good sewing and good fabric to create this kind of wearability.
Cake is my attempt to address these common issues with sewing, to make learning our craft intuitive and more approachable. I tend to work with fabrics that look like "clothes," including wovens and stretch wovens but mainly focusing on knitwear.
The Tiramisu Dress was Cake's first release last year, and since then we've added three more full Cake Patterns. We also published several smaller releases under the RiFF label. RiFFs have written instructions, with little to no illustrations, for the intermediate/advanced crowd (adventurous beginners enjoy RiFFs, too!).
What inspires you in designing? What is your philosophy of design?
I'm inspired by many different things- vintage activewear, DuBarry sewing patterns, Harriet Pepin, M. Rohr, Japanese sewing patterns, pop art, and Viridian design concepts, not the mention the Dress Reform movement made popular by early Suffragettes. They wanted to liberate women's bodies from restrictive corsets and encouraged designs that allowed freedom of movement. We don't wear corsets, but I always consider freedom of movement when I'm working on a design and think of those sensible 19th century radicals.
I believe sewing has a vital place in modern life, especially for those of us who have ethical concerns about the garment and textile industry. This inspires me to work hard to create versatile cuts that can be made up a million ways in different fabrics to suit all kinds of taste.
My passion to replace fast fashion extends to the way I set up the sewing process so it flows well during construction, and to the use of techniques that are quick and clean and simple enough for beginners to tackle.
For example, I figure if an advanced sewist wants to attach a neck binding in the round they are welcome to do it, but I opt instead to put in binding flat in my patterns. This type of application is much simpler for a relative beginner to grasp and execute well. It's neat, too, when sewn carefully.
Tell us about your new patterns, the Red Velvet collection.
The Red Velvet Knit Dress is a simple dress with some intriguing details including two pleat options, cute petal collar options, a faced neckline and an invisible pocket. I like an occasional lightweight faced neckline on knits, it's often found in RTW clothing (stitched down like a yoke, as in the Red Velvet
pattern) and looks great when sewn with care.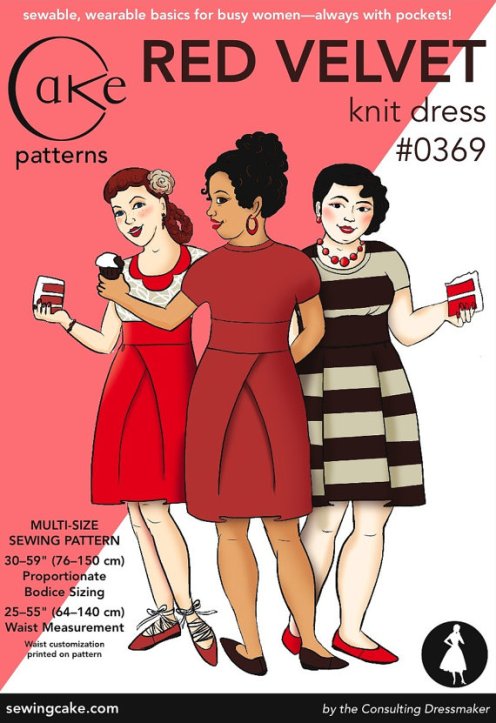 The invisible pocket was a fun little flourish, patch or inseam pockets would work just as well but we already have a few of those types of pockets. I really love my little zippered lipstick pockets, and they're very easy to omit or to insert into other patterns, it's great in other activewear designs. With the Red Velvet release, I wanted to introduce the concept of a dress layering wardrobe.
The Espresso Leggings take Cake custom sizing further than we've ever gone before. Basically, you take a set of eight particular measurements. Then following the steps I laid out, plot your measurements as dots, then connect for a custom leggings pattern piece. Espressos are a great example of the difference great fit can make- no muffin tops, no seam cutting in the crotch area, and you can easily adjust the rise and hem length to whatever you prefer.
The Red Velvet Clutch is a cute and sturdy bag in two sizes that echoes the pleat from the Red Velvet Dress. Tips for bag-making success are written into the pattern pieces and instructions so it's simple to make a solid but sweet shaped purse that won't bag out or collapse.
We have two other layering pieces in the Red Velvet Collection coming out very soon: the Cocoa Shrug and the Carmine Knit Jacket. They're a great way to add warmth and style to a dress, using soft apparel fabrics such as polarfleece, sweatshirting and sweater knits as well as working well in lighter weight fabrics.
You are now offering downloadable patterns. Are there special features you offer in these patterns.
I started out making .pdf patterns a couple of years ago. The Blank Canvas Tee was my first and has been downloaded over 15,000 times in a year and a half. It's definitely not perfect, but it was where we started!
We spent a lot of time thinking and trialling different tiling methods before settling on the method we used for the Red Velvet Knit Dress. It's important to read the Tiling Overview, it shows very clearly which pages should be printed in order to assemble the Red Velvet Dress in 31-36 pages! The whole pattern is 65 pages. It is important to us at Cake to strive for greater and greater paper efficiency.
Another new thing I love and will put into all our future cake.pdf releases is our print and assemble pattern envelopes! It's the same size as the paper pattern envelopes, with the same charming covergirls and important pattern information. For an extra-durable envelope, just print the pages on cardstock.
Your patterns have a unique feature...they're customizable for the woman who doesn't fit the standard Big 4 sizing for matching bust and hips. Can you tell us more about how you make it easier for sewers to adjust for these differences?
I'd love to know how many of us actually fit into a straight size from the big 4. My observation is that straight sizes who fit the big 4 are very much in the minority.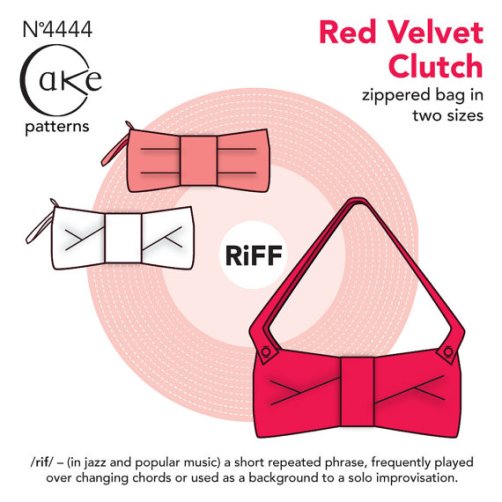 Cake's sizing is based on taking the measurements that make sense for the design and using your measurements to choose pattern pieces. Often, you'll need to break out a ruler to connect two points but our sizing logic makes good fit simple to achieve, even for someone with zero understanding of drafting or pattern alteration.
I'm not a fan of slash-and-spread pattern "surgery" either, because it's complicated and rather hard for a new sewist to learn. When I'm working on a new design I consider the places that may need alteration and finding the simplest way to address a potential fit challenge. If you need more length in the bust, then add more length. If you want a longer sleeve, then extend the sleeve seams.
Can you show us the steps we need to take to make these adjustments on your patterns?
Fit checks are built into the pattern pieces and instructions. Fit Checks allow the individual to adjust ease for their preferences and fabric behavior, with the alteration focused at the side seam because it is simplest to adjust in the sewing room without extra help.
Important fit points like bicep circumference are marked on the pattern itself for reference. I'm also available for fit advice. I believe in my work enough to be accessible through email, the sewingcake site, flickr sewcial sewing groups, facebook and twitter. It's important to me that you love to wear the clothes you sew, and I'm always pleased to facilitate best fit.
I know what I'm doing is different and innovative, so it's important to pay attention to your needs as a sewist. Together, we can make a better sewing pattern.
As a designer, you're also a sewer. Do you still get a chance to sew? What are you sewing now?
Yes, I sew almost every day. I always thought the greatest designers were the ones with an intimate understanding of the relationship between thread and fabric like Chanel, Worth, Vionnett, Sciaparelli.
I sew Cake or Future Cake, because I like to wear my work. If I like a dress or top or skirt so much that I never want to take it off, then I figure you all might,too! By the same token, if I stitch up a preliminary draft and something about it bugs me as I wear it, I change the design. My personal wardrobe sewing improves and informs my design process.
Right now, I'm itching to sew some more Cocoa and Carmine layers, and I really want to get cracking on Lamington pants with custom pocket options. I go to bed at night and dream of pockets!
What model sewing machine do you own?
I own a Janome 4900 sewing machine and a Husqvarna 905 overlocker/serger. I wish I had the space for a coverhem machine! One day...
One last question: Is it true that all your patterns have pockets? If so, why?
Most of my patterns have pockets. It doesn't make sense to always put a pocket on a knit top pattern, for example. The dresses and skirts always have pockets, yes. I like pockets to help me keep my essentials close at hand, and a nicely sewn pocket is a thing of beauty. Besides, pockets have become a scarcity in "regular" RTW clothes because it takes a little more time to sew the pocket. Pockets have become a luxury! They're another nice touch we
can add to our clothes because we sew.
Connect with Stephanie here on PatternReview (her user name is 3HoursPast) or via the Cake website.


Buy Cake patterns right here on PR.