For those of you that are officially into fall weather, what is one of the first garments that come to mind? Jackets of course! The fall fashions are right on target for the jacket lover and for those of you that prefer a cozy sweater, don't log out quite yet … you might be pleasantly surprised by some of the casual jackets this season.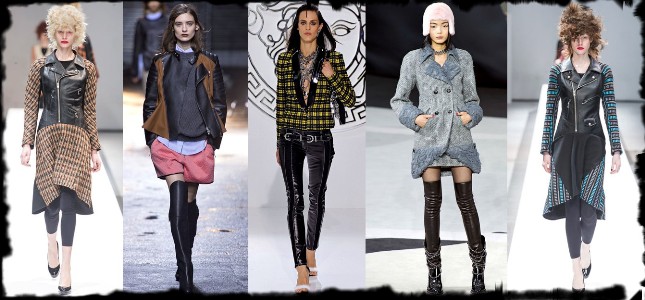 Photos from Style.com - designers from left to right Junya Watanabe, Phillip Lim, Versace, Chanel, Junya Watanabe
MIXED MEDIA is still playing a large role in fashion this fall. Leather being the main focus combined with tweeds, boucle, sweater knits, lace, fur, pretty much any fabric combo you desire. Here are some design ideas:
Use leather for the body of the garment and another fabric for the sleeves.
Include leather as a jacket collar, sleeve hem or pocket trim.
Leather piping within the seams or as an edging.
Color block the jacket pattern in order to combine a few fabrics.
A little afraid of sewing such a luxurious fabric, you can always accessories a simple wool jacket with a leather belt and fabulous handbag. If you are interested in learning how to sew leather, check out Kenneth D. King's online class Leather 101.
BIKER JACKETS plus a little punk …
The biggest trend in jackets styles with the leather combo is a biker style jacket. Choose a jacket pattern with an asymmetrical design or double breasted. A metal zipper is a must and if you are looking for extra embellishment, add zippers to the sleeve hem and pocket openings. You can find every color and length of metal zipper at Wawak.com (they also carry leather tape for finishing hems).
Another twist to this classic style of jacket is a touch of punk. Between the 80's styling of the hair and makeup, I couldn't help but think back to the Madonna age (that would be the 80's for those of you that blocked that era out
) In fact, I believe Miley Cyrus is trying to bring back the look as well. No, I am not talking about the crazy act on TV – but I did see her performing a concert and she copied Madonna's look all the way down to the hairstyle. We will see how long this lasts, but this look started to take shape last fall and I don't see it going away anytime soon. The good news is if you started sewing one of the biker, mixed media jackets last year and didn't finish (I have 2 on the table) you might as well give another go and you will be right on trend for the season.
Again, jackets are really a staple in the wardrobe for the 2013 Fall/Winter season, and in the next column I will share some ideas for some other trendy jackets. Looking for some guidance in sewing a jacket? All my jacket online classes on PatternReview are on sale for the rest of the month!
Hope to see you there

FABRIC RESOURCES
Tandy Leather

Elliott Berman Textiles carries some exquisite tweeds and wool boucles.

Refer back to the Mixed-Media column for more fabric ideas.

PATTERN FINDS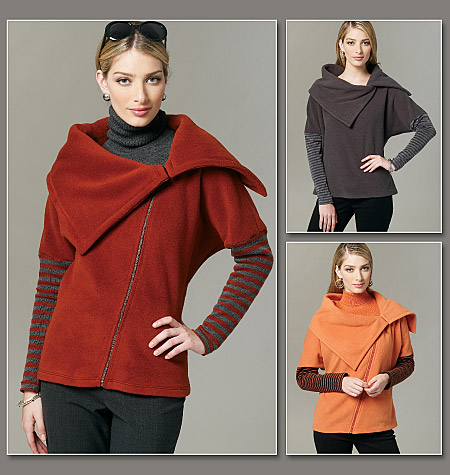 Vogue Patterns 8778 Misses' Top and Jacket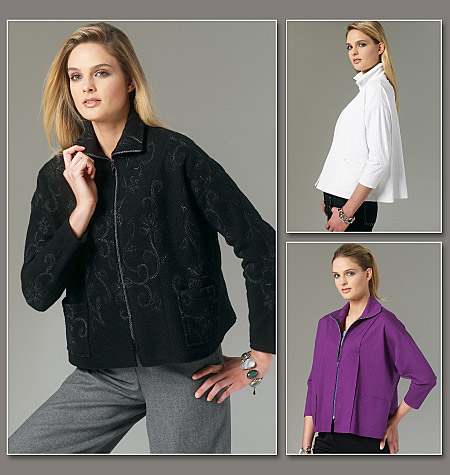 Vogue Patterns 8779 Misses' Jacket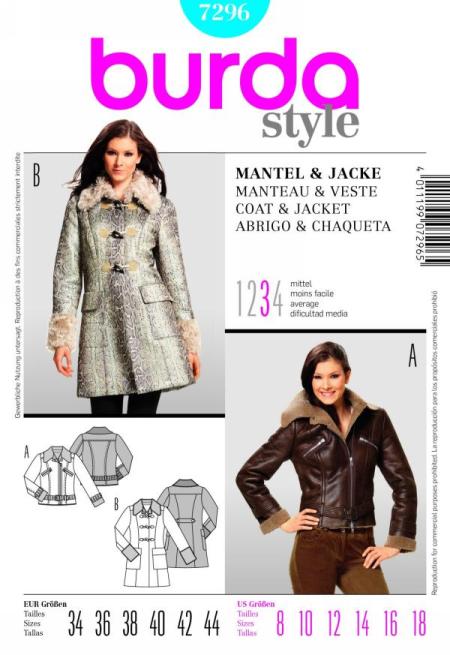 Burda 7296 Misses' Coat and Jacket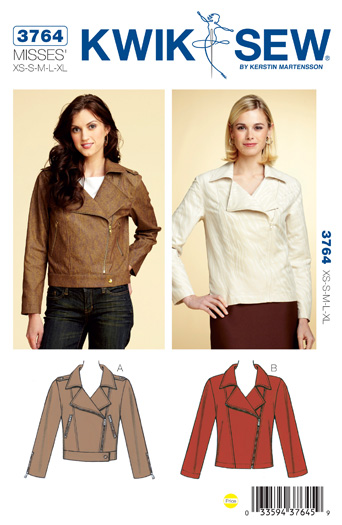 New Look 6226 Misses' Baseball Jacket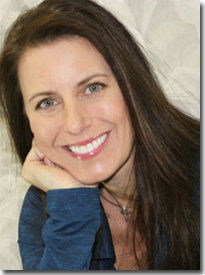 Join Angela on Facebook, Twitter, and Pinterest, or sign up for sewing tips and class updates on her blog.
Angela Wolf is the designer and founder behind ABO Apparel, Angela Wolf Ready-to-Wear and ABO Sport. An A-list clientele has given Angela more than fifteen years of experience dressing and fitting many diverse women and has enabled her to understand the different styles that compliment each individual woman.
See Angela's classes on PatternReview.
Missed Angela's previous columns? You can still read them!
Designer Dresses & Fall Colors
Summer Fun with Flirty Fabrics!
Fabrication to the Extreme!
Dressing Up the Little Black Dress
Colors for Spring/Summer 2013
Leather and Fur…Not Just For Dress Up!
Prints on the Fall 2012 Runways
Oversizing the Runways
Sheer Madness
Mixed Media
The Classic Skirts
The Top Fashion Trends for Fall/Winter 2012
Pantone's Color of the Year... Tangerine Tango!
Accessorize With the Scarf For Any Season
Fabrics for the Holiday Season
Faux Fur
A Few Fall 2011 Fashion Trends
The 70's
White, it's Everywhere... How to Wear It
How Will the Royal Wedding Affect Fashion?
A Touch of Glamour
The Love/Hate Relationship With the Popular Trends...Wide Leg Pant and the Skinny Jean!
Fashion Tips & Trends with Angela Wolf