Maria Denmark has given us so many great patterns, like the Kirsten Kimono Tee, the Day-to-Night Drape Top, the Birgitte Basic Tee, the Laura Lounge Pants and more.
Now comes a new addition to Maria Denmark catalog, the Paula Pleat Skirt Downloadable Pattern! This twirly, feminine and downright fabulous skirt will become an important part of your wardrobe. It's so versatile! Make it in plain fabric or prints, twill, cotton, leather (I can just picture it in black!), denim or even pinstriped wool to wear in all seasons.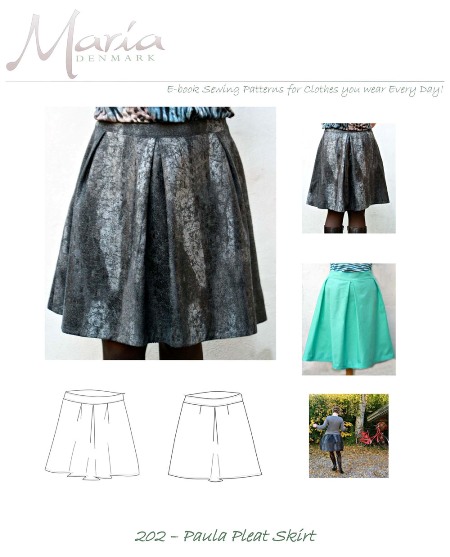 The Paula Pleat Skirt looks great with the Birgitte Basic Tee, the Just a Tank Top and any other top you have in your closet. Change the look by wearing it with ballet flats, heels or boots. Whatever you wear, don't forget to test the all-important twirl factor. I think you'll find that the Paula Pleat Skirt rates very high on that scale:)
The Paula Pleat Skirt is shown above in knee length, but you can easily lengthen it to a midi. Some of its other features are back darts, a center back inverted pleat, front side pleats and a center front inverted pleat that the skirt fullness without adding bulk to the tummy area (that's a no-no, isn't it, ladies). The Paula Skirt has a curved waistband and a side seam invisible zipper and can be made with facing or with complete lining.
You need the Paula Pleat Skirt in your wardrobe today!