Skirts are so hot right now, and we're in luck, because so many designers are releasing new and creative patterns for them. And PR members are adapting and re-interpreting them for their very own.
Let's talk about a few of the styles you'll see in the world of skirts.
The Pencil Skirt
The pencil skirt is so popular right now. It's come and gone over the years, but it's currently on everyone's list.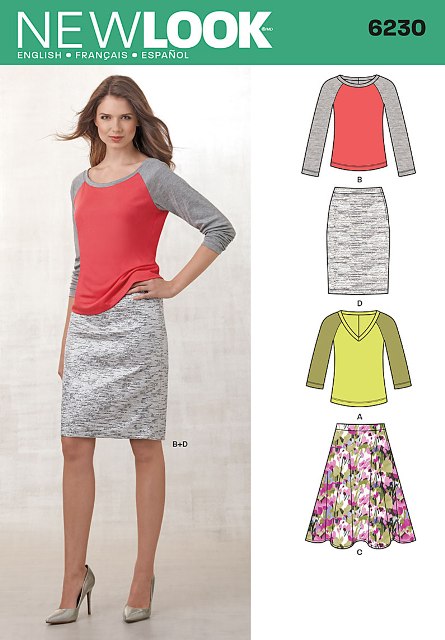 New Look 6230 makes a great pencil skirt. Worn 1" below the waist, it has a side zipper and is just below knee length.
Make it just a wee bit tighter so that the width at the hem is narrow than the width at the hips, and you've got a wiggle dress. Why "wiggle"? The narrow bottom seam makes you wiggle when you walk!
sewgerenuk titled a recent post "Looking for a wiggle skirt pattern that really hugs your bottom." PR members were quick to offer suggestions.
KathleenS recommended these patterns and others:
MrsCharisma made 8672(OOP) in black twill: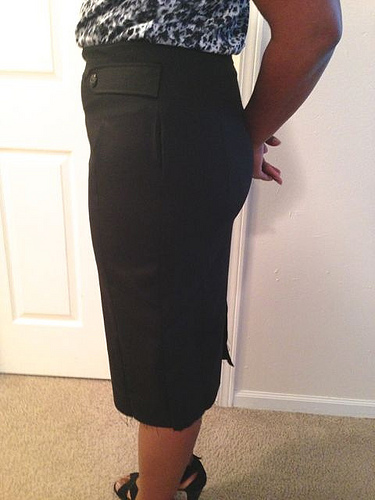 She said, "I was told here that is isn't 'supposed' to hug my bum but that's what I WANT it to do on this particular skirt! LOL!"
Pleated Skirts
Pleated skirts are making a comeback too. We're seeing big loose pleats, as in Maria Denmark's new Paula Pleat Skirt: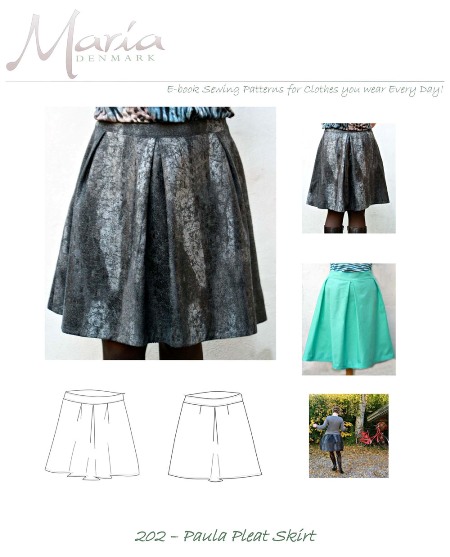 and big sharp pleats as in Burda 8118:
But traditional pleats in skirts are also a look that members have talked about.
Ineedaname wanted to replicate this Kate Middleton outfit.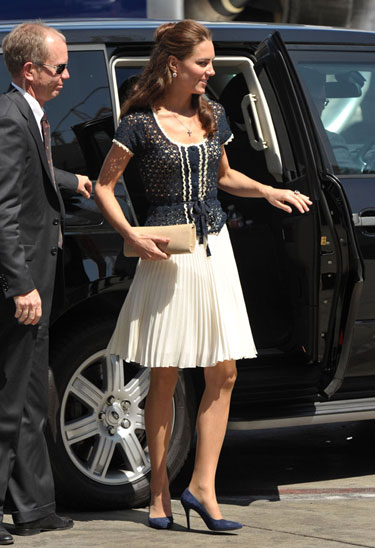 EleanorSews wrote that this is called a crystal pleated skirt. Vandoels noted that it's made with pre-pleated fabric. Thank goodness! We can just imagine trying - and failing - to iron those pleats ourselves.
Here are some pattern possibilites for creating that skirt:
A-Line/Bicycle Skirt
The good ol' A-line skirt is a staple of every wardrobe, but here's something new.
slimey wrote in a recent post, "My DD forwarded a pic of a pencil skirt with a zipper down the back, that opened to a pleated lining to allow space for cycling. At $160, she thought maybe I could do better. Anyone have directions or ideas for modifying patterns? Or a pattern?"
(Never seen a bicycle skirt? Here are some examples.)
Vicsguy quipped, "I would think any micro-mini skirt would work fine for bike riding," and included a devil-smiley face at the end. (SewLibra's reply was, "Hmmm...is this from Vicsguy or Wiseguy? LOL.")
nicegirl recommended the A-line Simplicity 2211 OOP, but here's a good substitute: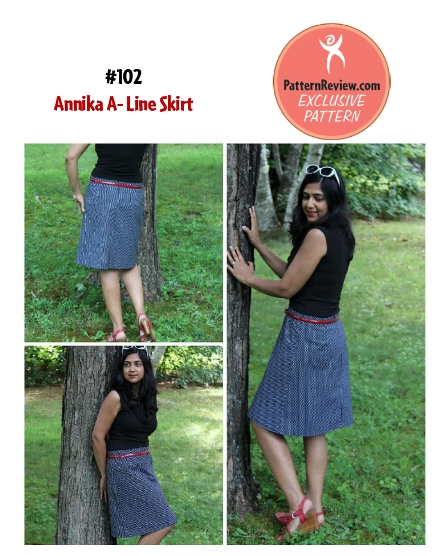 Modify the pattern to insert a zipper in front to create that adjustable slit necessary for pedaling room.
Here's another possibility: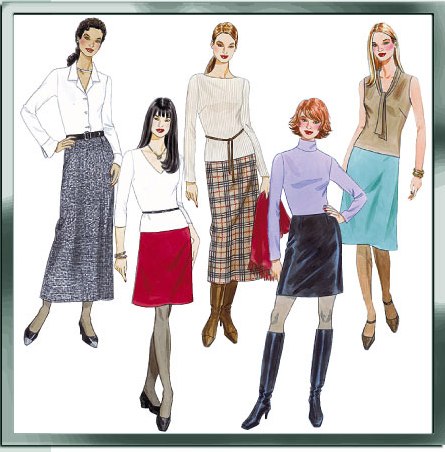 Why not try an exposed zipper (the trend is still on!)? If you're not sure how, sign up for Angela Wolf's Restyling with Exposed Zippers.
The Kilt
What about the menfolk? They enjoy wearing a nice skirt on special occasions. What are the occasions, Jean-Paul Gaultier aside? Well, Halloween and the Highland Games. Oh, and a wedding. Well, maybe just about anytime!
Just in case you're wondering and he's asking, there IS a pattern for a kilt: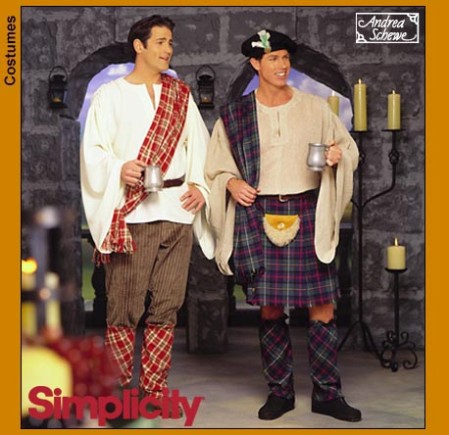 The "Gotta Have It" Skirt
And there's always the "gotta have it" factor...when you see an RTW or custom skirt in a store or online and you just gotta have it. Again, PR is a go-to in that situation too!
ScaryMerry posted that she is planning to compete in ballroom dance next year and wants to make a Latin skirt like this one: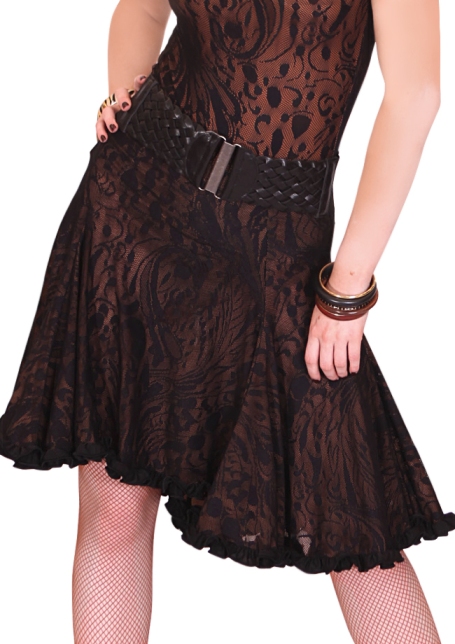 Catina's answer: godets!
wenznz thought that the Cascade Skirt by Megan Nielsen might be a good start.
Great minds think alike! ScaryMerry posted that she had already decided on the Cascade Skirt. We'd love to see a review when the Latin Skirt is finished!


Culottes are another oldie but goodie that's come back, this time in the form of a skort, a combination of a skirt and shorts.
ScaryMerry also posted that she sewed Megan Nielsen's Tania Culottes Downloadable Pattern and wears them for different sports that she plays (these would also be great for bicycling).
One of the sports she plays is quidditch (OK, all you Muggles, remember Harry Potter?).

When her friend couldn't find his snitching shorts, he borrowed her skort and played looking like this: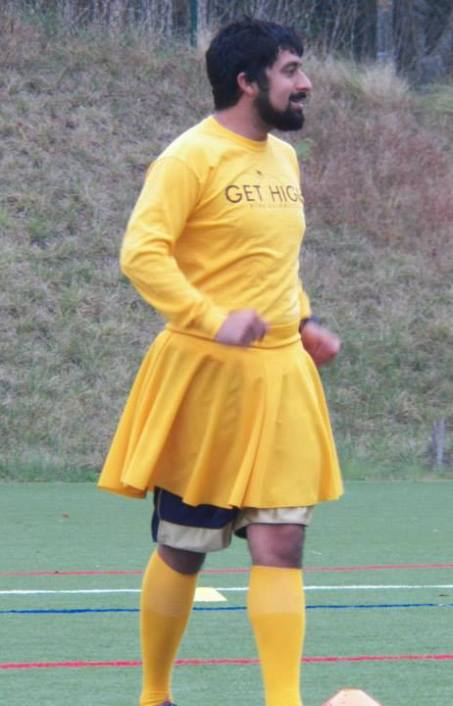 He loved it and commissioned her to make him a kilt! (Try Simplicity 8913 Men's Celtic Costumes, ScaryMerry!)
See her blog for more details about the game and read her review for the Tania culottes.
Out of Print? We Can Adapt, Right?
If your favorite skirt pattern has gone out of print, don't worry. It will probably be re-issued again. If you can't wait for that, ask PR members on the Message Board for ideas on how to adapt patterns that are available now.
If you don't currently have a supply of skirts in your wardrobe, try out some of those we've mentioned. And if you don't see exactly what you want, you know what to do...ask PR members! And you too can sew the skirt of your dreams!
Search for that perfect skirt!
Read what PR members had to say about skirts.
Tell us...what's your skirt of the moment and what pattern did you use to make it?