If you're wondering how to relax in style, look no further than the Victoria Jones Collection! We chatted with Victoria Jones and got the scoop about her authentic Hawaiian fashion and brand new pattern line.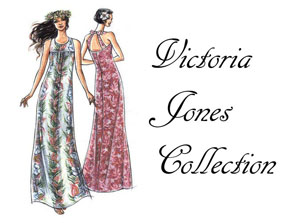 Tell us about your business. When did you start it? What prompted you to get into it?
"My friend had asked me to accompany her to a special conference. There were about 300 women present, most wearing mu'u mu'us. The keynote speaker was the Hawaii governor's wife, and we happened to be seated at the same table together. Mrs. Waihee admired my mu'u mu'u which I had designed and made for the occasion. When she arrived at the podium to speak, she asked me to come up and model my mu'u mu'u for the audience! After the event, several women came to me asking me to make them the same dress. A well-known Hawaii retailer wanted to stock the design in their stores; they wanted me to produce the mu'u mu'u in Honolulu at their factory.
I had young children at home then and I knew that I could not take care of them plus leave the island to work on my designs. Therefore, I decided to make the mu'u mu'u available to all women as a pattern. I enrolled in the University of Hawaii and learned pattern making. My pattern making teacher was a treasure. She had formerly been a pattern maker for the Jantzen sportswear company and was very exacting. It took me two years to produce my first pattern. I began my business in 1990 with one pattern, 001, the dress from the conference. This pattern is now retired."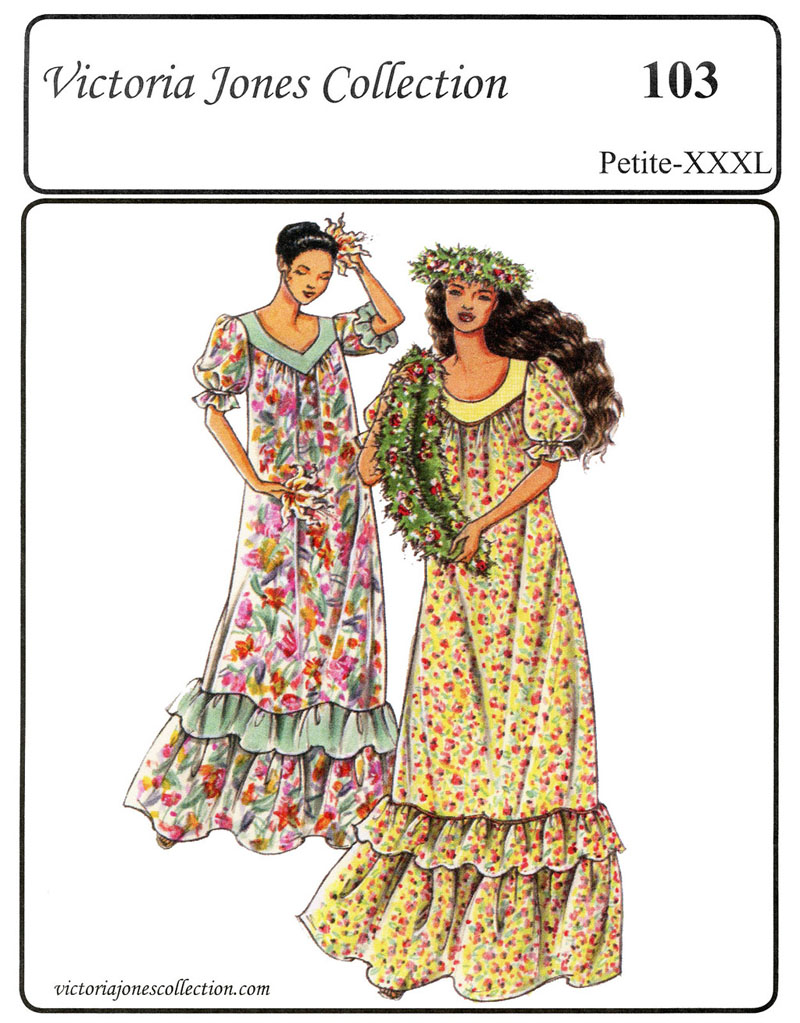 What inspires you in designing? What is your philosophy of design?
"Just about anything can inspire me, and at the oddest moments too! I have a background in Art History as well as Studio Art, so I have a mental library of centuries of art and crafts. Sometimes seeing a color or shape might set off a memory of a forgotten piece of artwork or a time period, which kindles my further interest and research, resulting in a design. The detailed perfection of the natural world is also an endless source of inspiration.
Many times the designs spring up fully formed. Or, I might be standing in a line behind a lady who is wearing an unattractive design which I mentally rework to make it more attractive for her; that too can become part of a new design. Sometimes a retailer will request a certain classic design which customers have been asking for. Designing is the easy part - I have enough designs to last for several lifetimes!
I am always inspired by people who, using their skill with a very few tools, often in difficult circumstances, create an object of beauty. For example, in the book Japanese Immigrant Clothing in Hawaii 1885-1941, there are descriptions of the young Japanese brides coming to Hawaii to work on the sugarcane and pineapple plantations. These resourceful young women used what few materials were available to create the necessary work clothing for their families, from shoes to raincoats (heavy muslin treated with persimmon tannin followed by linseed oil). The clothing was worlds away from the fine embroidered kimono from home, yet it was distinctive and artistic.
My philosophy, or goal, is to create a design that enhances the person wearing it. The garment should be balanced and attractive from all sides, either still or active. Each fabric type has a specific behavior which can slightly change the garment's motion, so I keep in mind a certain range of fabrics for the designs.
I love the movement of fabric which is displayed best by the mu'u mu'us. If you ever get a chance to observe a group of mu'u mu'u clad ladies walking and talking together, you will notice an overall graceful swaying in the group which looks just like flowers in a breeze."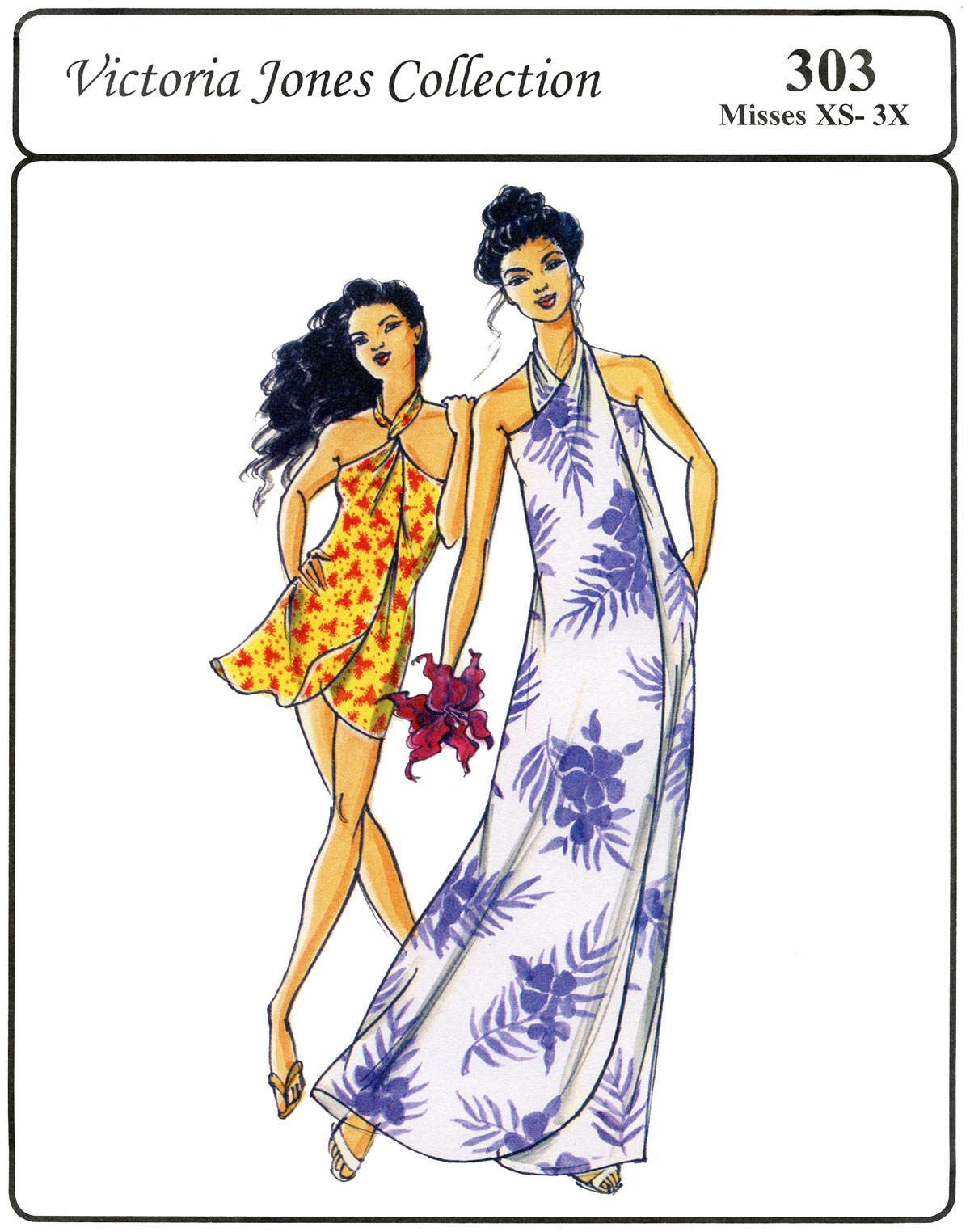 How do you decide which designs to produce?
"I select a design which will complement the wearer without becoming dated, and will be easy to sew. I have three pattern lines which have additional separate requirements.
For the Hawaiian/Resort line, I keep in mind the different types of available fabrics which can completely change the look. One hula instructor wrote to me that his dance group had sewn one of my designs many different fabrics, changing a little thing here and there. Nobody else knew it was the same pattern. I alternate between loose-fit and closer-fit designs. For the men's shirts, I keep classic lines and good fit across the shoulders.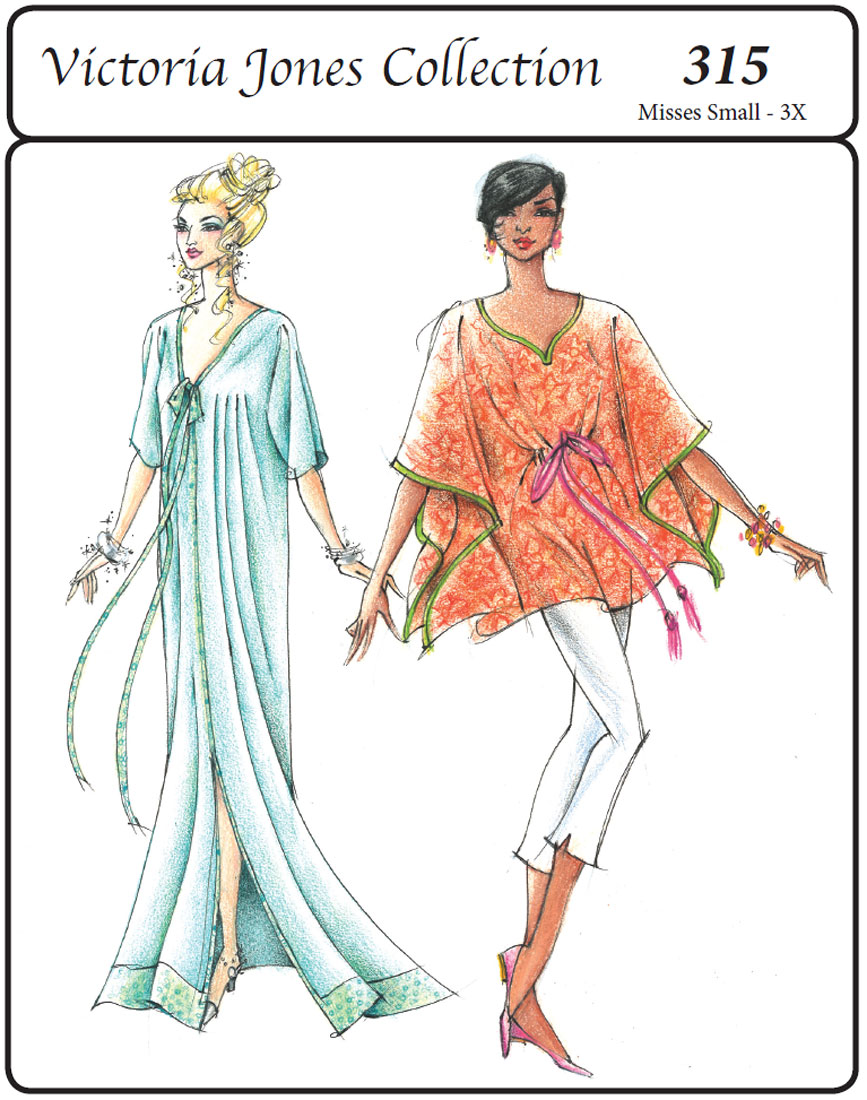 For the Porch Swing girls dresses I keep in mind the available time and economy of a family with young children. Besides making the styles simple to sew, I include several variations so that the pattern can be used many times. Here I design for commonly available fabrics, plus appropriate-but-overlooked fabrics; my last little girls' dress has a variation specifically for border prints or eyelet fabrics, fabrics which have unique requirements to be shown at their best.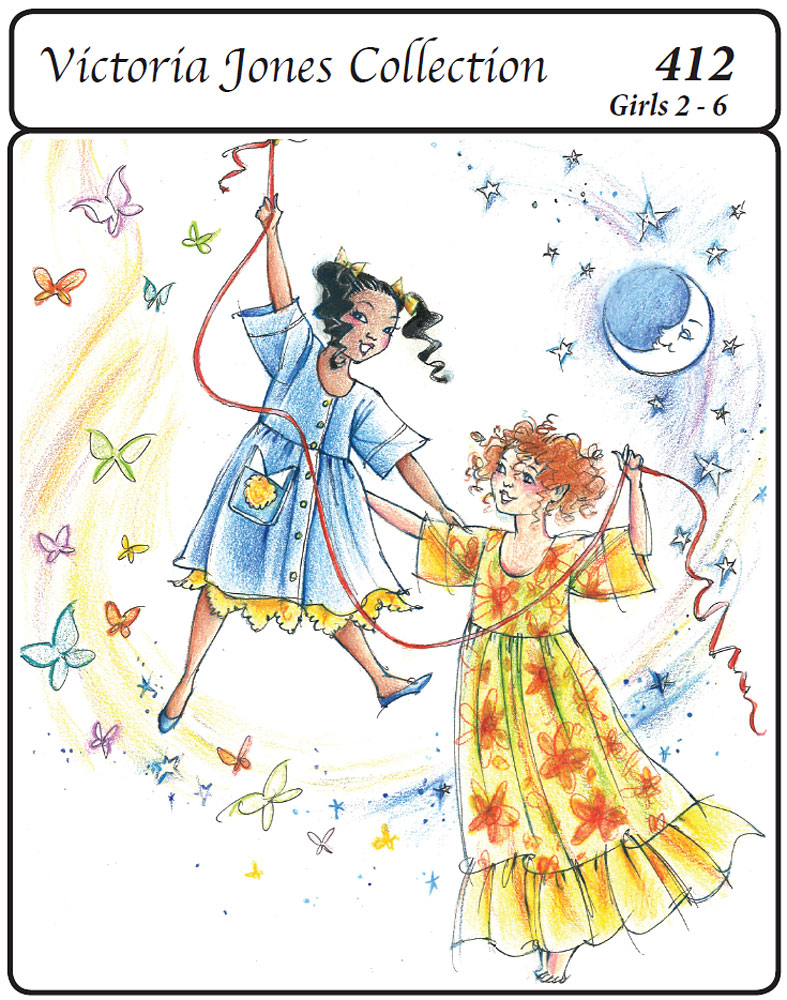 The Working Ranch series of shirts is based on performance. These designs include both style and efficiency and are ranch-tested. Working Ranch is my most recent line, and not yet available for sale."
Tell us a little about your new patterns.
"I just completed an older girls' (sizes 6-14) dress pattern 416 which is being printed. This age group incorporates elements which are both child-like and grown-up, and the pattern will work with fabrics to accommodate both.
I am now finishing up a very pretty loose-fit mu'u'mu'u, and after that a quite form-fitting one. I have a men's shirt, and several other designs in varying stages of completion. I focus on only the next two or three designs, as it are too easy for me to race along to the next design, forgetting the rather tedious process of illustration and instruction-writing."
So there are other time-consuming parts of designing your patterns?
"Yes. Besides accuracy in pattern making and sample sewing, there are the instructions to illustrate and write. I used to do my illustrations and instructions all by hand but with the advent of computer design, the materials I had used were no longer manufactured. In the last year I have been learning how to use Adobe Illustrator and InDesign which has taken up a great amount of time.
Writing the instructions is the most difficult part for me, because I need to keep the writing simple yet include important steps that will affect the final look of the garment. If I didn't need to worry about printing space, I would probably write a small book for each pattern!"
Are there other areas of your pattern design which involve further learning?
"I think that all the parts continue to refine over time. I study pattern making books from other countries and previous eras - there is always something new to learn."
You feature Aloha (aka "Hawaiian") shirts and mu'u'mu'u patterns. What kinds of occasions these are suitable for?
"In Hawaii, these clothing styles are suitable for all occasions, from beach wear, day wear, and dinner wear. One of my shirt patterns - 210, is a classic businessman's shirt and one of my fitted mu'u'mu'us - 205, is a traditional wedding dress with a train. Mu'u mu'us are quite adaptable because of their grace and comfort, as well as being easy to wash."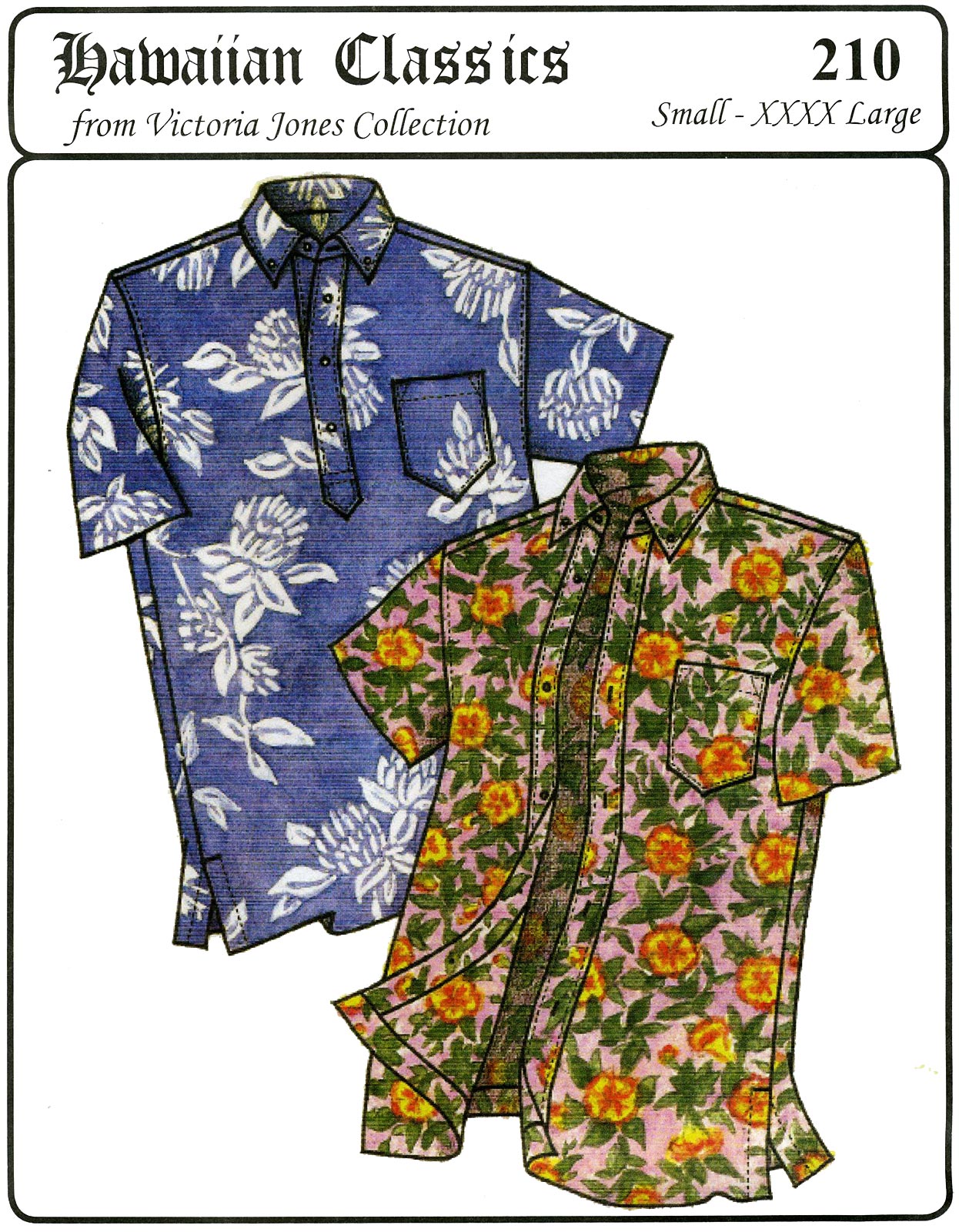 How do you see women wearing your other designs?
"One of my mainland retailers sent me a note recently which expresses this quite well:
'I sent the 220 men's shirt to Alaska yesterday. The designs may have been inspired by those seen in Hawaii, but are versatile and have a wide appeal. The same goes for muumuus. The choice of fabrics and/or colors is all that's needed to take you from a Hawaiian look to a basic "mainland" version. In some cases, a muumuu is another version of a caftan. Muumuus aren't just for Hawaii. I've been shipping your patterns all over the world!'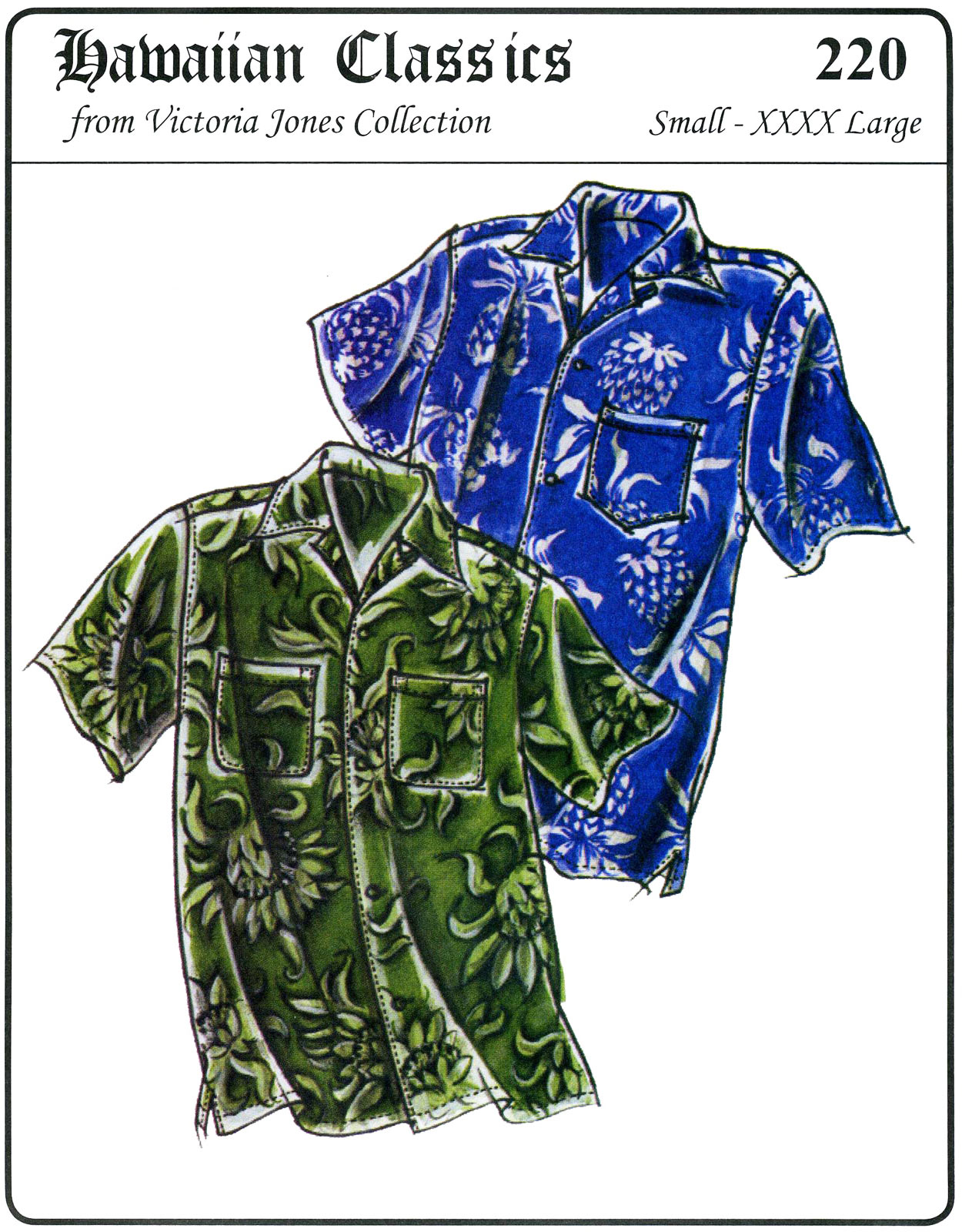 Another customer wrote to tell me that she had sewn one of my mu'u mu'u designs because she wanted a change from wearing t-shirts and sweatpants after work. Then her daughter took the mu'u mu'u to college to wear in the dorm!
Many of the designs can also be shortened to create tunics or knee length dresses."
As a designer, you're also a sewer. Do you still get a chance to sew? What are you sewing now?
"I still make many of my own clothes. This year I have been designing girls' patterns 412 and 416, so my granddaughters now have about ten new dresses! I usually sew flannel nightgowns for the girls at Christmas using one of my mu'u mu'u patterns - 104. My grandson receives pajamas (pattern coming) and I recently made a size 1 aloha shirt - 235 for my newest grandson...it was like making doll clothes!
I am now sewing samples for another new mu'u mu'u pattern."
What model sewing machine do you own?
"Besides a Baby Lock serger, I use a Brother Nouvelle 1500S which handles a variety of fabrics with fine control. It only goes forward and backward, though, so when I need to add buttonholes, zig zag, etc., I switch to my trusty Elna Carina."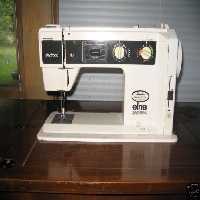 What's your other passion besides designing?
"I grow much of my food, so there is always work to do in the garden and orchard. I raise sheep, chickens and turkeys which keeps me busy too. Although it seems that I am always in a hurry, it is good for me to get away from the pattern making and thinking about fractions or pixels. For relaxation I like to read, crochet or embroider. And I love to dance! Nowadays though, time constraints have caused me to drop the crochet, embroidery and dancing, but maybe someday I can get back to them."
What else would you like PatternReview members to know about your work?
"In my early sewing years I couldn't be bothered with pattern notches, so I cut them off. Later my pattern making teacher insisted that my work be accurate within 1/32 of an inch! I understand the range of thinking between those two extremes and I try to produce patterns which result in success for varying sewing abilities.
Yet even with careful pattern making, there is no getting around this: One must learn to fit even if just a little bit. The most expensive dress form on the market is a scientific compilation of millions of measurements, yet in the end it is still one figure. And nobody will have that exact figure because we are all different. A person could even have the same measurements but the posture will be different which will change the way the garment hangs.
And with fitting comes another of my must-learns, making a muslin. In my early years, I was the Queen of Resistance on this point, thinking that since I already sewed many of my family's clothes it was not necessary. When I finally started sewing muslins, I began to really learn about fit, resulting in less guesswork and more pleasing garments. I encourage everyone who sews to keep learning about fit and to experiment with muslin."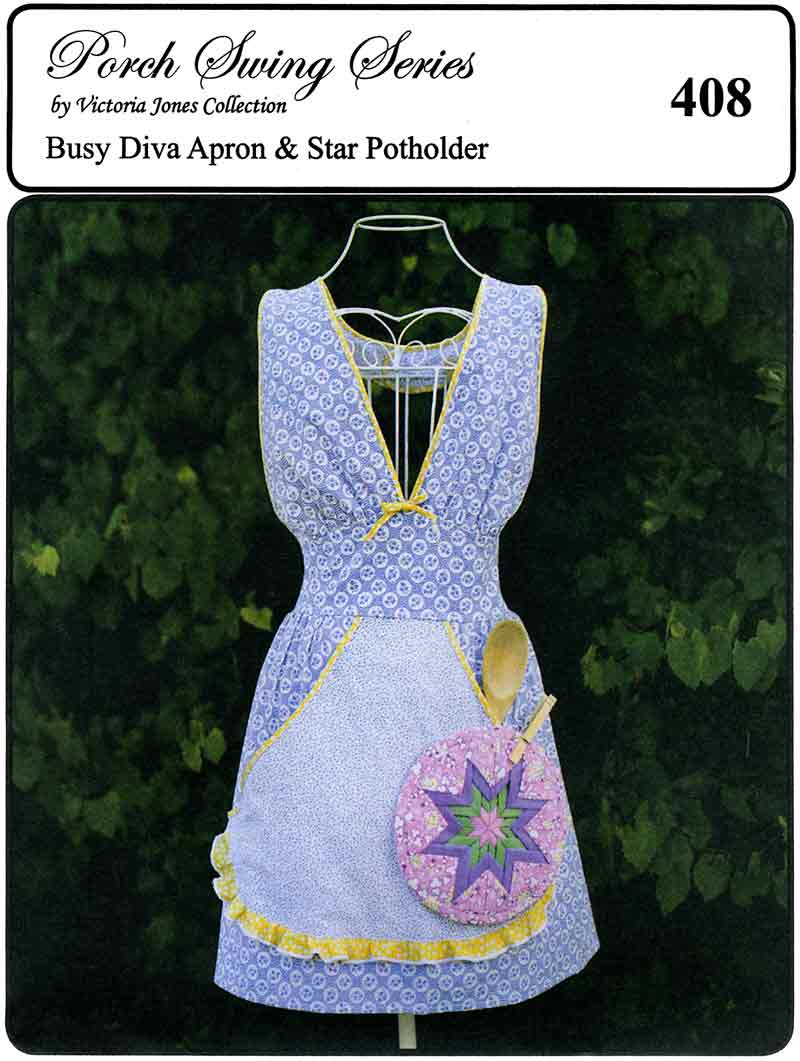 Wonderful to hear from you, Victoria!
Read Victoria Jones Collection Reviews.