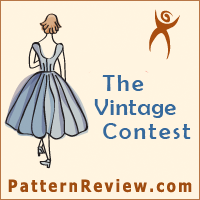 The Vintage Pattern Contest, running the entire month of November, was the perfect excuse to dust off those vintage patterns!
What an excellent opportunity to try out traditional sewing techniques and learn the differences from modern construction. 49 Participants were up for the challenge!
This contest required that the pattern submitted must be printed before 1978 and excluded any vintage-inspired looks. For further details of the contest, please view the Rules.
Your votes tallied up two top entries. Let's meet who won…
First Place Winner: Vintage Tailor for Vogue Patterns: 9820
Vintage Tailor describes, "I had the pattern and fabrics in my stash for more than ten years, dream of making this jacket all that time. Finally, I invested the effort in making a muslin and wearable test and then felt confident about cutting into my good fabrics."
Congratulations Vintage Tailor! Wonderful jacket!
Second Place Winner: HawkeMorningStar7 for Simplicity: 8230 (Vintage Designer's Pattern)
HawkeMorningStar7 says, "Gorgeous vintage pattern from 1949...So glad I ventured sewing a vintage pattern! A great experience and I love the dress!"
Lovely dress, HawkeMorningStar7! Congrats!
Special thanks to HDWen, for your thoughtful suggestions and advice as the Vintage Pattern Contest Manager.
Victoria Jones Collection is the proud sponsor of the Vintage Pattern Contest. Thank you!

Browse through the Gallery to see all the talented submissions!
View the Contest Report and Rules.
Read the behind-the-scenes Contestant Talk.
Get inspired to create your own! Check out the Currently Running Contests on PR.