Looking for a last-minute holiday gift? This detailed tutorial will show you how to create a simple leather clutch in under an hour! Stylish and easy to make, this clutch is the perfect stocking stuffer for your loved ones! In this video, you will learn how to successfully sew leather and use an exposed zipper.

Materials Needed:
1) Leather or Vinyl
2) Decorative Zipper (10-12" Long)
3) Leather Sewing Machine Needles
4) Rotary Cutter
5) Wonder Tape
6) Teflon Foot
7) Binder Clips
Step 1: Make the Pattern
We simply rounded the bottom corners of a rectangle and used that as our clutch shape. Cut out two identical pieces from leather or vinyl.
Step 2: Arranging Leather
Place the clutch pieces on the zipper to decide how much of the zipper you would like exposed. Attach the wonder tape onto both sides of the zipper. Place the leather on the zipper and press down.
Step 3: Inserting Ends
Using two small rectangular pieces from the leather, insert tabs on both ends of the zipper. The tabs should be inserted over the zipper but under the leather. This will create a window for the exposed zipper application.
Tips for Sewing Leather:
1) Use a leather needle.
2) Your stitch length should be 2.8 or 3 to avoid perforating the leather. Too many tiny stitches will create holes and break the leather.
3) A Teflon foot will glide smoothly over slippery and sticky fabrics such as vinyl and leather.
4) Use binder clips instead of pins to hold leather as you sew.
Step 4: Sew Zipper
Sew as close to the edge of the zipper as possible. When nearing the zipper pull, move the slider out of the way.
Stop before the end tab to check that the zipper teeth are lined up. Put the slider back into place.
Sew carefully over the teeth to avoid breaking the needle.
Manually tie off the thread ends.
Cut off the excess zipper.
Step 5: Finishing Your Clutch
Use binder clips to attach wrong sides together and avoid perforating the leather.
Sew wrong sides together beginning from the top tab.
Manually tie off the thread ends to finish bag.
Enjoy your new leather clutch!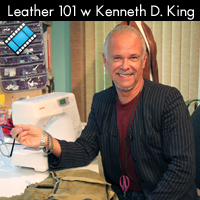 Want to sew more with leather? Register for Leather 101 with Kenneth D. King and make a fabulous peplum top in suede. Also learn darts and seams in leather.