Love the contests on PatternReview? Meet the three lovely ladies who are instrumental in making them happen. Also known collectively as The Contest Committee! Bonnie O, ClioBkln and ConnieBJ.


We welcome AnneM, a contest committee veteran who has returned to help while Clio enjoys maternal bliss!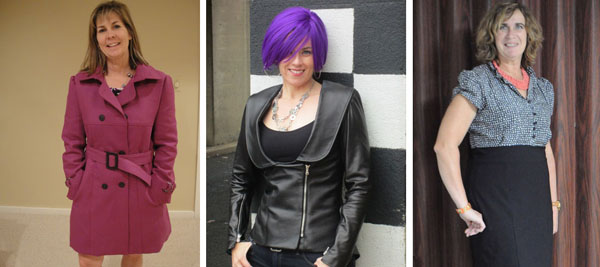 Although I remember sewing Barbie clothes from my mom's scraps when I was a kid, my first real attempt at sewing took place in 7th grade during home ec. We were required to make a bibbed skirt and I chose a turquoise twill with a print that included the cartoon characters from the Disney Robin Hood movie, followed by a pair of pants made from a printed cotton plisse.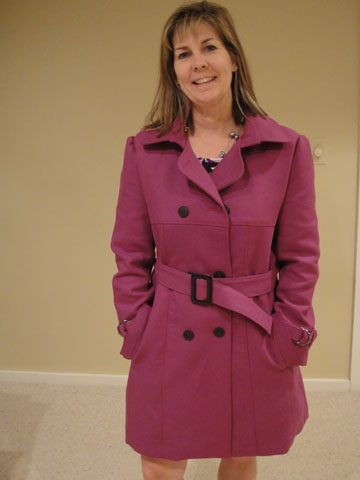 I would like to think my tastes and fabric selections have improved a bit since then. LOL. After sewing maternity clothes, then children's clothes, I took a hiatus from sewing when life got busy. In 2006, I was inspired to sew again by a random blog post and then I stumbled across Pattern Review and fairly quickly, sewing became my
obsession. My favorite part of sewing is the ability to create any garment I want in the fabric I want (usually!)
There isn't too much I DON'T like to sew. I like to sew a mix of quick and gratifying projects / challenging, long-term projects. Dresses are fun; jeans are fun; tops are fun but I think my most rewarding projects have been coats.
Volunteering to be a contest committee is a lot of work. Can you tell us a little bit about what you do behind-the-scenes?
Our role includes developing a contest schedule, planning each contest, recruiting contest managers, developing the rules, setting up and monitoring contests including discussion boards, overseeing the contests and sometimes mediating disputes. The Committee spends a LOT of time vetting the rules, which includes contemplating challenges with the rules (i.e. playing "what-if"). Our goal has always been to offer a contest selection that maximizes participation within the PR community. Although we all share a love of sewing, the PR community consists of sewers with an amazingly diverse set of interests and skill levels. Although we know it's impossible to satisfy everyone's interest in EVERY contest, we strive to develop a contest schedule that allows everyone who might be interested in participating an option. We all have full time jobs and families, so sometimes the biggest challenge is finding time to coordinate with the rest of the committee.
My mom gave me a sewing machine for my birthday six years ago because I wanted to learn how to take pants in at the waist. There was no looking back. I think I'm at a point where I still have so much left to learn that it's the challenge of learning and then trying out new things that really still drives me. Right now I'm working on welt pockets. Sewing also has led me to push my own style boundaries and take some fashion risks. I have a lot more fun with my wardrobe now that it is sewn by me.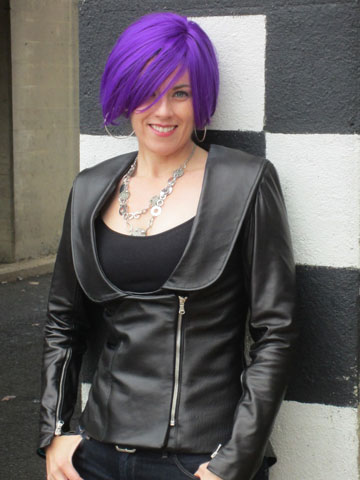 My all time favorite garment is my leather jacket made from BurdaStyle 07-2010-118 . I love to sew frosting, and almost never sew cake. In fact, I declared 2013 the year of the Frosting Diet. Why sew basic when I can make things that are fabulous and excite me? It helps that I also gave myself permission to overdress whenever I feel like it. So, I wear my frosting.

Volunteering to be a contest committee is a lot of work. Can you tell us a little bit about what you do behind-the-scenes?

I spend a good amount of time brainstorming and working on the contest rules with the other committee members before a contest goes live. There is definitely a bit of a tightrope walk between making the contests specific, but as inclusive as possible. Then while the contest is running, the day-to-day work is following along with the contest message board and being available to the contest manager, who is the one who really does the heavy lifting, to help clarify the rules and back them up if needs be. The more clear and thoughtful we make the rules, the more smoothly the contest generally goes. We are adding a lot of new twists and a bunch of new contests this year, so I think it's going to be exciting and busy. I hope everyone likes what we have planned.


Tell us about a fond memory from this past year of volunteering as contest committee.
Honestly, I've been on the committee for just about one year now, and I already have too many to count. I think the best moments all revolve around teamwork and laughter. A year ago, I was the newcomer and not really sure what was expected. But Connie, Bonnie and Deepika all make it fun to be part of the team.
Like so many other PR members 4H was my introduction to sewing. Although my mom always sewed for us and herself, she didn't really encourage us to sew until we were old enough to manage most things on our own. I grew up with the old Dutch pattern magazines and spent many Christmas mornings sitting in the car half dressed as my mom finished hand sewing a hem! I took to sewing like a duck to water and by 21 was confident enough to sew my own wedding dress all by myself.


I don't really have a favourite garment to sew. I love sewing wedding dresses for my daughters 4 so far- but I enjoyed just as much the Tom lookalike shoes that I just finished for our youngest grandchild. I can tell you what I don't like though- mending! Just ask my husband!

What do I do behind the scenes? If you mean Contest Committee wise, I am part of a well oiled
team! Tweaking rules, agonizing over wondering what off the wall question contestants will come up with, exchanging messages with the Contest Managers, and sending and receiving millions of emails from three of my favourite people in the world (the other Contest Committee members)- it's all part of the day for the Contest Committee!

If you mean what do I do aside from the Committee.... I live in SW Ontario, Canada and farm with my husband. We have 5 grownup daughters, 4 son in laws and 6 of the cutest grandchildren (ages 4 month to 3) that you ever saw! Aside from sewing my non working hours include acting in local theatre productions and murder. (I am part of a murder mystery troupe)

Deepika asked me what my fondest memory was this past year on the committee. That would have to be some of the exchanges that I had with some of the Contest Managers. They are so hard working and I enjoy giving pats on the back when they are so deserved.
One year, my husband (-to-be at the time) heard me mumble that mending would be easier if I had a sewing machine. He sweetly went out and bought me one. I promptly stuffed it into the back of the closet, since I didn't know how to use it. Six months later, it occurred to me that I should learn, so I dug it back out and went to the store for some basic lessons. The first question I was asked was if I wanted to make quilts or sew clothing. I expect they could see the little lightbulb that lit up over my head: Wow, I can make clothing! So I made my wedding dress. (I still don't like mending, though.) My biggest hurdle for sewing is making pants; I am never content with ones I sew.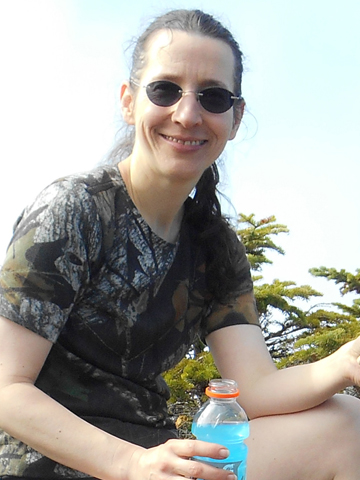 One of my favorite things about sewing is the fabric. There are so many lovely options! I don't think I could pick a favorite, but technical fabric for exercising or even just wearing around the house can be particularly rewarding, because it is so useful.

Volunteering to be a contest committee is a lot of work. Can you tell us a little bit about what you do behind-the-scenes?
The most difficult, but also one of the most rewarding, parts of the contest committee is figuring out contest rules. It is a bit like a puzzle, trying to predict what questions and issues will come up. We know we can never get the perfect rules, though, and there is usually a surprise question with each contest!


Tell us about a fond memory from volunteering as contest committee.
Having previously been a long-time Contest Committee member, I have many fond memories of working with the other members to come up with the contests and rules. I am particularly fond of the wardrobe contests, with their combination of practicality and creativity. But certainly the most rewarding part of being on the committee is seeing what members of Pattern Review make. It is absolutely inspiring, to see the creations of the newbies as well as those of the seasoned sewers!


Welcome back Anne!