Jackets and Outerwear Take On a Fashion Twist!
- by Angela Wolf

We are on the brink of a new year where promises and plans are on everyone's mind; losing weight, getting in shape, organizing closets, making time to sew, learning how to cook (that's one of mine!) … you get the idea. On the sewing side, now is the time to take a good look at your fabric stash. Not to feel guilty for the extensive purchases of course! In fact, if I didn't have a business sewing, I would surely be committed for some form of fabric excess. Instead, layout the beautiful fabric and plan what to sew this year. The pieces of fabric that sit on the shelf for beauty, maybe there wasn't enough time or not enough nerve to cut into the expensive fabric, now is the time to make a plan for that fabric.
Let me help you get started: leather, tweed, wool, cashmere, just to name a few … jackets are a must for winter. Yet, take a glance into the 2014 spring/summer trends and you will also find leather and tweed jackets top on the list. Yes, leather isn't just for winter anymore (refer back to the last column for style suggestions).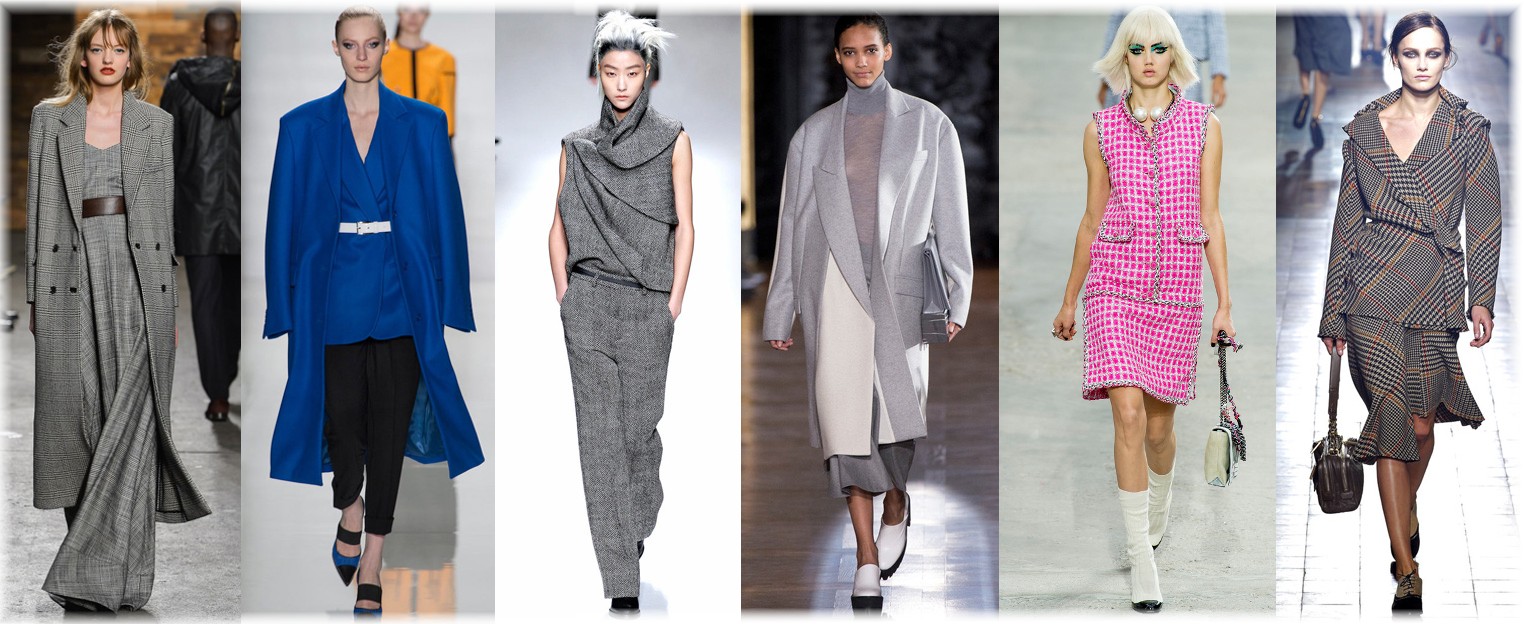 Photos from Style.com. Designers from left to right: Billy Reid, Michael Kors, Haider Ackermann, Stella McCartney, Chanel, Lanvin.
Menswear has an added influence on women's jacket styles, yet paired with chiffon skirts, sheath dresses and bias cut skirts for a feminine touch:
Tailored jackets sewn with pinstripe or plaid suiting fabrics
Tuxedo style jackets with satin and wool blends
Oversized cashmere coats
Speaking of oversized jackets, this is again a recap of the 80's with a little less cushion in the shoulder. The shoulder seams extend way past the shoulder area, but leave the 2 inch shoulder pad behind. The focus is on style, not NFL if you know what I mean.
For those sewing jackets for style and not warmth – check out the spring / summer collection from Chanel. The jackets are more like vests, but the colors and trims are always inspirational. For this style, use your favorite jacket pattern and simply leave off the sleeves. Not a big fan of sleeveless, consider adding a short cap sleeve or three-quarter length sleeve.
Jackets are adorned with trims and embellishments:
Embroidered accents
Color blocking techniques with fabrics
Sheer inserts
Cutouts and lace overlays
Traditional braided trim
Pearls and beading
The embellishments for the next season are so much fun and gives an entirely different view of mixed media. There are so many options, your imagination is the limit – I will cover some of these soon.
I am wishing you all a Happy New Year and challenge you to make it a goal in 2014 to add a few garments to your wardrobe. There is nothing more satisfying than wearing your own designs! By the way, did you notice the bias cuff on the Billy Reid pant suit? Fabulous details!
Cheers :)

Here are some cute jacket patterns I found on PatternReview: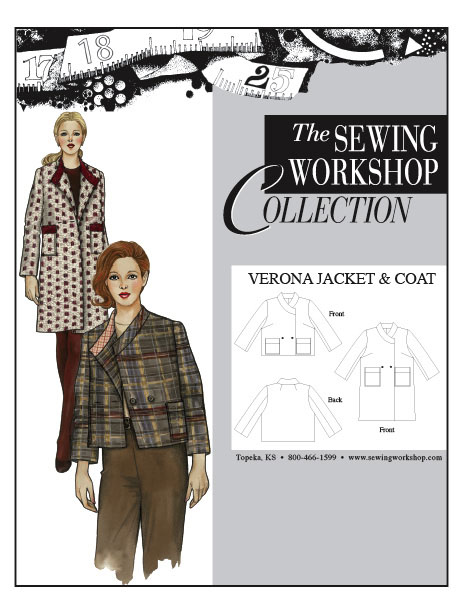 The Sewing Workshop Collection – Veronica Jacket and Coat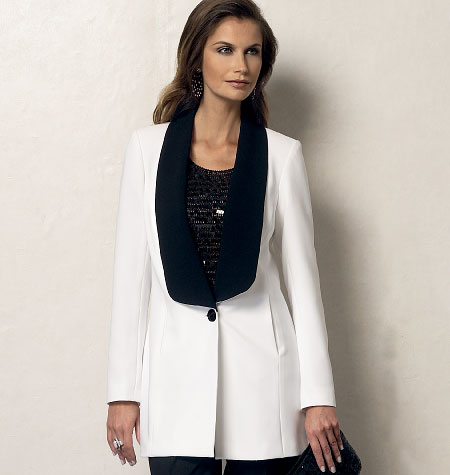 Vogue 8958 for a tuxedo style jacket
Refer back to the blog on Oversizing the Runways for more jacket ideas!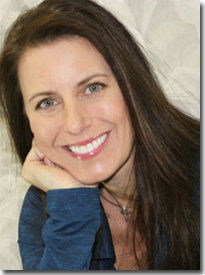 Join Angela on Facebook, Twitter, and Pinterest, or sign up for sewing tips and class updates on her blog.
Angela Wolf is the designer and founder behind ABO Apparel, Angela Wolf Ready-to-Wear and ABO Sport. An A-list clientele has given Angela more than fifteen years of experience dressing and fitting many diverse women and has enabled her to understand the different styles that compliment each individual woman.
See Angela's classes on PatternReview.
Missed Angela's previous columns? You can still read them!
Leather Jackets for Fall! by Angela Wolf
Designer Dresses & Fall Colors
Summer Fun with Flirty Fabrics!