Member Since: 2012
PR Name: Mauude
Full Name: Maude Parent
Birthday: August 4th
Blog: www.mpbymaude.blogspot.ca
How did you learn to sew?
"I've learned to sew when I was seven or eight years old when my parents offered me some sewing classes."
What aspect of sewing do you find most challenging?
"I think at a certain point, every part of sewing can be challenging. If you sew and you're not in the mood, every step can become really hard and you don't know why. Other time, you might want to sew a particular garment and improve yourself without thinking that it could be challenging. But, I have to admit, sewing pants with a zipper is frightening me."
Which sewing book do you refer to most often?
"I don't read sewing books. I have many Burda Magazine because they are full of patterns but a sewing book... If I have a problem with a garment I just look on the Internet. No need to buy anything (and youtube tutorials are so easy)!!"
What are your sewing goals for next year?
"Improving my skills and be able to stop thinking about what people can think of my projects and wear them more. I love what I sew, but sometimes my projects are just left alone because I'm afraid of the reaction of everyone (oops)."
What are you sewing right now?
"I'm sewing a dress. Such an easy answer. BUT, for the record, I must have at least 6 projects waiting for me in my wardrobe."
What you love most about PatternReview?
"I like the fact that you can that a look at what people are thinking of patterns before buying it. Just being able to read a little review and see some photos can really help to know if it's a good choice to buy the pattern or not."
What's your favorite pattern?
"Only one favorite pattern? It would probably be McCall's 6649. I really love to wear blouses and it can be modified so fast. Makes me think that I may have sewed a bit too much blouses with this pattern... Or maybe that I should make another one..."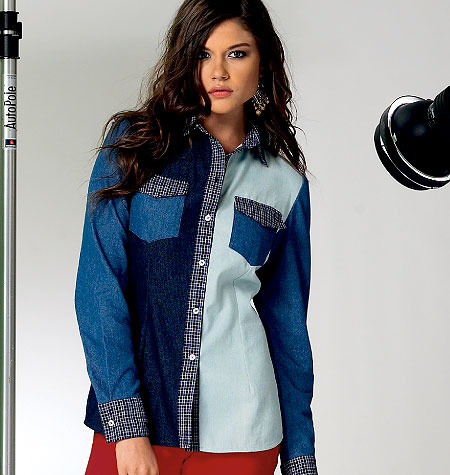 Any other hobbies?
"I LOVE to get lost in books, to write my mind outs and since a couple of days, to knit."
Tell us a little about you.
"I'm currently at the university. I've studied for a year in art history and now I'm doing a bachelor in anthropology."
Thank you, Mauude! Love those outfits!