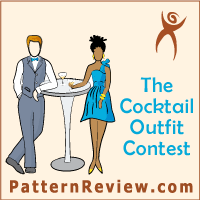 Perfect for ringing in the New Year, the Cocktail Outfit Contest challenged the 40 Participants to sew a dressy outfit suited for a fancy occasion.
For those needing the extra push to try a new skill or fabric, the Cocktail Outfit Contest was the perfect excuse. Hope you all had a fabulous New Year's Eve in your creations!
Now let's take a look at the winners…
First Prize Winner: sewin for Vogue Patterns: 8943 (Misses' Dress and Slip)
sewin concludes, "I call it the Audrey Hepburn dress. I wanted to make a dress that made my daughter who is a hardworking mother of two boys feel like a princess when she put it on. I think I succeeded. I'm more in love with sewing than ever and can't wait to learn the next thing. Love the inspiration I get from all you pattern reviewers out there." (Read full review here.)
Congratulations, sewin! What a beautiful dress!
Second Prize Winner: slmstyle for Simplicity: 2053 (Misses Dress in two lengths with bodice variations)
slmstyle explains, "I made this dress up in a few days for the Cocktail Dress contest, plus I love the one shoulder style. I have seen this look in many shops and on line for a variation on a cocktail dress. Nice pattern!" (Read full review here.)
Wonderful work, slmstyle. Congrats!
Special thanks to the Contest Manager, Aroura, for all your advice and encouragement.
ClothingLabels4U is the proud Sponsor of the Cocktail Outfit Contest. Many thanks!

Read the Contest Rules and Report.
View the behind-the-scenes Contestant Talk.
Browse through the Gallery to see all the entries.