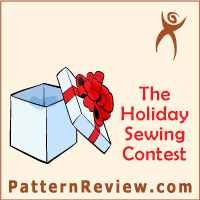 The Holiday Sewing Contest featured holiday-themed items, ranging from home décor to embroidery projects.
In addition to Christmas, this contest allowed the 29 Participants to submit themed items from all holidays, such as St. Patrick's Day and Valentine's Day.
It's never too early to prepare for the festivities!
You voted! Now let's meet the winners…
First Prize Winner: Annette Wright for Self Drafted Pattern: 154297-1002 (Penny's Christmas Coat)
Annette Wright concludes, "This was a fun little project and I enjoyed making it. You can try to make one too. There are also patterns out there, but not as many for big dogs. By the way, there are some pretty inexpensive coats to be ordered online also. Perhaps I'll knit her a sweater. I've also considered just sewing a sweater from a real big man's sweater. Maybe that's next to try." (Read full review here.)
Congratulations, Annette Wright! That's an adorable fleece coat!
Second Prize Winner: knitsewmuch for Other: Adorable Christmas Tree S (Christmas Tree Skirt)
knitsewmuch says, "This was my first time attempt at quilting. I used a grid pattern. It was a little difficult keeping the grid lines straight and even but I like the overall look of the finished product." (Read full review here.)
Very festive quilt! Congratulations, knitsewmuch!
Many thanks to the wonderful Contest Manager, velosewer!
Sawyer Brook Distinctive Fabrics is the proud Sponsor of the Holiday Sewing Contest. Thank you!

View the Contest Rules and Report.
Read the Contestant Conversation.
See all the submissions in the Gallery.
The first contest of 2014 is starting soon! Read more about the Little White Dress Contest.