We have finally reached our Top 3 Best Patterns of 2013! Our 3rd place pattern is the popular Vogue Patterns 8904 Misses Dress.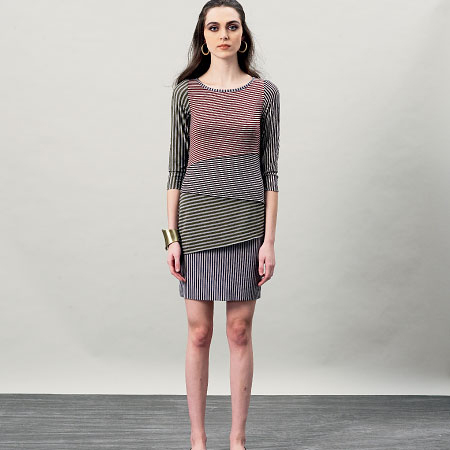 Vogue 8904 pullover dress has a unique tiered design with raw edge finish.
bindurk says, "I loved the layered but fitted look."
This versatile dress also has various sleeve options, easily taking you from summer into fall.
"I love this dress. I would definitely sew it again. If we ever get a good run of hot summer days I might start thinking about a sleeveless version." - jennybaxt
With unusual fabric and color choices, this dress can easily stand out from the crowd.
ahearta describes, "I really liked the stripe version on the pattern envelope, but I wanted to be a bit more subtle with my colors, so I went for an ombre effect with four different colors of blue and white stripes."
"I love my lace dress and just in time for Valentines day <3" - carrie18584
This is a fabulous pattern for beginners sewers who would like to copy trendy ready-to-wear designs.
stonecutter17 says, "I admit it, I saw everyone else's great dresses in this pattern and I just had to try it. Also, I kept seeing this dress in stores, and why buy it when you can make it? I liked that the pattern is not as hard as it looks. It's do-able."
Despite being a form-fitting dress, Vogue 8904's slimming paneled construction works for variety of body shapes.
CissieW concludes, "This pattern was in the top three for 2013 and this is my third time making it. Obviously, I like everything about it! It is very close fitting but also forgiving, if that makes sense. I think this is flattering to all types of bodies."
"This is a fabulous pattern that looks good on many different body types. It consists of a very simple underdress onto which raw-edged panels are sewn, with directional stripes creating a slimming and interesting design." - JudyCook
Want to read more? See all the reviews for Vogue 8904.
Buy Vogue Patterns 8904 here.
PatternReview's Best Patterns of 2013:
#2 Archer Shirt
#8 Anna Dress
#10 Vogue 1314