For our top pattern pick of 2013, McCall's 6844 has been voted most highly rated! Our Best Patterns of 2013 nominees list was compiled using the most reviewed patterns of the year with the best positive feedback. (Read more here)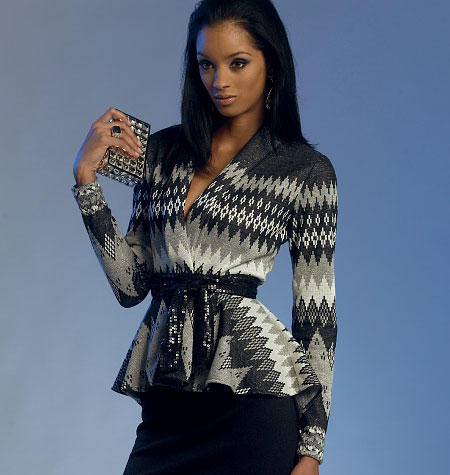 This simple and stylish knit cardigan is designed to remain open in the front, but also looks great belted. Details include collar, shaped hemline, and peplum.
SewWil says, "I love the hi-lo peplum. There is nothing to dislike about this cardigan."
3kids1036 says, "I loved the high low hem of view C."
"I love the way this cardigan look and fit, it is definitely a must have for every closet. I plan on making more to add to my wardrobe." - egreen42
From chilly winter days to cool summer nights, you'll be able to use McCall's 6844 year round. This pattern can even double as a jacket!
mimi g. says, "I am sucker for a peplum and also for a great piece that can be worn during the not so cold California days."
"A denim/grey faux suede with about 18 percent stretch…And, it has enough stretch to make this cardigan work as a kind of casual jacket." - missyyz
"Since this pattern seems to be the biggest hit for this winter, I had the urge to make it too as soon as I could get out to buy the fabric for it!" - Ilonka
With unique fabrics and prints, this flattering cardigan is bound be the most versatile garment in your wardrobe.
trinicity on her fabric: "Lace Chevron Print Sweater knit with Metallic threads woven it in."
"A textured ponte knit I found at Joanne's while visiting my children in Houston over the holidays. I had forgotten how limited the selection is at my local small town fabric stores. You know those tiny dogs that bounce around, pant, and yap when they get excited? Yeh...that was me - minus the yapping (I think)." - Tonya P
"I like that there are so many options in the pattern. I like that it's something 'different' than a regular cardigan. I like that there were petite alterations printed in the pattern." - SewButterflySew
MinaLMcGrady says, "I might think this is the most made pattern on Pattern Review history. So many of us have made this more than one time."
Can't wait to see your favorites for 2014!
Read all the fabulous reviews for McCall's 6844.
Buy McCall's 6844 Misses'/Miss Petite Cardigans here.
PatternReview's Best Patterns of 2013:
#2 Archer Shirt
#8 Anna Dress
#10 Vogue 1314