Member Since: 2012
PR Name: carrie18584
Full Name: Carrie Thompson
Birthday: February 28th
Blog: Apricot Adventure "Although I'm in the process of changing the name to Crafted by Carrie. I already own the domain name but that's as far as I've gotten - too distracted by actual sewing!"
How did you learn to sew?
"I first learned to sew in Home Ec class in middle-school. I sewed a bit here and there during college, converting men's shirts into different things, but picked it up more seriously two years ago when I asked for a sewing machine for my birthday. Since then I have learned mostly from online tutorials, books, and by simply trying new things!"
What are you sewing right now?
"I'm in limbo right now actually. Just finished a project and am looking for inspiration for my next! I'm leaning towards the Vogue 1323 blouse though."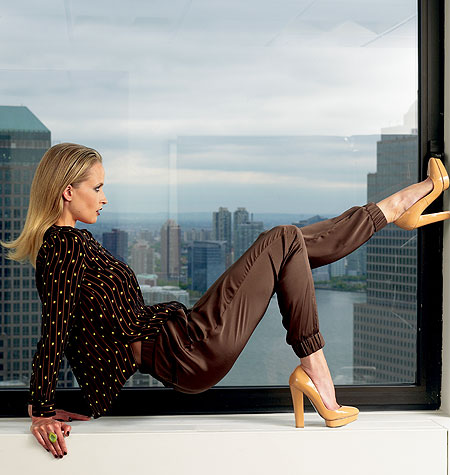 What aspect of sewing do you find most challenging?
"Most challenging has got to be picking the right fabric-pattern combination. I'm definitely getting better but I get really attached to my fabric and refuse to use it for a 'sub-optimal' pattern. I tend to be a pick fabric first sort of gal but then I stare at the fabric for hours, contemplating which pattern is 'right', and usually end up putting everything aside and sewing something else. I drive myself crazy doing this!"
Which sewing book do you refer to most often?
"Claire Schaeffer's Fabric Sewing Guide or Couture Sewing Techniques."
What type of sewing machine do you have? What do you like/dislike about it?
"I have a Brother CS-6000i. It's my very first sewing machine and has been wonderful actually. It was inexpensive, easy to use, has many stitches and there are specialty feet available for just about everything! It's starting to make some weird noises from frequent use so I'm looking to buy a new machine though. There are so many options though - I don't really know where to start looking!"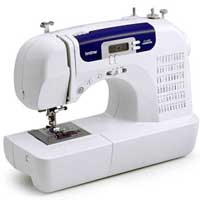 What's your favorite pattern?
"Vogue 8904! Not only is this dress cute and flattering when you sew it as directed (shingles) but the base layer fits so great as either a top or knit dress!"
What are your sewing goals for this year?
"While most people seem to be headed down the 'cake' route, I'm focusing mostly on frosting this year! i.e. party dresses! I'm getting married in August and since I'm not making my wedding dress or bridesmaids dresses, I've decided to make enough white/ivory/blush cocktail dresses to bring me through every event leading up to the big day. My mom constantly tells me that I don't NEED to wear white, but I just don't care and want an excuse to make pretty dresses that incorporate all the fun details that aren't included in my wedding dress. Because as much fun as it is making wearable clothing, I get much much more excited about sewing pretty dresses - even if they only get worn once. In addition to my own wedding, we have 5 other weddings to attend this spring/summer and I need a different dress for each!" :)
What you love most about PatternReview?
"I love how much information in buried in the site and in all the members! When I started out sewing, if I had a question there was a very good chance I'd find the answer somewhere on the site. I also love the community fostered by the website. It can get lonely when you're the only one you know who likes to sew (I'm the weirdo who refuses to buy her clothes like a normal person!) and it's so nice to share my hobby with other friends!"
Any other favorite hobbies?
"Reading, cooking, playing with my dogs, relaxing and play ice hockey! Growing up in MN I learned to skate when I was 3 and played competitively through high school and college (Division I)."
Tell us a little more about you - profession, where you live, etc.
"I'm studying/researching to get my PhD in Biological Engineering from MIT. We live in Boston but I'm constantly plotting my path back to Minnesota!"
Thanks so much, carrie18584!