It is Tuesday! Which means its time to share a new sewing tip with you. I've been having a lot of fun printing on fabric lately and I wanted to do a tutorial for it. Lucky for me, Maria just posted this awesome tip on her blog so I asked her if we could share it here. She agreed!
How to make your t-shirts look high-street cool!
-by MariaDenmark
Republished with permission from Maria's Blog Wool and Weeds.
I just released a new pattern Olivia Oversized tee and when I finished making a test version in a solid knit, I thought it needed something more. I started thinking and realized that it's often the little details that makes a t-shirt look high-end.
And quite often it's some sort of print on the front or back, that makes all the difference!
So today I'm going to show you how you make that print using fabric paint and either screen print or stencils!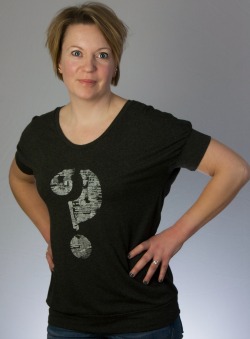 You will need
1. Something to print on (like a t-shirt)
2. Fabric paint (sometimes called fabric ink)
3. Stencils (which you can easily make yourself)
OR Screen print templates (that you buy from hobby shops). Marcy Tilton.
OR Screen + stencils (also easily made)
4. An iron, some newspapers and a sponge or a brush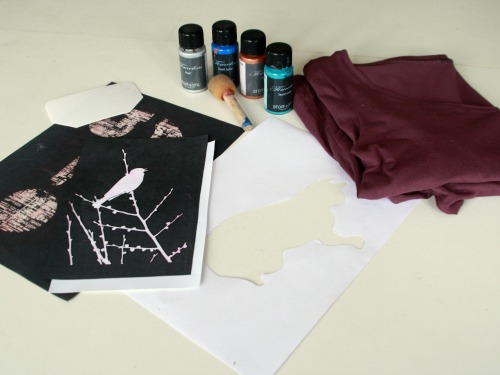 Option #1 Screen Printing
Screen printing gives the most detailed and often most professional results.
Also you can use your screen many times. I get my screen printing templates (which includes mesh) at the fabric store or hobby store. But you can easily make your own screen print frame (using mesh fabric stretched over an old picture frame or an embroidery hoop) + stencils and – for the very detiled print – decoupage glue.The process of creating a screen printing design can be seen in these tutorials [link], [link] and [link] which I found via a small google-ing session (the methods are a little different, but I like them all – and especially like the simplicity of the first one).
For the store bought template I'm using below, I didn't need the frame as the mesh is already included.
1. Place your t-shirt (I used a Birgitte Basic Tee in rayon jersey) in front of you. Put a newspaper or some cardboard inside the t-shirt – to prevent the paint from bleeding through.
2. The fabric paint I used was a little thick, so I watered it down a bit for it to be able to go through the mesh. Pour the paint onto your screen and drag it using a piece of plastic or cardboard to distribute it evenly all over the design.
3. Lift off the screen and let the paint dry (it says on the bottle that my paint should dry for 24 hours).
4. Iron the print through a pressing cloth. On my paint it says to iron for 5 minutes. It depends on the paint – read the label!

Option #2 Stenciling
Stencils are templates which you can buy pre-made or cut out from paper, vinyl or cardboard. The one I'm using today, is a free design I found by doing a search for free printable stencils. I found it [here].
I printed it, cut it out using an exacto knife – and then I was ready to go.

1. Cut your stencil and place it on a t-shirt (this one is a kimono tee) that already has a newspaper inside it (as explained above). Tack it down with some tape or temporary fabric glue (like patchworkers use). I didn't use the glue this time (I couldn't find it ;-)), but it works really well!
2. Use your sponge (or a brush) to paint inside the motif. Use an up-and-down motion so you don't accidentally smear paint under the stencil.
3. Lift off the stencil (and throw it away if it was made from paper). let the fabric and paint dry for as long as it says on the paint bottle.
4. Iron the t-shirt through a pressing cloth for as long as it says on your bottle.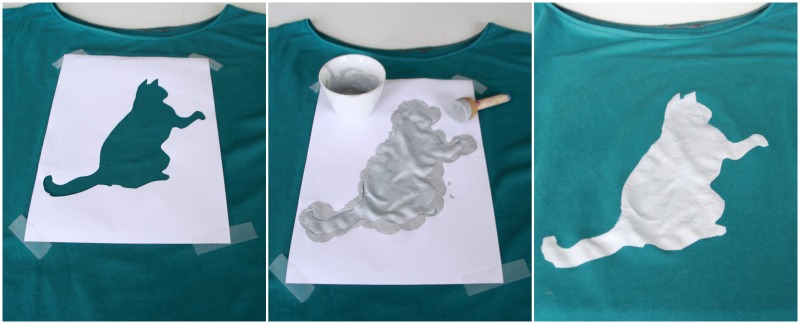 Tip: For those of you in the United States, check out Freezer Paper in your grocery stores. It is plastic coated on one side and makes stenciling so much easier. Just iron your stencil (plastic side should face the fabric) and start painting. When the pain dries, simply peel off the freezer paper and toss.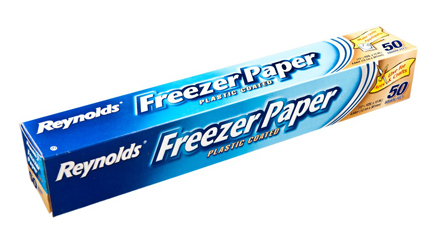 I hope this tutorial has inspired you to try something new!
P.S. MariaDenmark is our indie designer of this month. Sew.Review and Link for a chance to win some fabulous prizes!