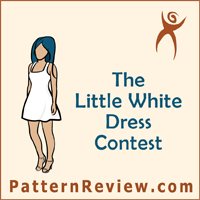 The first PR contest of 2014 has concluded!
The Little White Dress Contest asked PR members to sew up a white dress and accessorize it for both daytime and evening looks.
A fresh twist on the traditional little black dress (LBD), the Little White Dress Contest shows just how versatile this color can be! The LWD can easily take you through all the seasons.
83 participants were up for this challenge. We loved seeing all of your creations!
You voted for your favorites! Now it's time to meet the winners…
First Prize Winner: Mollymax for Simplicity: 1650 (Misses and Petite Dress)
Mollymax says, "I have always wanted to enter a contest on PR and decided that the Little White Dress Contest is a great place to start. I decided to make a basic white pique dress for my daughter to wear to the Kentucky Derby…I think my daughter will find lots of occasions to wear this dress long after the Kentucky Derby is over!"
Congratulations, Mollymax! Such a stunning dress!
Second Prize Winner: ronnielee for Simplicity: 8228
ronnielee says, "It's quite a versatile style, play up or play it down."
Fabulous work, ronnielee! Congrats!
Special thanks to the Contest Manager, Jacqui315, for your advice and encouragement.
Sawyer Brook Fabrics is the proud Sponsor of the Little White Dress Contest. Thank you!

Read the Contest Rules and Report.
View the behind-the-scenes Contestant Talk.
Browse through the Gallery to see all the submissions.
Check out all the Currently Running Contests on PR.