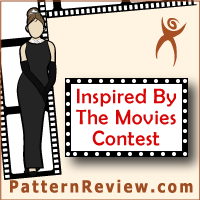 The Inspired By The Movies Contest has concluded! Coinciding with the 2014 Academy Awards and the famous red carpet, this creative contest was all about the movies!
The Inspired By The Movies Contest asked participants to sew a classic or contemporary rendition of their favorite film ensemble. The outfits for this contest are designed to be worn for everyday wear, rather than a replica costume from a movie.
40 PR members were inspired to take on this unique challenge!
Now lets meet the winners…
First Prize Winner: Coucou for Self Drafted Pattern: 1955 (Lorraine Baines dress)
Coucou says, "I grew up with the movie Back to the Future, and as 2015 is getting closer, my love for 1955 style is increasing! I just couldn't resist this challenge (my first!) and wearing in time for Carnival and Mardi Gras! Hope you enjoy it too."
Congratulations, Coucou!
Second Prize Winner: Chococat for Self Drafted Pattern: 352151-1000 (TNBC Outfit)
Chococat says, "If you haven't guessed already, my outfit was inspired by The Nightmare Before Christmas…I decided I wanted to challenge myself by using a more abstract film for my inspiration...The Nightmare Before Christmas was an easy choice after I discovered I had three meters of a black and white pinstripe cotton sitting in my organizer. It immediately made me think of Jack Skellington's suit."
Lovely work, Chococat!
Patterns from the Past is the proud Sponsor of the Inspired By The Movies Contest. Thank you!

Many thanks to the Contest Manager, AnneM, for all of your helpful suggestions!
Congrats to all the PR members who participated in this contest! Fantastic job, everyone!
View the Contest Rules and Report.
Read the Contestant Conversation.
Browse through the Gallery to review all the entries.
See all the Currently Running Contests on PR.