Member Since: 2010
PR Name: beanchor
Full Name: Bianca Springer
Birthday: January 6th
Blog: [email protected]
How did you learn to sew?
"I was born in The Bahamas into a family of sewists. I acquired my appreciation and love of sewing from my mother and great aunt. They sewed for the love of the art and to earn a living."
What's your favorite pattern?
"Today, my favorite pattern is Simplicity S0529 by Cynthia Rowley. It is fast to sew and, with the optional cowl, can be jazzed up. I recently made this dress in a Ponte knit for a wedding. With the cowl, heels, and jewelry, it worked well for the occasion. It packed well for travel, and I dressed it down with flats and no cowl for a casual switch up."
What aspect of sewing do you find most challenging?
"My most challenging part of sewing is cutting the pattern and fabric. It is a necessary part of every project, but it always feels like a hurdle before getting to the fun of construction. When choosing a pattern, there is a part of me that always asks, "how many pieces are there?"
Which sewing book do you refer to most often?
"The manuals for my serger and sewing machines. I can never remember the proper steps for sewing a buttonhole or steps for sewing a rolled hem. I have learned that sewing them from memory is not worth the trouble. If I need to do them, I just grab the manual and get it right the first time."
Which sewing machine do you have? What do you like/dislike about it?
"I have a Singer HD110. I like the speed of this machine and that is does an okay job on leather. I have a Brother SQ 9000. I like the speed control options and the many decorative stitches. These machines are workhorses! I have wanted to upgrade to a higher end machine, but these will not die to justify the purchase."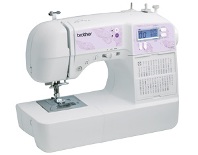 What are your sewing goals for this year?
"This year, my goal is to further develop my sewing point of view. I like to put my spin on patterns and tailor them to my style. I love 60's and 70's style with a modern twist. I also love hand-sewing and embroidery. My goal this year is to use those passions as a foundation for expressing my individual style and philosophy."
What are you sewing right now?
"Recently, my 5 yr-old daughter came home and told me a friend said her free flowing bi-racial hair was weird. We talked about the beauty of her hair and seeing the beauty in who we are. She got over it, but it was harder for me. I recently began an embroidery series that focuses on the beauty of natural hair. The plan is to stitch a new hair profile each week for a year to showcase the beauty and versatility of natural hair."
What you love most about PatternReview?
"I love the community of PatternReview. If I cut and sew 2 dresses in a day, no one here thinks "that is insane". When I say that I bought a stash of fabric at an estate sale, reviewers here say "score!" not, "eww, dead people's stuff". This is a place of like-minded people who encourage and help me develop my craft. They inspire me to expand my tastes and skills. It is a place where I have developed new friendships with people who help me be better."
Any other favorite hobbies?
"I love pottery and metal-smith jewelry making. I have two young children; so, due to safety and time concerns, I do not make as much as I like in those areas."
Tell us a little more about you - profession, where you live, etc.
"I live in Pearland, Texas where I am a stay at home mother to a 5 and 2 year old. In my spare time, I teach sewing and make and sell items in my Etsy store."
Great to hear from you, beanchor!
See all of beanchor's reviews.