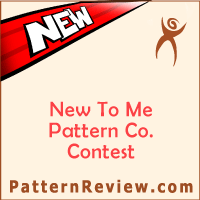 With the New to Me Pattern Company Contest, PR members were challenged to create a garment from a pattern company they've never sewn before. Whether from an up-and-coming independent company, or a popular commercial brand, this was a unique opportunity to broaden stashes from tried-and-tested patterns.
Entrants were asked a few questions for their submission, so voters could read about the successes and issues members encountered while sewing the garment. 72 participants decided to test a new pattern company, and we hope it inspires you to try something new too!
You voted! Now let's meet the winners…
First Prize Winner: dollston for Victory Patterns: 2001 (Roxanne Top)
dollston says, "I adore the collar on this top and I am so glad I bought the pattern."
Congratulations, dollston! Wonderful work!
Second Prize Winner: marjieco for Lekala Patterns: 4122 (Jacket Sewing Pattern 4122)
marjieco says, "I am very happy with the pattern and my new cardigan. I now have several Lekala patterns to put together. The fit, style, and price of these patterns can't be beat."
Excellent job, marjieco! Congrats!
Special thanks to the Contest Manager, Sew Whatever, for your fantastic support!
Stitch Magazine is the proud Sponsor of the New to Me Pattern Company Contest. Thank you!

Browse the Gallery to see all the submissions.
View the Contest Report and Rules.
Read the Contestant Discussion.
Check out all the Currently Running Contests on PR.