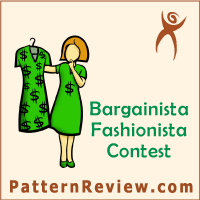 Love a great deal? The Bargainista Fashionista Contest asked contestants to recreate a garment inspired by runway or retail fashion seen from a magazine, online, or store. 63 participants were up for the challenge!
Submissions included a comparison calculation of the percentage saved on designing the lookalike outfit versus purchasing the inspiration piece.
Who had the most thrifty entry? Let's find out!
First Prize Winner: Jstarr4250 for Vogue Patterns: 8815 (Misses Top)

Wonderful top, Jstarr4250!
Jstarr4250 says, "67 pattern reviewers can't be wrong...this is a versatile and fun top to put your own spin on. I will be sewing up more of these as alternatives to basic T shirts for the summer."
Retail cost of garment: $98.00
Cost to sew: $7.99
Percentage of savings: 91.85%
Second Prize Winner: arianamaniacs for No Pattern Used: Lena Hoschek (Ribbon Skirt)
Congrats, arianamaniacs!
arianamaniacs says, "I might consider making another one of these if I run across some ribbons that don't cost a million! I've gotten a ton of compliments on this already and everyone assumes it's one from the designer :)"

Retail cost of garment: 390 Euro
Cost to sew: 96 Euro
Percentage of savings: 75%
Congratulations to all who participated in the Bargainista Fashionista Contest!
We'd like to give our special thanks to the Contest Manager, michellep74.
SchmetzNeedles.com is the proud Sponsor of the Bargainista Fashionista Contest. Thank you!

Read the behind-the-scenes Contestant Discussion.
Review the submissions in the Contestant Gallery.
See the Contest Report and Rules.
Browse Contests Starting Soon on PR.