Member Since: 2012
PR Name: Natasha Joyner
Full Name: Natasha Joyner
Birthday: January 15th
Blog: http://tashsews.blogspot.co.uk/
How did you learn to sew?
"My mum taught me when I was little, although my output and techniques have really improved since I finished university 4 years ago. Having studied music performance, I am one of the few people that find a 9-5 liberating and allows me more time for sewing."
What are you sewing right now?
"I'm working on a shift dress. As I am so pear shaped this is actually a tricky pattern for me and it has gone through a fair amount of fitting adjustments. It's almost there though!"
What aspect of sewing do you find most challenging?
"Anything fiddly, whether it is pulling thin shoulder straps right side out (don't you just hate that) and sewing things that require 'easing in'. Both of these things aren't particularly difficult, but I always find that once I've finished I have broken a sweat."
Which sewing book do you refer to most often?
"My mum's Singer Sewing Book, its beige and the pictures are very dated and 70's, but the information and techniques are timeless. I felt very touched when she gave it to me."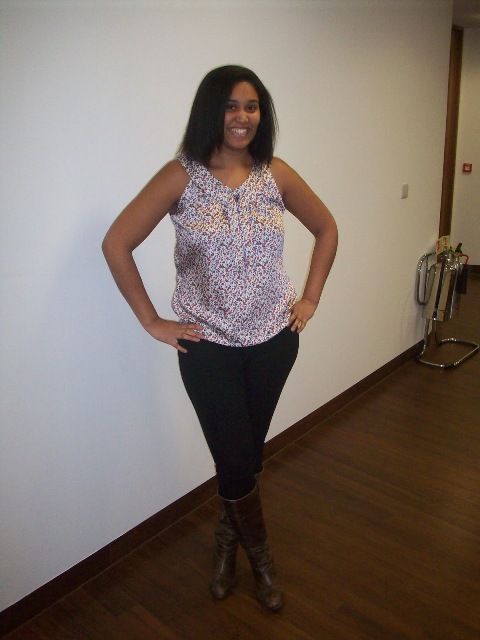 What are your sewing goals for this year?
1. Try making a tailored jacket
2. Continue to make at least 1 garment per month
3. Attend at least 1 sewing course or workshop to learn a new sewing skill(s)
"So far I have done pretty well with 2 and 3. I have exceeded my aim of 1 garment per month so far this year and I'm booked onto a couture sewing techniques course in July."
What's your favorite pattern?
"Vogue 8711. I love the classic yet chic style. For me this pattern is just like when you put on a pair of shoes and they feel as though they were made for your feet. I have the same feeling with the design and style of this skirt pattern."
Which sewing machine do you use?
"I use a Janome 7025. I love that it has been so sturdy and reliable. It is a fairly basic electronic machine, but comes with stretch stitches, additional presser foot lift, 1 step automatic buttonhole and top loading bobbin which are things that I have really come to appreciate over the years."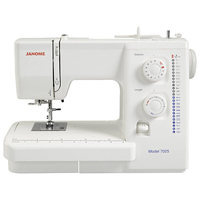 What you love most about PatternReview?
"I love seeing how people interpret the patterns so differently. I find that particularly inspiring. It's also useful to see comments, such as if a pattern tends to run large or short. Lastly, I love the sense of community that PatternReview has, sharing sewing woes and triumphs and being able to ask advice and questions is pretty awesome."
Any other favorite hobbies?
"As I live in London I am out and about a lot, either at exhibitions, free festivals, theatre etc. I also eat out a fair bit with friends as there are so many fab restaurants to try."
Tell us a little more about you - profession, where you live, etc.
"I'm the Events Manager for an international charity. My job is pretty fun and I get to travel a fair bit which keeps me busy. It has given me the aim of trying to pick up some fabric from each country I visit, which I think is a fun souvenir!"
Thanks for sharing with us, Natasha Joyner!
See more reviews from Natasha Joyner on PR.